Company Overview
Google (NASDAQ:GOOG) (NASDAQ:GOOGL) began in early 1996 as a research project by Stanford Ph.D. students Larry Page and Sergey Brin. They were collaborating on a search engine called "BackRub," which ranked pages based on how many backlinks they had (today this is better known as PageRank). This search engine operated on Stanford servers for more than a year, eventually taking up too much bandwidth. In 1997, they switched servers and renamed the search engine "Google." The name originates from a misspelling of the word "googol," which refers to the number 1 followed by 100 zeros - reflecting the search engine's mission to organize the seemingly infinite amount of information on the web. In September 1998, with encouragement from Yahoo! (YHOO) co-founder David Filo, Page and Brin left Stanford to establish Google, Inc.
The company experienced dramatic growth over the next several years, and by the time of its IPO in August 2004, Google had firmly established itself as one of the most dominant search engines in the world. In the decade following the IPO, Google expanded its business to include operating systems and platforms (Chrome and Android), consumer and enterprise products (Gmail, Google Maps, Google Drive, Google Play, and Google+), and hardware products (Nexus smartphones and tablets, Chromebooks, and wearable smart devices). Google also made over 150 tuck-in technology acquisitions as well as several multi-billion dollar acquisitions including YouTube (~$1.7 billion), DoubleClick (~$3.1 billion), and Nest Labs (~$3.2 billion).
Today Google is one of the largest and most technologically advanced companies in the world. The company employs approximately 50,000 people (40% of them work in R&D), and is on track to generate over $65 billion in revenue in 2014. Google's popular search engine controls roughly 90% of worldwide market share (which includes PCs, tablets, and smartphones). The company operates in more than 130 countries and international revenue represents 55% of total revenue.
Unreachable Economic Moat
If someone gave me $100 billion and asked me to create a new search engine that would compete against Google, I would have to return the money. Simply put, Google is an economic castle protected by an unreachable moat, competing against a company like this is nearly impossible. This is something Microsoft (NASDAQ:MSFT) has had to learn the hard way. After investing billions of dollars into its Bing search engine, and even offering to pay people to search, all it has to show for it is heavy losses and only modest market share.
The major reason why competitors have such difficulty taking market share away from Google is because Google benefits from an extremely powerful competitive advantage called the "network effect." The network effect simply means that the value of a product or service (or search engine) increases with the number of people using it. Network-based businesses tend to create natural monopolies and oligopolies. As the economist Brian Arthur succinctly puts it, "Of networks, there shall be few."
This makes a lot of sense. If the value of a search engine increases with the number of people using it, then the most valuable search engine will be the one that attracts the most users. The search engine with the most users will also attract the most advertising customers, which allows Google to generate enormous profits that get reinvested back to drive additional growth and market share gains. This creates a self-reinforcing mechanism that squeezes out smaller search engines like Bing, Yahoo!, AOL (NYSE:AOL), and Ask and increases the size of the dominant Google search engine. And as Google's user base gets bigger, its competitive advantage gets stronger.
Google's powerful network effect has helped the company capture roughly 90% of worldwide search market share (based on page views). It is important to note that this market share is actually weighted down by countries like the U.S. (market share ~80%), Japan (~63%), Russia (~55%), South Korea (~52%), and China (~10%) where Google faces more competition. In most other countries, however, Google's search market share is nearly 100%. Although I expect small movements in market share going forward, I believe Google's dominance will persist and not lose more than 3-5% of share.
Exhibit 1: Worldwide PC + Mobile Search Market Share (Page Views)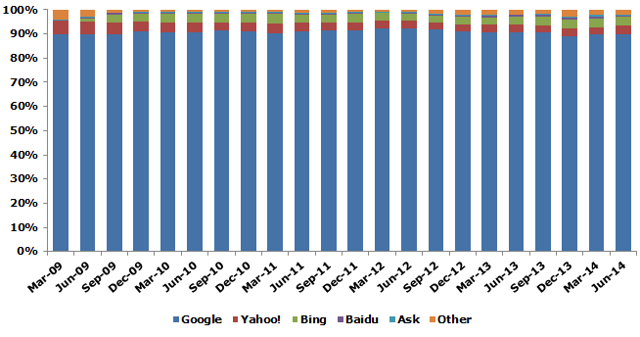 Source: A North Investments, StatCounter Global Stats
The increasing worldwide Internet penetration rate is a major long-term catalyst for Google. First-time Internet users are more likely to choose Google as their preferred search engine, simply due to the fact that it is probably the one they are most familiar with. In my opinion, this gives Google an enormous competitive advantage and will ensure that it remains the dominant search engine.
The worldwide Internet penetration rate has increased from only 0.3% in 1993 to just below 38% in 2013. By the end of 2014, there will be roughly three billion Internet users, which means that there are still over four billion people (potential Google users) not yet using the Internet. Over the long-term, the growth in the number of worldwide Internet users will contribute toward the growth in the number of Google users. I believe this will further strengthen the company's network effect and widen its economic moat.
Exhibit 2: Worldwide Internet Penetration Rate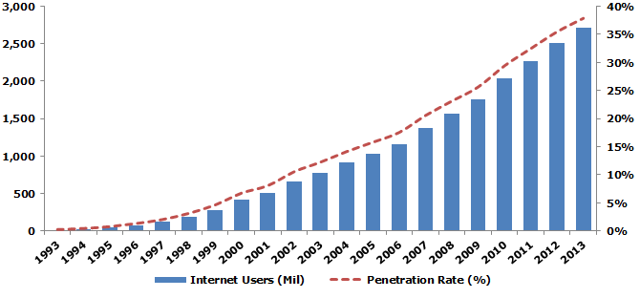 Source: A North Investments, Internet Live Stats
Mobile Transition Will Benefit Google in the Long-Run
One of the key trends in recent years is the transition to mobile devices from PCs. Mobile Internet traffic (smartphones + tablets) has grown substantially from less than 1% at the start of 2009 to 30% in June 2014. Meanwhile, over the same time frame PC traffic has declined from over 99% to 70%. At this rate, mobile traffic will very likely surpass PC traffic by the end of 2015.
Exhibit 3: Mobile Internet Traffic vs. PC Internet Traffic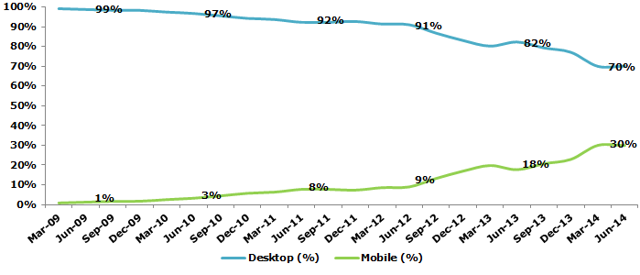 Source: A North Investments, StatCounter Global Stats
To take advantage of this trend, Google has aggressively invested in its open source Android operating system for smartphones and tablets. More than one billion Android devices are already in customers' hands, and this number is growing every day. Although Google does not earn any direct revenue from licensing Android to handset providers or from the sale of applications, having Google software on the phone helps to ensure that when users search, they use Google. This strategy has paid off spectacularly, with Google controlling a virtually monopolistic 93% worldwide mobile search market share as of June 2014 (based on page views).
Exhibit 4: Worldwide Mobile Search Market Share (Page Views)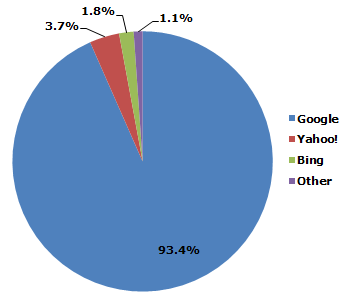 Source: A North Investments, StatCounter Global Stats
However, mobile devices do present some challenges when it comes to ad monetization. The lower resolution, functionality, and memory for mobile devices make traditional Internet advertising more difficult. As a result, Google's mobile cost-per-click ("CPC") is substantially lower than its CPC on PCs (which brings the total average CPC down). It is important to note, however, that Google's declining CPC has been more than offset by double-digit growth in paid clicks. Moreover, the portability of mobile devices will allow Google to use location-based information to offer advertisements for businesses that are located near users' locations. These focused advertisements would be more valuable to businesses as they will increase the likelihood of customers purchasing their products or services. This, in turn, can increase the price charged per click in the long-run.
Although mobile search is important, it only makes up a small portion of total mobile advertising revenue. This is because most people tend to bypass search altogether by downloading mobile apps instead. In fact, data indicates that among U.S. consumers, roughly 86% of time was spent on mobile apps, compared to just 14% for mobile web in 2013. Since free apps account for over 90% of total app downloads, the main way app stores and developers can monetize their content is through in-app advertising. This is what led to Google to acquired AdMob back in 2009, which specializes in in-app advertising. In-app ad spending worldwide was $3.5 billion in 2013 and is projected to reach $17 billion by 2018, making it the fastest growing sector of the mobile advertising market. Given that Google Play accounts for over 50% of worldwide app downloads, I believe Google is well positioned to capture a substantial portion of in-app ad spending going forward.
YouTube Monetization is an Enormous Opportunity
YouTube is one of Google's largest and most important properties which attracts more than one billion unique visitors each month, or nearly half of all Internet users worldwide. And just like Google's search engine business, YouTube also benefits from a tremendous network effect. The visitors are on YouTube because the content is there and vice versa. This self-reinforcing mechanism allows YouTube to grow larger and become more dominant - making all the other video-sharing websites irrelevant in the process. Moreover, YouTube's enormous user base attracts tens of thousands of advertisers that place their ads on videos uploaded by more than a million members of the YouTube Partner Program. YouTube typically takes 45% of ad revenue from videos in the Partner Program, with the other 55% going to the uploader.
In order to drive additional growth and higher margins, YouTube recently launched a new initiative called "Google Preferred," which reserves ad space for advertisers that agree to buy in advance in the best performing 5% of its channels in areas like beauty and fashion, comedy, food, music, and sports. Google Preferred is meant to drive up ad rates and create scarcity on a website that sees over 100 hours of video uploaded every minute. Johnson & Johnson (NYSE:JNJ), Heineken (OTCQX:HEINY), advertising agency DigitasLBi, and many others have already signed up for the program.
YouTube will also benefit from the long-term shift in ad budgets from TV to digital video. According to eMarketer, digital video ad spending in the U.S. is expected to grow at more than 40% to $6 billion in 2014; however, this is still a fraction of the $69 billion that will flow to TV. The growth and popularity of online streaming will drive digital video ad spending going forward, which will likely overtake traditional TV ad spending within a decade. I believe YouTube is well positioned to capture a substantial portion of this growing market.
I estimate YouTube generated roughly $5 billion in gross ad revenue in 2013 and expect this to grow to $7 billion in 2014 (various industry sources provide similar estimates). This means that YouTube is generating more revenue and is growing faster than Netflix (NASDAQ:NFLX). Moreover, unlike Netflix which has to spend billions of dollars every year acquiring mostly non-exclusive content, the majority of YouTube's content can only be found on YouTube and is user-generated (in other words, free). Given this massive cost advantage, I believe that YouTube is very likely more profitable than Netflix. As a standalone company, I believe YouTube is worth at least 4x gross ad revenue, which implies a fair value of roughly $28 billion (based on 2014 gross ad revenue).
A Wonderful Business at an Attractive Price
Investment opportunities like Google are rare, and when they do come along, Mr. Market tends to put a huge price tag on them. Fortunately for us, however, this does not seem to be the case when we compare Google to other large companies in the Internet space. With an enterprise value of $326 billion, Google is trading at about 21x normalized pre-tax owner earnings ("PTOE"). This is nearly a 35% discount when compared to other large-cap Internet stocks shown in Exhibit 5 below.
Exhibit 5: Google Trading at Substantial Discount to Internet Peers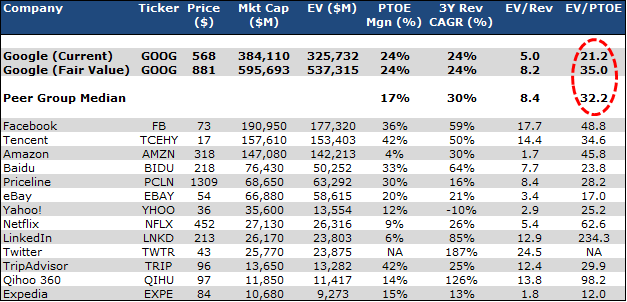 Note: PTOE = EBITDA - CapEx +/- one-time items (Google's normalized PTOE was $15.4 billion during the 12-month period ending June 2014); Motorola Mobility revenue has been excluded from Google's consolidated results because this asset has been sold; Yahoo! valuation assumes Alibaba investment sold (after-tax market value estimated at $15 billion); GOOG (Class C shares) data was used for valuation purposes.
Source: A North Investments, Bloomberg, SEC Filings
A discount this large is simply not justified, in my opinion. Given Google's huge economic moat, double-digit margins, and significant long-term growth potential, I believe the stock could easily support a 35x enterprise value/PTOE multiple. This would imply a fair value of roughly $881 per share, giving the stock an upside potential of about 55% from the current price of $568 per share.
Another way to value Google is to look at the company long-term growth potential. Like I already mentioned earlier, Google has about 90% worldwide search market share. However, this market share is weighted down by countries like the U.S., Japan, Russia, South Korea, and China where Google faces more competition. In most other countries, however, Google's market share is nearly 100%. Taking this into account, I believe Google is the strongest positioned to benefit from the continued growth in the worldwide Internet user base.
I believe Google can easily achieve 15% average annual revenue growth over the next five years (excludes revenue from Motorola Mobility). Assuming normalized PTOE margins remain the same (at roughly 24%); the company would generate $26.3 billion in PTOE in 2018. This means that the stock's five-year forward enterprise value/PTOE is only 12x. In my opinion, this is an extremely cheap price to pay for what is, perhaps, the most dominant Internet company on the planet.
GOOG vs. GOOGL - Which Class to Buy?
The main difference between GOOGL (Class A shares) and GOOG (Class C shares) is the voting rights. GOOG shares have no voting rights, whereas GOOGL shares carry one vote. As expected, GOOGL generally trades at a ~1.5% premium to GOOG, with the spread reflecting the premium paid for the voting rights attached to GOOGL shares. In my opinion, paying this premium makes little sense since co-founders Page and Brin retain nearly 56% of the vote (due to ownership of privately traded Class B shares, which each have 10 votes). I would recommend buying the lower priced, non-voting GOOG shares rather than paying a premium for shares of GOOGL.
Key Downside Risks
Key downside risks to my investment thesis include: (1) Google's search market share could shrink due to increased competition from Yahoo!, Bing, Baidu (NASDAQ:BIDU), and others; (2) the lower ad monetization in mobile search means it will take some time before Google's heavy investments reach fruition; (3) with the rapid adoption of apps for everything from weather to finance to entertainment to shopping, Google could see some of its search traffic being diverted to these new destinations; (4) the company is actively expanding into non-search areas, which might weigh on the overall profit margin in the future; (5) Google has undertaken a large number of acquisitions in recent years, which could result in integration risks; and (6) insiders to control roughly 63% of the total voting power, which means outside investors have little say in what happens at the company.
Summary and Conclusion
Google's core search business will continue delivering solid revenue growth over the next several years, largely driven by the rising worldwide Internet user base. The company's mobile segment should also experience strong growth going forward as a result of increasing in-app ad spending. Moreover, YouTube is one of Google's most important assets and is well positioned to benefit from the long-term shift in ad budgets from TV to digital video. Given all of these catalysts, I believe Google deserves to be trading more in line with the rest of its Internet peers. In short, Google is an attractive risk/reward opportunity with 55%+ upside potential over the next few years.
Disclosure: The author is long GOOG. The author wrote this article themselves, and it expresses their own opinions. The author is not receiving compensation for it (other than from Seeking Alpha). The author has no business relationship with any company whose stock is mentioned in this article.
Disclosure: I/we have no positions in any stocks mentioned, and no plans to initiate any positions within the next 72 hours.
I wrote this article myself, and it expresses my own opinions. I am not receiving compensation for it (other than from Seeking Alpha). I have no business relationship with any company whose stock is mentioned in this article.