In this article I want to describe the value opportunity that Microsoft (NASDAQ:MSFT) presents. I think the majority of readers are familiar with general characteristics of this company. It operates in five segments: Windows Division, Server and Tools, Online Services Division, Microsoft Business Division, Entertainment and Devices Division.

Today's Software Development Process
Do not avoid this paragraph. It is extremely important for understanding Microsoft's value. I promise not to write programming code here. When software businesses were previously started, a programmer could write a program, sell it and make a lot of money, but not today. The modern world of software development is a team game, nobody creates software alone. A team of highly qualified (sometimes unique) professionals is required. Now imagine how many people reading this article can assemble a team of 100 programmers that can work well together? 1000 programmers? The answer is obviously very few, if any. According to Steven Sinofsky, president of Windows division, a team of 2,500 people worked on the Windows 7 project alone. This describes MSFT as a strong company with a great asset, its team.
Active Purchaser
MSFT is doing a great job acquiring other tech companies. This strategy helps the firm enter new growing markets. It also helps MSFT acquire new technologies. Since autumn, there are a lot of rumors about the acquisition of Adobe systems, which can provide synergistic benefits to Microsoft.
MSFT's historical M&A activity is shown in the table below:
Now the numbers. Let's take a look at MSFT's revenues. As we can see from Table 1, revenue grew from $25.3 billion in 2001 to $62.48 billion in 2010, which means on average revenues rose 10.56% per year.



(Click to enlarge)
MSFT's free cash flow (Table 2) grew from $12.32 billion in 2001 to $22.1 billion in 2010. That is 6.71% annual growth on average. As we can see from the numbers, MSFT is still growing. As Microsoft has great team, good products and strong market position I think we can expect similar growth in coming years.

(Click to enlarge)
Company Valuation
What is MSFT's real value? Is it undervalued? It think yes. Using free cash flow to value the company, if we divide free cash flow per share ($2.47) by a conservative discount rate (6%), MSFT is valued at $41.16 per share. Based on this model, we can expect MSFT's share price to climb to the $40 level. Not bad considering it is now trading around $27, implying it has the potential to rise 40% - 50%.

(Click to enlarge)
Table 3 shows historical MSFT valuations based on a price/free cash flow (P/FCF) basis for the last decade. MSFT is trading at a very low P/FCF ratio relative to past valuation levels and this situation will likely change soon. The current P/FCF ratio based on a $27 share price is equal to 10.93. With the exception of recent lows reached during the past recession (8.8), 10.93 is the lowest it has been all decade when analyzing annual data. All else equal, at $40 (our target price), the P/FCF ratio will only reach 16.19, which is still extremely low for Microsoft by historical standards (Table 3).
Buy Now!
To make a long story short, MSFT is a growing company with strong market position. If the company continues to perform as well as it is presently, its stock is very likely to reach $40 level in the near term and it still won't be overvalued by historical standards.
So ...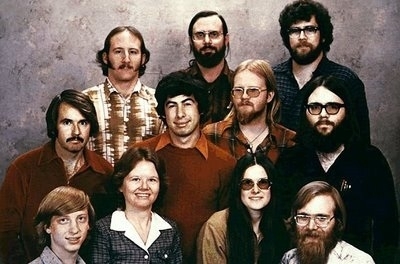 Above: The Microsoft team in 1978. Bill Gates is in the first row, 1st from left.
... If you didn't invest back then (see picture above), you have a great chance now!
Disclosure:
I have no positions in any stocks mentioned, and no plans to initiate any positions within the next 72 hours.