I know what you're thinking. The economy is recovering - every single day we get some piece of economic news which the media headlines as "better than expected." The consumer is back with retail sales hitting pre-recession levels. The strength of the consumer is key for the overall economy, and as such you might think it makes sense to get aggressively long the consumer discretionary sector. Why not even position into retailers since everything looks so positive heading into the final holiday stretch?
And I can't disagree with your line of thinking here. But as investors, we have to determine whether or not the market has discounted such events. Take a look at the Consumer Discretionary Sector ETF (NYSEARCA:XLY) relative to the S&P 500 ETF (NYSEARCA:SPY). The below chart is a price ratio of the two. A rising trend means that the numerator XLY is outperforming, i.e., up more/down less, than the denominator SPY.
Click to enlarge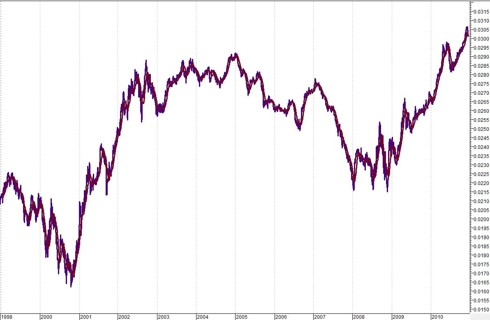 Going back to 1998, the consumer discretionary sector has hit all-time ratio highs. The sector has significantly outperformed the broader market average since the end of 2008, before the market bottomed in March 2009. We need to be careful here in assuming outperformance continues. After all, if the consumer discretionary sector continues to outperform the S&P 500 and that ratio continues trending higher, the S&P 500 will become the consumer discretionary sector. In other words, there are limits to sector strength.
Now let's look specifically at retailers. Fantastic sales are being reported, and everyone is asking "is it finally time to go long retailers?" Seems somewhat of a bizarre question given the enormous outperformance the sector has already had. Take a look below at the price ratio of the S&P Retail ETF (NYSEARCA:XRT) relative to the S&P 500 in the last few months.
Click to enlarge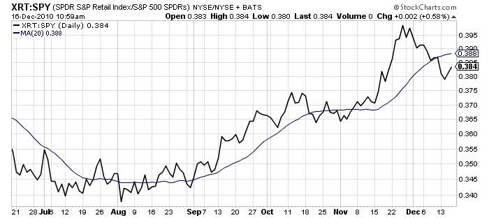 Guess what? That price ratio has trended lower since late November. Despite this being an otherwise fantastic December for broader stock market averages, retailers have failed to participate. This, despite excitement over a pickup in holiday sales.
The bottom line? Given the extent of outperformance in the sector, I suspect that stocks in the consumer discretionary space are highly vulnerable to declining a lot more than the market whenever the next correction comes.
Disclosure: I am long SPY.
Additional disclosure: The author, Pension Partners, LLC, and/or its clients may hold positions in securities mentioned in this article at time of writing.