Apollo Global Management (NYSE:APO) is one of the world's largest alternative investment managers, with assets under management of about $168 billion. The company operates on private equity and distressed assets, focused on credit. Apollo has a market capitalization of about $3.77 billion and trades on the New York Stock Exchange since 2011. Currently, it offers a dividend yield of about 10%, which is very attractive for income investors. However, as usual with high-dividend yields, one has also to question its sustainability to assess if it is an opportunity or a dividend trap.
Company Profile
Apollo Global Management, LLC operates in three distinct areas under an integrated business model. Its focus is on private equity, credit and real estate. The company's headquarters are located in New York, but has also other offices around the world. It has more than 750 employees, of which about 300 are investment professionals. Apollo conducts its business primarily in the U.S. and the vast majority of its revenues are generated domestically but the company is currently expanding abroad, namely in Europe.
Apollo has a very successful history since its inception in 1990. The company's growth has been impressive, especially over the past few years. Apollo has been able to post strong growth in its total assets under management [AUM] over the past decade, registering a 34% compound annual growth rate [CAGR] from 2004 to 2013. This impressive growth was achieved both organically through strong investment returns throughout the year, but also due to a large acquisition during the past year. In 2013, Apollo's AUM increased considerably following the acquisition of Aviva USA by its subsidiary Athene, which at the time had about $45 billion in AUM. Athene is part of Apollo's credit business unit and currently represents about 40% of group's overall AUM. Compared to some of its closest peers like KKR (NYSE:KKR) or Blackstone (NYSE:BX), Apollo has much more exposure to credit which is usually less risky than traditional private equity investments.
Additionally, its latest private equity fund, called Fund VIII, closed in 2013 with more than $18 billion in commitments, so its AUM should continue to increase over the coming months as Apollo puts that money to work.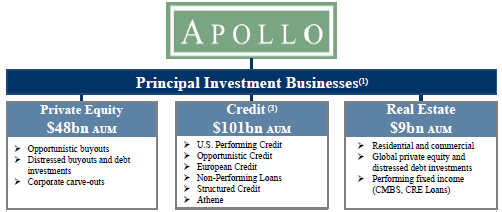 Source: Apollo.
Investment Approach
Instead of running each business unit separately, Apollo works in a highly integrated manner. This means its professionals constantly collaborate across disciplines, enabling it to develop know-how in very specific areas. This has led to a strong specialization on distressed and illiquid securities, where there are fewer players in the market. This makes Apollo different from the typical private equity firm, which usually specializes in only one investment field.
Regarding its investment philosophy, Apollo considers themselves as "contrarian, value-oriented investors in private equity, credit and real estate, with significant distressed expertise". Apollo's different investment approach has enabled it to deliver strong long-term investment performance in its private equity funds, throughout a range of economic cycles and despite fierce competition during this period.
Apollo has a very good track record given that it has consistently produced attractive long-term investment returns in its private equity funds. Since its inception in 1990 to the end of 2013, it has generated a 39% gross internal rate of return [IRR] on a compounded annual basis. Net of fees its IRR is 26% during the same period, showing that Apollo has been a very good capital allocator on behalf of its investors. Its track record is even more impressive considering that the private equity industry is highly competitive, facing competition both in the pursuit of outside investors and in acquiring investments.
This good performance was possible because Apollo manages mainly long-term capital, which is less sensitive to economic cycles. This enables it during economic downturns to explore attractive investment opportunities, when many competitors decide to be more conservative and preserve cash. Due to its value approach and expertise on distressed assets, Apollo has been able to deploy capital at attractive valuations both in good and bad years paying on average much lower transaction multiples than its peers. As shown in the next graph Apollo's average transaction multiple over the past six years has been considerably below the industry's multiple, something that should translate on high returns over the coming years when it decides to monetize its current investments.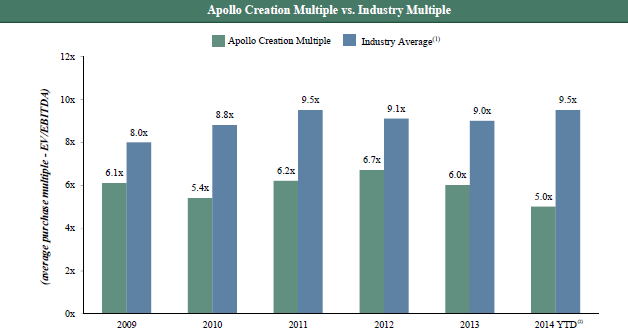 Source: Apollo.
Financial Overview
Like most alternative asset managers, Apollo's revenues consist primarily of fees and income on its AUM. This is why asset managers focus so much on this metric. Like higher revenues for commercial companies generally means higher profits, higher AUM's usually translate into profit growth for asset management companies. Additionally, Apollo advisory and transaction fees. These fees can be quite volatile because it depends on the number of transactions performed during a time frame, and can differ substantially from quarter to quarter and year to year.
Apollo's financial results can be somewhat volatile since carried interest and fees can vary significantly over time. Although this is not the best business model for income investors that typically prefer stable businesses, Apollo has a good track record that provides some safety concerning its future financial performance. Nevertheless, compared to energy or utility companies the predictability of its long-term financial performance is obviously lower and its high-dividend yield is for that reason riskier.
Regarding its recent financial performance, Apollo's revenues amounted to more than $3.7 billion in 2013, an increase of 30% from the previous year. Its net profit amounted to $659 million, representing a net profit margin of 17%. Its return-on-equity [ROE] was close to 10%, which is acceptable for a financial company like Apollo. It has recently reported results for the second quarter of 2014, achieving a net income of $72 million. This represents a 22% increase from the same period of the last year. However, its economic net income of $0.52 per share was below expectations due to lower realized performance fees and investment income. Despite the weaker than expected quarter just reported, Apollo's financial results over the next few quarters should be robust as current financial markets and mergers & acquisition activity are strong, with the company being net seller to realize what it believes are current high valuation multiples in the market.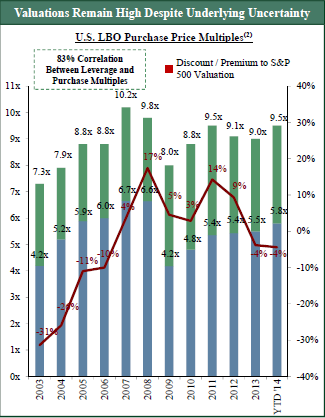 Source: Apollo.
Going forward, as an alternative asset manager that specializes in illiquid credit instruments and distressed assets, Apollo can benefit from a secular trend that is happening in the banking industry to maintain its growth trajectory. Banks are being forced to sell risky and complex assets due to increased regulatory constraints and higher capital ratios required, as well non-core businesses like insurance companies. This trend is valid for the U.S. but in Europe as well, particularly as Basel III rules continue to force banks to have more capital and liquid assets.
This means Apollo can benefit from being specialized in distressed and illiquid securities over the coming years to grow even further, particularly in Europe. Indeed, the company is already exploring this opportunity given that reportedly it is one of the potential buyers of Ulster Bank in Ireland, which Royal Bank of Scotland (NYSE:RBS) is selling. This seems to be an overlooked factor given that current expectations are for Apollo's net income to be relatively stable over the next couple of years, thus there could be some upside for consensus earnings that isn't currently priced-in.
Distributions
Regarding its distributions to shareholders, Apollo's policy is to pay every quarter its net after-tax cash flow from operations in excess of amounts necessary to operate its businesses. This means that Apollo's distributions may be volatile because, like revenues and earnings, there are several factors that may differ considerably from quarter to quarter and year to year, leading to volatile cash flow generation and therefore relatively unpredictable distributions.
With respect to fiscal year 2013, Apollo has paid $3.95 per share in four quarterly payments. This was a huge increase from the previous year, when the company distributed only $1.35 per share to its shareholders. However, for 2014 Apollo is expected to pay $2.42 per share leading to a very attractive dividend yield of 10%, at its current share price. Its most recent reported dividend distribution was $0.46 per share related to second quarter 2014. This distribution will be paid on August 29, 2014, so income investors don't have to wait much time to start collecting dividends. Its dividend payout ratio was 91%, so distributions are covered by earnings and seem therefore to be sustainable.
Even though its distributions may be volatile and somewhat unpredictable, Apollo seems to be an attractive income investment due to its high-dividend yield that clearly remunerates appropriately its shareholders for risks taken. Additionally, Apollo's valuation is currently cheap given that its stock is trading at only 11x its 2014 expected earnings, which is considerably below the market's average valuation measured by the S&P 500 index (NYSEARCA:SPY) forward P/E ratio of about 15x. Moreover, it is trading at only a slight premium compared to its peers KKR and Blackstone even though it has a more defensive business profile, meaning that its current valuation seems clearly undemanding.
Disclosure: The author has no positions in any stocks mentioned, and no plans to initiate any positions within the next 72 hours. The author wrote this article themselves, and it expresses their own opinions. The author is not receiving compensation for it (other than from Seeking Alpha). The author has no business relationship with any company whose stock is mentioned in this article.