On Wednesday, August 13, Athlon Energy (NYSE:ATHL) reported the results of what I believe to be a very strong second quarter. The company's Q2 EPS of $0.27/share missed Wall Street estimates by $0.01/share, while its revenue of $136.5 million beat Wall Street estimates by an impressive $11.4 million.
In the wake of the company's impressive second quarter, I wanted to examine several reasons behind my decision to consider a long-term position in this independent oil and gas play.
Company Overview
Headquartered in Fort Worth, Texas, Athlon Energy Inc., an independent exploration and production company, focuses on the acquisition, development, and exploitation of unconventional oil and liquids-rich natural gas reserves in the Permian Basin. The company holds approximately 23,500 net acres in Martin, Upton, Andrews, and Glasscock counties (Yahoo! Finance).
Recent Trend Behavior
On Wednesday, shares of ATHL, which currently possess a market cap of $4.13 billion, a forward P/E ratio of 17.40, and a PEG ratio of 1.03, settled at a price of $42.55/share. Based on a closing price of $42.55/share, shares of ATHL are trading 9.88% below their 20-day simple moving average, 8.73% below their 50-day simple moving average, and 13.35% above their 200-day simple moving average.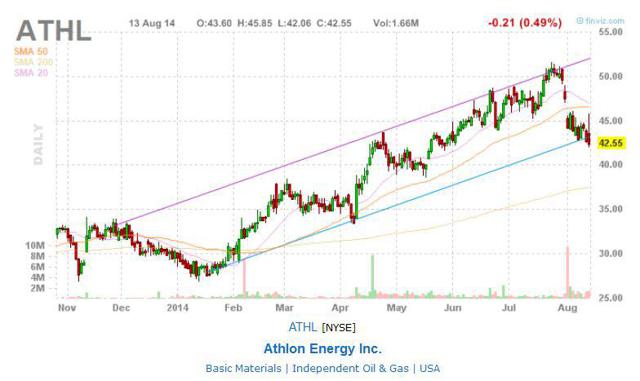 Although these numbers indicate both a short-term downtrend and a long-term uptrend for the stock, which would normally translate into a selling mode for most near-term traders and a buying mode for many long-term investors, I strongly believe the company's recent earnings performance could be the first step in reversing the company's recent trend behavior.
So what drove results higher during the second quarter? According to Athlon's Chairman, President, and CEO, Bob Reeves, who recently noted that "It was nice to see that our outstanding individual horizontal and vertical well results are directly translating to predictable growth in production and cash flows. The first six horizontal wells are outperforming their average type curves by nearly 70%. As we continue to seamlessly integrate our acquisitions into the Company and add additional horizontal rigs through 2015, we expect these top-tier results to continue for many periods to come".
It's pretty clear that the company's long-term growth will be heavily dependent on the continued development and implementation of its horizontal drilling rigs and if its next set of wells are anything like the first six there's a very good chance we could see them outperform their average type curves quite nicely over the next 12-24 months.
It should be noted that the company also demonstrated a 105% increase in its Q2 discretionary cash flows ($83.5 million during Q2 2014 vs. $40.8 million during Q2 2014), a 96% increase in average daily production (21.9M boe/day during Q2 2014 vs. 11.2M bow/day during Q2 2013), and a 95% increase in adjusted EBITDA ($97.1 million during Q2 2014 versus $49.8 million during Q2 2013).
Conclusion
For those of you who may be looking to establish a position in Athlon Energy there are two key things to consider. For starters, shares of Athlon are trading at just under 17.5x forward earnings whereas the shares of both American Eagle Energy (NYSEMKT:AMZG) (just under 18.3x) and Comstock Resources (NYSE:CRK) (just under 20.9x) were trading at much higher multiples, which therefore makes shares of ATHL comparably cheaper.
The second of the two things we must consider is the company's considerable growth in such areas as discretionary cash flows, average daily production and EBITDA, if the performance in each of these categories can continue for the remainder of the year I see no reason why full-year estimates of $1.44/share in terms of EPS and $579.86 million in terms of revenue can't be met and/or exceeded.
Disclosure: The author has no positions in any stocks mentioned, but may initiate a long position in ATHL over the next 72 hours. The author wrote this article themselves, and it expresses their own opinions. The author is not receiving compensation for it (other than from Seeking Alpha). The author has no business relationship with any company whose stock is mentioned in this article.