Crude oil has underperformed the commodities space in the most recent rally, despite the fact that the benchmark U.S. crude oil price will average around $81 a barrel in 2010, up from last year's average of $61 per barrel; 15% higher than the beginning-of-year consensus of $71 per barrel; and around 5% higher compared to the previous Energy Information Administration's outlook for $78.67 per barrel.
The price of crude oil stands at a historic juncture. The demand picture continues to be mixed. Despite the moderation in the Chinese economy, crude oil imports are still higher than in recent years. In contrast, U.S. oil demand is well below historical averages. Crude oil inventories in the U.S. are still running above historical averages, which have capped oil prices. But broad U.S. dollar weakness and gradually improving risk appetite should support oil.
On the negative side are the renewed concerns on the eurozone peripheral debt situation, interest rate hikes in Asia, and some lingering risk aversion, as well as increase in supply from OPEC (Iraq, Kuwait and Saudi spare capacity) and non–OPEC (gas liquids, Brazil) sources. Also, as and when there is a decline in inventories to below the five-year average, the liquefied natural gas story will start playing out.
The key question which may determine crude oil price may not be exogenous factors such as those mentioned above, but crude oil's effect on a nascent global recovery and what crude oil price the global economy can absorb without going back into recession. Don't forget that despite the earlier slowdown and apparent signs of a sub-prime crisis, it was the $140 per barrel crude oil price that tipped the world into recession.
As expectations of an intermediate- to long-end of a forward curve keep determining the spot prices, our macro-pricing model suggests that the price of crude oil may average around $86 per barrel in 2011.
Further, we used an estimate of risk premium / discount and relative investment value compared to our commodities to arrive at our quarterly / 2011 estimates.
We expect crude oil prices to challenge $100 per barrel in 2011.
Our crude oil price ceiling is determined by an estimate of price which the global /
U.S
. economy can absorb without going back to recession.
Our crude oil price expectations are based on current estimates of the intensity of global demand, end-user demand, and possible substitution by other forms of energy; we consider that ceiling might be in the range of $110-115 per barrel, as spare production capacity may still be available from Canadian shale, Saudi,
Iraq
, and
Kuwait
.
If crude oil prices rise beyond this point, there may be an adverse reaction from the most defensive demand segment,
U.S.
gasoline demand (estimated at eight million barrels per day). We expect a modest decrease in market tightness as Q1 2011 progresses due to seasonal factors, and expect the markets to tighten in Q2 / Q3 2011. We expect crude oil to rise towards $100 per barrel by the middle of 2011. Using current 90 days normalized volatility of 25% (currently 32%), the fan estimate may range from $70-$100. Option-implied volatility of front-month contracts may rise from its current level of 32% with a positive skew of 22% (a normal in stable-to-trending markets).
Simple analysis of support and resistance levels over the past few years gives some clues as to key levels. A strong support lies at $70 per barrel. If prices should falter, this will be one level where prices could stabilize. Another resistance is at $100. Prices may have a difficult time breaking through to the triple digits; however, if they do, this will become a new floor of support. We are bullish on crude oil prices in the long term, even factoring in the substitution at higher prices of crude oil use as a percentage of global energy use -- which may drop with a rise in crude oil prices. Spare production may face a crunch in 2013, as demand reaches around 90 million barrels per day.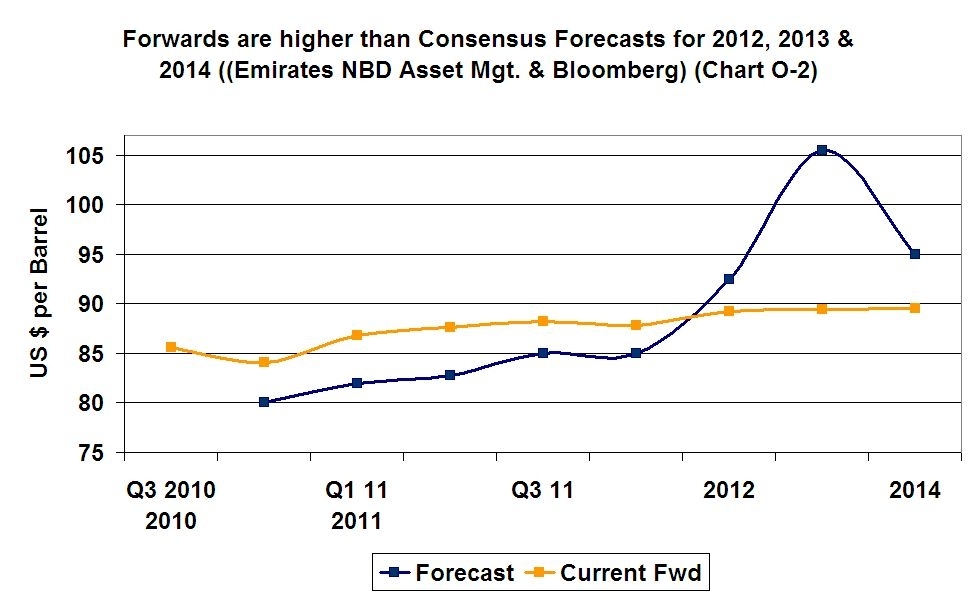 The forward curve slope will decline and may flatten in 2012, which may help ETF crude oil trackers by reducing negative roll yields.
Relative price of crude oil price
On the other hand, crude oil still seems undervalued compared to the price of some comparable commodities like gold, with which oil shares some dynamics. Overall, crude oil lies in between gold and silver in terms of investment, industrial use and business-cycle sensitivity. Normalized mean reverting levels, compared to different commodities, indicate that the crude oil price should be 100 / barrel. However, the correct reference for a comparable price of crude oil should be dynamic and depend upon the investor's estimate of risk appetite.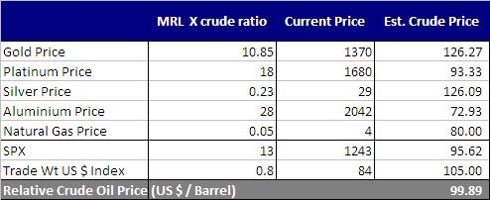 The EIA, IEA (International Energy Agency) and OPEC experts taking a short-term outlook expect oil prices to gradually rise through the end of next year.
Some new key developments in crude oil market fundamentals and drivers since my last projection report are as follow:

EIA raised 2011 demand forecasts: Prices are seen increasing from an average $77 a barrel in the first quarter of 2011 to $85 a barrel by the fourth quarter. In 2011, prices will average $83.50 a barrel according to EIA. Further, gasoline prices are expected to average $2.84 a gallon this year, up one cent from the previous forecast, while diesel prices are seen averaging $2.98 a gallon this year, up two cents from last month's outlook. In 2011, gasoline is seen as averaging $2.96 a gallon and diesel $3.14 a gallon. Reasons for these upward revisions are the expectation that the world oil market should gradually tighten in 2010 and 2011, provided the global economic recovery continues. According to EIA, economic growth in OECD economies should increase from 1.2% in 2010 to 2.7% in 2011. The EIA said that residential heating oil prices will average $2.78 a gallon this winter, up one cent from the previous forecast.

The IEA raised its global oil demand outlook to 86.9M bpd in 2010 and 88.2M bpd in 2011. That's +0.3M bpd more than last month's forecast for both of those years. According to the agency, the upgrades were driven by signs that "the underlying demand trend in the OECD is more resilient than previously thought." On the supply side, non-OPEC supply will increase to 52.6M bpd in 2010 (unchanged from August's estimates) from 51.5M bpd in 2009, followed by a rise to 53.1M bpd in 2010 (August: 52.9M bpd). Calls on OPEC will be around 28.3M bpd (August: 28.8M bpd) in 2010 and 29.3M in 2011 (August: 29.3M bpd). The market currently expects the EU will need to rescue more peripheral European countries, with

Portugal

following

Ireland

. Indeed, apart from

Portugal

, CDS spreads and yield spreads between Spanish / Italian bonds and German bunds have continued to soar. According to Bloomberg News,

Spain

's banks may struggle to refinance about

€

85B in debt in 2011, and this may trigger the country to seek a bailout from EU/IMF.

In a recent OPEC report, it also raised its demand forecast for 2010 to 85.6M bpd (August: 85.5Mbpd) while keeping that for 2011 unchanged at 86.6M bps. The "stronger-than-expected, stimulus-led economic growth in the first half of the year" wasthe k

ey reason for the upgrade. Non-OPEC supplies are revised higher for both 2010 and 2011 as driven by growth in

Brazil

,

Canada

,

Azerbaijan

, and

Kazakhstan

. In contrast with the IEA, OPEC revised lower its forecast for the cartel's production for 2011 to 28.8M bpd from 28.9. The cartel forecasts demand for its production will be around 28.6M bpd for 2010 and 28.8M bpd for 2011. The estimate for 2010 represents a mild drop from August's reading.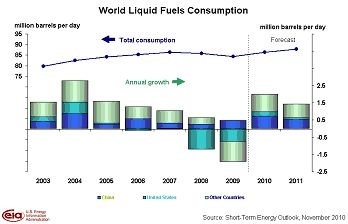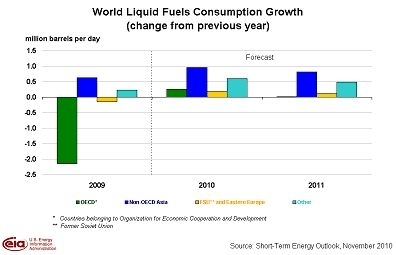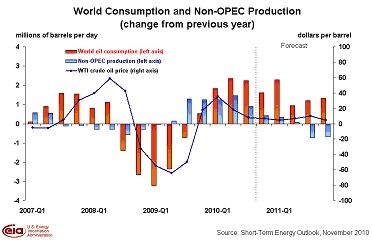 Effect of U.S. offshore drilling rules change on U.S. 2011 output
U.S. crude oil production is expected to decline in 2011 because of new off shore drilling rules, which are estimated to take out around 0.5 million barrels per day from the crude oil supply equation. In 2009, the
U.S.
had the largest year-on-year domestic production increase in the world, but that rank fell in 2010 and is expected to fall further in 2011 with a decline in offshore oil production due to the new rules in offshore drilling.
Any delays to offshore oil drilling could have a significant impact on future oil markets. New offshore drilling rules are expected to significantly raise the cost of drilling offshore, delay new permits, and thus decrease oil production by putting some small
U.S.
oil companies out of the offshore business. According to IEA, delays of any kind to offshore deepwater drilling could have a significant impact on oil markets. Currently, one third of the world's oil production currently comes from offshore oil fields, and that figure is expected to increase by half by 2015. The EIA (STEO November 2010) expects that U.S. crude oil production in 2010 (+0.1 million barrels per day) will increase by only 25% of the 2009 rise (+0.41 million barrels per day), and decline in 2011 (-60,000 barrels per day), mainly because of a 0.17 million barrels per day decline from the Gulf of Mexico (partially offset by on-shore increases of +0.13 million barrels per day; Gulf output may take two years to reach pre-spill levels).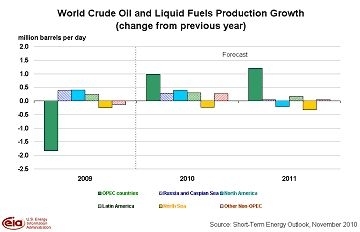 High highs and low lows in the number of U.S. miles driven
U.S. miles driven per day (as measured by the Federal Highway Administration) have shown a pick-up at 34.5 miles per day (Jan, 2010) from a bottom of 32 miles per day and 34 miles per day per person in November 2010 (snow-adjusted figures may be higher). Peak was around 41 miles per day. The gasoline product demand will move up. This should help the margins (COGS-based gross as well as refining). Increases in refinery runs will translate into more pressure on crude oil inventories.
China
cooling? Effect on crude oil demand
According to the latest World Energy Outlook 2010, published earlier this month by the IEA, the world's energy demand will grow by 36% by 2035, "led by
China
, where demand surges by 75% — accounting for almost all of the increase."
China
surpassed the
United States
in total energy consumption last year and the country's appetite for oil seems insatiable, with about half of the world's oil demand increase coming from that country. EIA sees
China
demanding 40% of the increase in the world's expected oil consumption. Consumption in
China
, India and the Middle East (1 million barrels per day)
is providing demand swing. As
China
keeps its momentum of building its commercial inventory to 200 million barrels (the estimated current size is 58 million barrels), it is compounded by China PMI, which has been very closely related to crude oil price momentum since 2007. Economic indicators such as finished good inventory, new orders, and delivery all still point to further strength in the crude oil price. Imports for crude oil surged to 23.29M metric tons (2.69M bpd), up +35.4% and +11.4% on and annual and monthly basis, respectively, in September. The record-high imports of crude oil signal the country's robust demand for the commodity.
Storage facility in
China
and import estimates in
China
China
's economic growth is becoming increasingly dependent on meeting its rapidly growing demand for oil from both domestic and foreign suppliers.
China
's net crude imports in June totaled a record 22.1 million tons, or roughly 5.4 million barrels per day, and imports are expected to make up roughly 55% of its total oil consumption this year.
Increasing oil demand is not only attributable to increased vehicle use in the world's largest new car market but also to industrial activity. Electricity demand in
China
grew 22% in the first half of 2010. Recent IEA reports suggests that
China
may now also be the top global energy consumer as well. In 2007,
China
announced an expansion of its crude reserves into a two-part system. Chinese reserves would consist of a government-controlled strategic reserve complemented by mandated commercial reserves.
The government-controlled reserves are being completed in three phases. Phase One consisted of a 102-million barrels (16,200,000 m3) reserve, mostly completed by the end of 2008. The second phase of expanding the government-controlled reserves, with an additional 170 million barrels (27,000,000 m3), will be completed by 2011. This implies an additional import of 0.5 million barrels per day in 2011. Zhang Guobao, the head of the National Energy Administration, stated that there will be a third phase that will expand reserves by 204 million barrels (32,400,000 m3) with the goal of increasing
China
's SPR to 90 days of supply by 2020. The planned state reserves of 475 million barrels (75,660,000 m3) plus the planned enterprise reserves of 209 million barrels (33,298,000 m3) will provide around 90 days of consumption, or a total of 684.340 million barrels (108,801,000 m3). In total it may require an additional two million barrels per day on top of
China
's regular imports, which will tighten the crude oil markets even further.
Euro bailout and QEII in the U.S.
A second round of quantitative easing (QE2), and interest rates remaining low and lasting longer than the markets' expectation (meaning probably through 2012, instead of 2011), will be positive for crude oil prices. Such policy typically would further weaken the U.S. dollar, while pushing up prices of dollar-denominated commodities such as crude oil, which could lift crude into a "New Normal" crude oil trading range of $80-95 a barrel from the current $70-85 price band. Similarly, European fiscal expansion is also deemed to be positive for crude oil prices.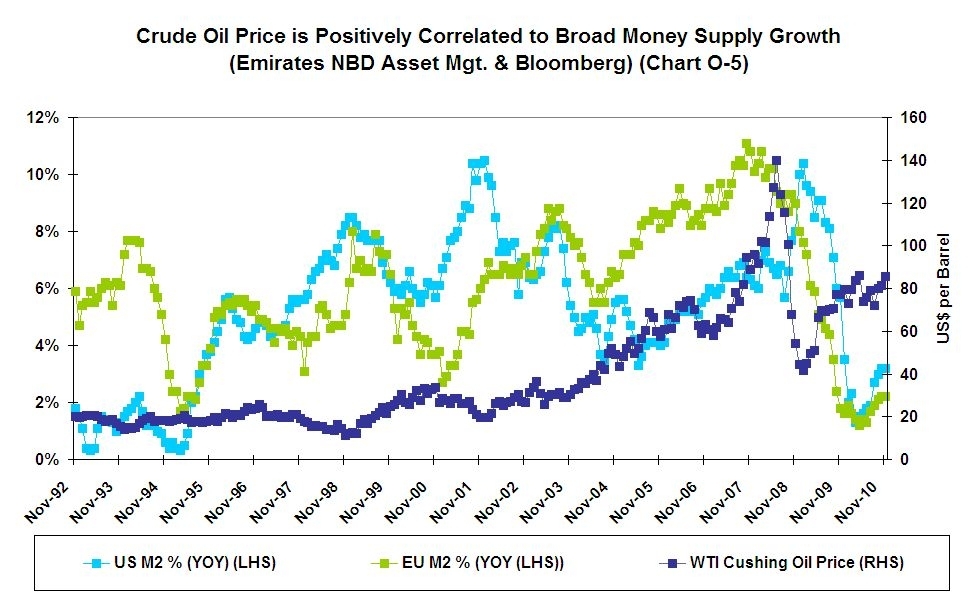 Fiscal and monetary tightening in China and East Asia
Heightened speculation on rate hikes in
China
has weighed on WTI crude oil. Although the government has implemented a series of measures, including increasing relative risk reduction and raising margins for certain commodity futures, the impacts on inflation are not significant. Regarding the argument that any tightening in
China
will be negative for crude oil price, important points to consider include:
The increase in the required reserve ratios for banks can prevent the rise of excess liquidity and ensure that the situation does not deteriorate further. It will do little to get rid of the existing excess liquidity.

Most of these liquidity capping / draining measures are directed towards cooling off domestic demand and do not affect Chinese industrial production, which is largely export-directed.

China

's crude oil use / capita is still far below the developed world (estimated at one-tenth). Most of this demand is for transportation, which traditionally has been a segment resistant to any change in liquidity, even in the developed world.