We have talked about the falling prices in the grains for some time now, and most recently yesterday. There is still value in the commodity class as a political tool however, as Vladimir Putin has announced that Russia will supply Egypt with 5-5.5 million tonnes of wheat. Egypt has long been a staunch ally of the US and calming influence in the Middle East, so our hope is that Mr. Putin is not trying to drive a wedge in this relationship in an attempt to further destabilize the Middle East.
That would be troubling, but apparently not as troubling as the world is finding this convoy of trucks moving through Russia and towards eastern Ukraine. Russia says that the Red Cross is involved, yet the Red Cross denies it has any involvement. The destination of the convoy continues to change, but it appears that it is Russia's intention that the final destination will be an area controlled by separatists. This is what continues to fuel speculation that Russia could be using this humanitarian aid convoy as a Trojan horse.
Chart of the Day:
With the heavy allocation of its assets in the grains, the PowerShares DB Agriculture ETF (NYSEARCA:DBA) could be a very interesting trading tool moving forward. We could see investors using it to play both upside and downside moves, but it is quite important to remember that within the fund's holdings are also livestock and coffee; two areas which have done well this year.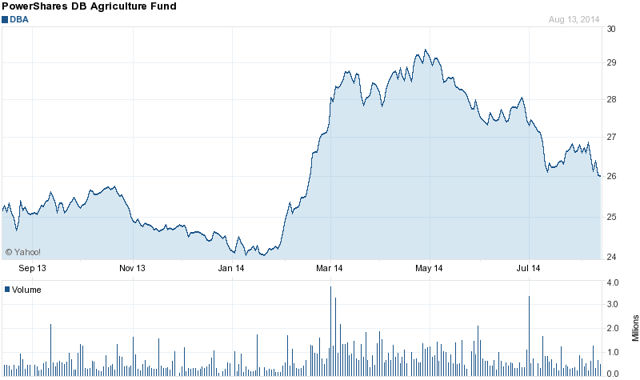 Source: Yahoo Finance
Commodity prices are as follows (at time of submission):
Gold: $1,314.10/ounce, down by $0.40/ounce
Silver: $19.85/ounce, up by $0.005/ounce
Oil: $96.12/barrel, down by $1.47/barrel
RBOB Gas: $2.699/gallon, down by $0.0556/gallon
Natural Gas: $3.92/MMbtu, up by $0.089/MMbtu
Copper: $3.087/pound, down by $0.025/pound
Platinum: $1,466.50/ounce, down by $3.40/ounce
Offering Increased
Usually one sees a sell-off in shares when secondaries are announced, but Rice Energy (NYSE:RICE) is actually rising today after announcing that they were increasing the size of the previously announced secondary the company is doing along with certain shareholders. The offering consists of new shares offered by the company as well as shares being offered by existing shareholders. The company previously announced that it would offer 10 million shares, with 7.5 million being offered by the company and 2.5 million by shareholders. As the secondary has been raised to 11,938,826 shares, the amount the company is selling is still 7.5 million shares while the selling shareholders will sell 4,438,826 shares.
Even with the addition of nearly 2 million shares to the offering, there was strong demand and the shares were priced at $27.30/share; just under yesterday's closing price.
Gulf Producer Getting Slammed
Energy XXI (EXXI), which just recently completed its acquisition of EPL, reported a quarter which Wall Street found underwhelming. Although the forward guidance, as it pertains to production growth, may be a case of the company looking to under promise and over deliver, recent history is leaving many shareholders questioning this possibility. The good news is that shareholders should start to see expenses decrease moving forward as the combined company is able to recognize economies of scale and benefit from the synergies created by the merger.
Energy XXI has a stock which is sick. Bulls can forget about testing resistance at the $24/share level and instead ponder what today's price action, which has taken the shares to multi-year lows, means moving forward.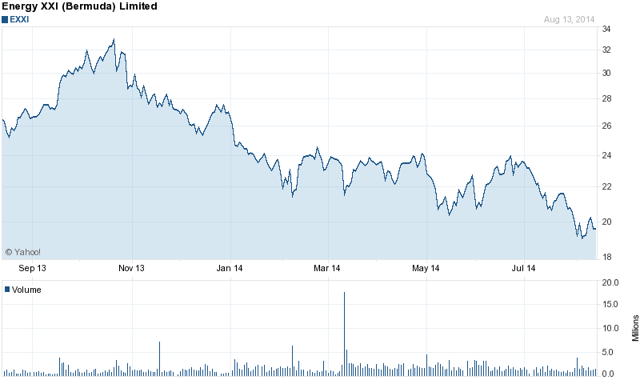 Source: Yahoo Finance
Two Energy Outperformers
There are two names which have caught our attention recently, due to their strength in relation to their peers. Both Marathon Oil Corporation (NYSE:MRO) and Tesoro (TSO) are hanging in near their 52-week highs and have not seen the sell-offs which others in their respective industries have seen.
Of course the two companies have been making all the right moves, with Tesoro most recently announcing a new CFO, raising its dividend by 20% and announcing a new $1 billion share buyback. Marathon shares have only recently run into some headwinds, with an analyst at Barclays revising their price target lower but reiterating their rating on the stock at 'Overweight'.
Disclosure: The author has no positions in any stocks mentioned, and no plans to initiate any positions within the next 72 hours. The author wrote this article themselves, and it expresses their own opinions. The author is not receiving compensation for it (other than from Seeking Alpha). The author has no business relationship with any company whose stock is mentioned in this article.