By Brad Zigler
Real-time monetary inflation (last 12 months): 1.1%
The monthly inflation fest took place this week as the Bureau of Labor Statistics released the Consumer Price Index and Producer Price Index data for November.
Wholesale prices for finished goods, measured by the PPI, rose 0.8% in November, making the 12-month inflation rate 3.5%. October's 12-month rate of 4.3% was a follow-on to September's 4.0% pace.
On the retail side, the Consumer Price Index ticked up 0.1% last month, putting the 12-month increase at 1.1%. So-called "core" inflation - that is, prices for all items except volatile food and energy goods - also scored a 0.1% increase in November, though the tale of the tape for the 12-month period's different. The year-over-year increase in the CPI was pegged at 1.1%, down from the 1.2% rate clocked in October; core inflation scored a 0.8% increase for the year ending in November, up 0.2% from the previous month's rate.
Overall, 12-month inflation, measured by the prices of goods and services, has been in decline for nearly a year, a condition presaged by the HAI Monetary Inflation Indicator. HAI's indicator takes the measure of the U.S. dollar's global purchasing power through its relationship to gold and the world's second reserve currency, the euro. Changes in the monetary inflation trend often predict gyrations in the goods-based inflation metrics.
The monthly reading of the monetary indicator peaked in November 2009, a month before the CPI topped out and four months before the zenith in wholesale finished good prices.
Click to enlarge
Year-over-Year Inflation Metrics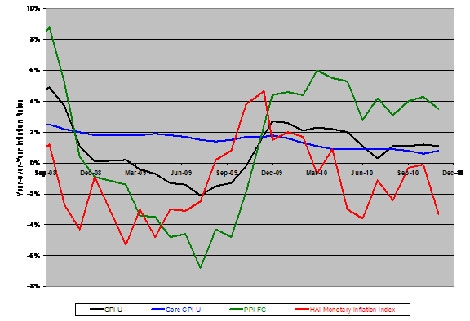 At month's end, it looked like the monetary indicator was pointing to still-lower rates of inflation. Since the year-ago summit at 4.7%, the HAI statistic slipped to -3.3%.
We won't have to wait a month, however, to find out if this represents a continuation of the year-long trend or a turning point from which higher inflation/less disinflation is staged. The HAI gauge is reset daily in each edition of the Desktop - just look at the subhead above.
From month-end November through December 15, the 12-month change in the Monetary Inflation Index has risen to -1.1%. (yes, I know; thinking about a rise to a negative number makes your head hurt).
Click to enlarge
Much of this rise in, um, disinflation, is attributable to year-end selling of gold and safe-haven buying of the U.S. dollar. Keep an eye on the indicator to see if it has legs going into 2011.