By Angus Robertson
First Solar's (NASDAQ:FSLR) strong guidance for 2011 prompted a rash of price target changes from analysts tracked by Alacra Pulse. But when all is said and done they failed to move the needle much on the alternative energy company, with most analysts using the data to support their existing investment theses.
Of 32 tracked analysts, 18 have a positive rating on First Solar, nine are neutral and five have a negative rating. Seven have raised their price targets and five have lowered them. The median target remains at $160, while the mean has edged up to $150.42 from $148.79 in our Nov 1 prognosis. First Solar closed today at $135.61, down from a recent high of just over $150 in late October.
Current 12-month price targets of selected sell-side and independent analysts. Click image to enlarge.
Click to enlarge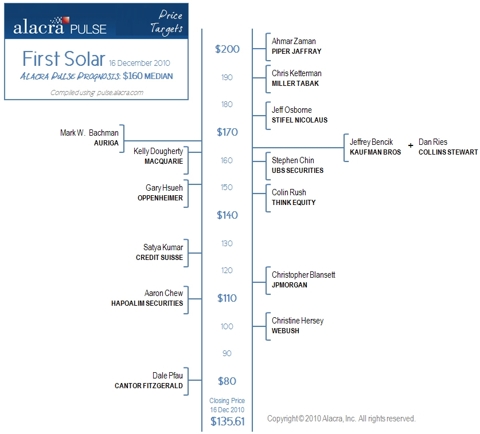 First Solar sees 2011 EPS in the range of $8.75 - $9.50/share which is ahead of the analysts consensus estimate of $8.60/share on revenues of $3.7 - $3.9 billion which is also ahead of the analyst consensus estimate of $3.63 billion.
Stifel Nicolaus raised its price target to $175 from $165 with a Buy rating, UBS moved to $160 from $150 with a Buy, Barclays Capital edged up to $148 from $144 with an Equal Weight rating and JPMorgan moved to $115 from $105 but kept its Underweight rating.
Needham upgraded the company to Hold from Underperform, but set no target, while Jefferies reiterated a Hold rating without a target. Other firms raising their targets: Kaufman Bros (Buy – $165), Societe Generale (Neutral – $160) ThinkEquity (Hold – $148), and Hapoalim Securities (Sell – $110).
Auriga cut its target to $167 from $173 but maintained its Buy rating and Wedbush moved down to $100 from $105 and kept its Underweight rating. "We remain cautious on First Solar shares due to expected margin contraction, pricing pressure, project development risks, and feed-in-tariff changes in 2010 and 2011 in key markets," wrote Wedbush. "We believe oversupply conditions are likely to resume in 2011 pressuring average selling prices and margins."
Credit Suisse downgraded both its rating, from Outperform to Neutral, and its price target, to $127.50 from $155.
"We have grown more concerned that subsidy-driven solar market demand cannot keep up with incremental solar supply coming online from mid 2011," Credit Suisse analysts, led by Satya Kumar, said. "Factory utilizations should start falling from the first quarter, and pricing could decline faster than expected."
Piper Jaffrey maintained its Top Pick/Overweight rating with a high $200 target, while at the other end of the scale, Cantor Fitzgerald is sticking with its Sell rating and $80 target.
"We continue to believe that investors are too optimistic on the solar market in 2011, and we expect that a combination of lower subsidies and increased industry capacity will lead to lower growth than is currently reflected in consensus estimates, " Cantor said.
Other firms lowering the price targets on First Solar: Macquarie (Neutral – $163) and Collins Stewart (Buy – $165).
(Sources: Alacra Pulse, Schaeffer's Investment Research, StreetInsider, Green Stocks Central.)