Lincoln Electric Holdings, Inc. (NASDAQ:LECO) designs and manufactures welding and cutting products. The Company's products include arc welding power sources, wire feeding systems, robotic welding packages, fume extraction equipment, consumable electrodes, fluxes, and regulators and torches used in oxy-fuel welding and cutting. The company serves various markets, such as general metal fabrication, power generation and process industry, structural steel construction, heavy equipment fabrication, shipbuilding, automotive, pipe mills and pipelines, and offshore oil and gas exploration and extraction. The company sells its products directly to users of welding products, as well as through industrial distributors, retailers, and agents. Lincoln Electric Holdings, Inc. was founded in 1895 and is headquartered in Cleveland, Ohio.
If you ever studied management at college, you have probably encountered this company in a case study, in fact, since 1975, 8 case studies have been written by the Harvard Business Review alone.
Q2 Sales were up, despite Asia Pacific being down 3.2%
As they presented in the Q2 results, total net sales of the company were up 2% at constant forex, with North America up 2.5%, Europe 6.4%, APAC down 3.2% and South America down 12.3%. These figures represent, in my opinion, one of the biggest strength of the company: they are well diversified geographically, especially outside the U.S.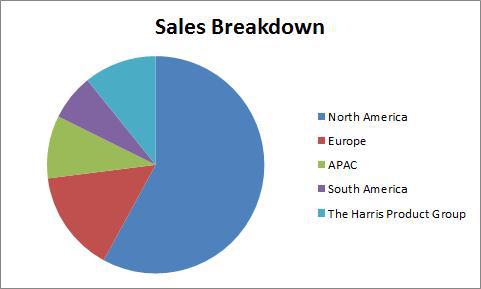 (Image data source: 2013 annual presentation)
As you can see from the graph above, LECO is well positioned outside the U.S. (which is its main market, and improving economic conditions will drive the company in the future), so that a slowdown in Europe, APAC or South America can be well absorbed by the its other geographic segments. Moving ahead, the company has heavily invested in India, China and Indonesia, therefore the growth of emerging markets will be a key for future sales growth. As a consequence of all these assumptions, Q2 results were great because, even though South America and APAC were down, the company managed to grow by 2% and it was able to post a record 16% operating margin.
Competition
LECO faces the competition of smaller and local companies in specific geographic areas. Competition in the arc welding and cutting industry is based on brand preference, product quality, price, performance, warranty, delivery, service and technical support. And as the company stated in is 2013 Annual Report:
The Company continues to pursue strategies to heighten its competitiveness in domestic and international markets, which includes positioning low cost manufacturing facilities in most geographical markets.
Lincoln Electric is known for its highly trained technical sales force and the support of its welding research and development staff to assist customers in optimizing their welding applications, allowing LECO to establish and maintain a close relationship with its customers.
DCF analysis and valuation
In this model my assumption were an annual growth in sales between 4% and 6% (with almost no growth in the 2014 FY), which is lower than what the company expect to achieve (a 10% compounded annual growth rate, read page 2 of the 2013 annual report). The effective tax rate in 2013 was 31.5%.

(Image data source: Yahoo Finance)
Then, instead of picking a discount rate and a terminal growth rate, I decided to do a sensitivity
table to further strengthen my point that LECO is undervalued. As of the last quarter, the net debt is 198m and there are 79.47m shares outstanding.

(Rows: terminal growth rate, columns: discount rate)
As you can see in most of the cases, even though my assumptions were conservative, the company is undervalued, with an average price of 76.52, up 12% from the current price.
Moreover if we look at the P/E ratio (19.33) it is on line with the average P/E of the Russell 1000 index (18.52), therefore LECO is not showing, unlike many others, an exaggerate P/E ratio.
Add to all of these a 5 year annual dividend growth rate of 9.2% and you get the picture of a company focused on shareholder value, yet undervalued.
Disclosure: The author has no positions in any stocks mentioned, and no plans to initiate any positions within the next 72 hours. The author wrote this article themselves, and it expresses their own opinions. The author is not receiving compensation for it (other than from Seeking Alpha). The author has no business relationship with any company whose stock is mentioned in this article.