In the field of debt asset management, one would be foolish not to mention Oaktree Capital Group (NYSE:OAK). After taking a tumble over the past few months of approximately 7.4%, a good entry point has been created for this hefty dividend yielding stock. Since I am confident that the distribution will remain consistent with its previous levels and that any Federal Reserve action will only benefit Oaktree, I recommend a long position for at least the next two years in OAK.
Business Summary
Oaktree is an asset management firm with specialties in corporate debt, convertible securities, distressed debt, control investing, real estate, and listed equities. Within this, corporate debt and distressed debt make up about 80% of Oaktree's assets. Oaktree has a vast array of clients who are institutional investors, for a total AUM of $91 billion as of the July 31st earnings report. With an increase of 19% from the previous year, OAK is showing that it is still consistently growing its business and actively raising capital.
Currently, Oaktree is involved in both a takeover and in the process of creating a new fund. They are currently acquiring Highstar Capital. By doing so, they will introduce an infrastructure fund alongside their current funds. Since there is quite a bit of overlap between the Oaktree and Highstar funds, Oaktree foresees absorbing the overlap as new capital into their existing funds. The takeaway from this deal is that Oaktree is expanding its business into a new area completely different than their current core business. Overall, this can only mean that the company will have a stronger growth rate than expected.
Financial Summary
With a net income currently of $222 million that has grown substantially from its 2012 levels of negative $75 million and is, as of 2013, yielding a 74% profit margin. With a market cap of $7.4 billion, Oaktree is a mid-cap company with a shockingly low average volume of only 230k. OAK's ANI per share of $2.18 for the first 6 months of 2014 and the GAAP net income was $83 million for the first 6 months. The company has a high payout to its shareholders, paying out $0.55 for the second quarter with distributable earnings per share $0.64 for the same quarter. With respect to the distribution, this leads into the next section.
About the Distribution
Even though the dividend was cut by almost half this past quarter, even with the cut, the yield is still quite sizable. I'll address the reason why the dividend was cut at the end of this section and why it's not a concern in the long term. First, let's look at just how this stacks up against a small sample of other financials.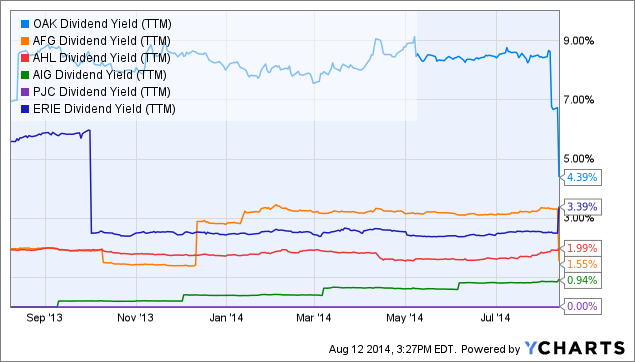 As the figure shows, even with the cut, OAK is producing a 4.4% yield. As I mentioned earlier, the dividend drop is only temporary, so those looking to take the long position should take notice to the yield that has been in the high 8% range for the past several years (the chart only shows up to 1 year because of a skew with one of the other equities). The reason for the temporary drop was due to an issue in timing with the distribution predominantly from lower incentive income from fund VIIb. Incentive income should increase to higher levels with a growing AUM and distributions should increase with a growing payout ratio.
Growth Prospect
Oaktree has put up a solid 20% in organic AUM growth in the second quarter, which shows that the core business is still rapidly expanding. Unfortunately, the price doesn't reflect this level of growth, but only the reduction in incentive income. This is what creates a great entry point for investors. In addition to continued organic growth, the new opportunities created by growing incentivized income from new capital and the Highstar infrastructure addition should fuel a good run in the future. Also, with a negative EV, the company can take on new opportunities in the future easily by either using cash on hand or taking on new debt.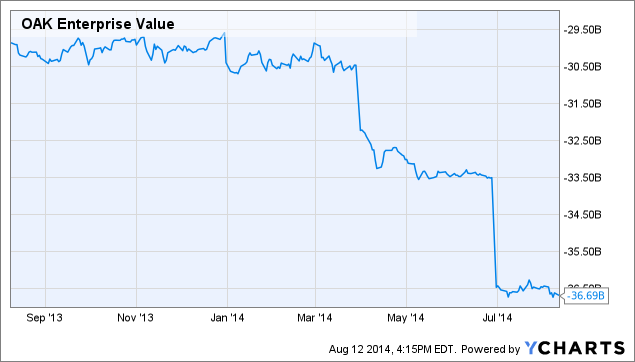 Another critical growth prospect is the company's outlook for Federal Reserve action. If the Fed raises interest rates, Oaktree has stated that its projection is to have a new distressed debt opportunity. From the earnings conference call:
"In short, we believe our business has never been stronger and that we are well-positioned for whatever may come. If the investing environment remains as is for a while, we have a number of growing strategies that will help our clients achieve their goals with risk under control while continuing to expand our business. And when the excesses that are becoming apparent in the marketplace eventually lead to a correction, our distressed debt team will be ready to help our clients reap the benefit of the significant opportunities that will emerge."
(Source: Oaktree 2Q Earnings Conference Call, John Frank)
I believe that this confirms Oaktree's position in the future marketplace. With opportunities in an interest environment and new opportunities in a distressed debt environment, Oaktree has a plan and will come out on top in an overall increase in market volatility.
Bottom Line
While we wait for OAK to increase in price to at least its first quarter 2014 levels and then beyond, taking a long position will give a handsome distribution in the meantime of anywhere between 4% to 8%. There are risks attached to taking this position, such as if the Highstar deal doesn't go as planned, or if incentive income has another decrease. Also, the price could go down due to the same somewhat ambiguous forces that have pushed it down already $5. That being said, I feel that the worst of it is over and OAK should have support at $50. Therefore, a long position taken now could pay off very well with a price upside of at least 8% (and most likely more with new organic growth) and a distribution of ideally 8%.
Disclosure: The author is long OAK. The author wrote this article themselves, and it expresses their own opinions. The author is not receiving compensation for it (other than from Seeking Alpha). The author has no business relationship with any company whose stock is mentioned in this article.