By Steven Carroll
Domino's Pizza Australia New Zealand (OTCPK:DPZUF), the Down Under outpost (the largest global franchisee), seems to tick all those boxes - and owns the rights to the brand in a fairly eclectic range of markets: Australia, New Zealand, Japan, Belgium, the Netherlands, France and Monaco.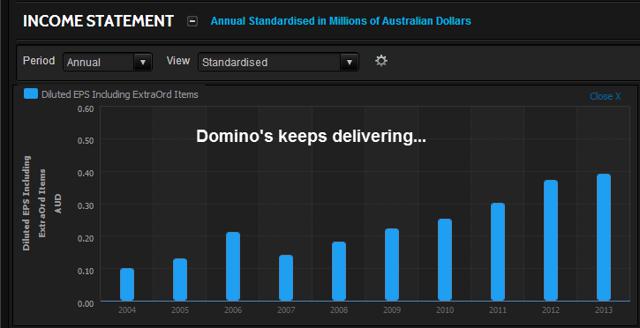 Piping hot
Unfortunately, the market starts to get overly bullish and bake into the stock all types of assumptions about long term growth. Domino's Australian listing is pricing-in 21.9% EPS growth every year for the next five -- against 15.9% for Domino's USA (NYSE:DPZ) and 8.8% for Domino's Pizza Group plc, the U.K. company. It's interesting to see the different levels of market optimism embedded in each stock.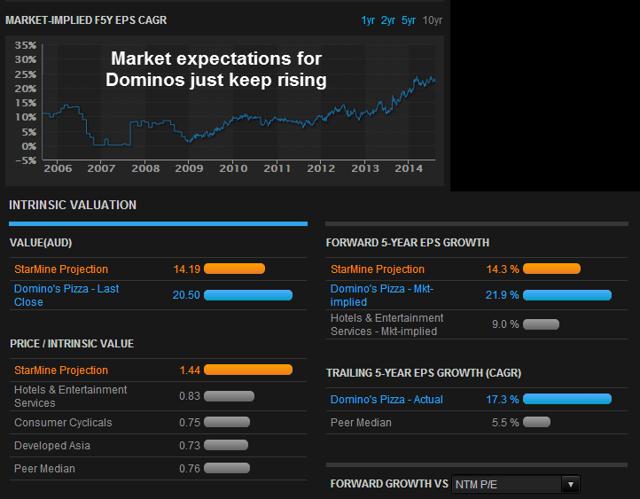 Choose your toppings
The market implied CAGR highlights that expectations are at the highest level in 10 years. For FY1 and FY2, such rates appear likely, however the market assumes continued flawless execution for five years. That's a much harder trick and assumes no operational stumbles, new competitors, price wars, economic downturns, changes in consumer behavior - the list can go on.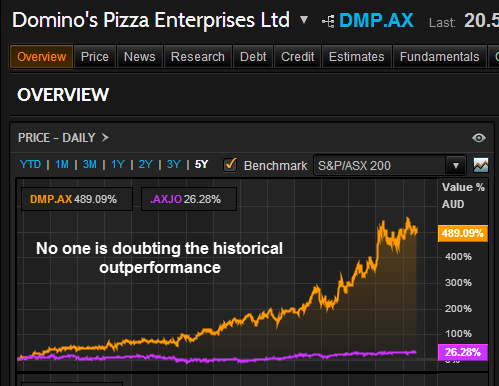 Rapid delivery
When one looks at the amazing performance of the stock over the last five years - up 489% while the ASX 200 is up 26.28% - you understand that the market places great faith in Domino's. However it's at such times when expectation becomes almost breathless that any stumble will be most harshly punished. There's a real chance Domino's can continue to meet expectations for a while to come - but whether you're GE (NYSE:GE), Amazon (NASDAQ:AMZN), Asos (OTCPK:ASOMY) or any of a host of former market darlings - the market correction after a disappointment can be hugely painful.
Whether you want to compare Domino's against its own history, or against its U.S. or U.K. companies, you can see that the Australian entity is priced bullishly. (We would normally include Yum! Brands (NYSE:YUM) but the recent China controversy makes such comparisons difficult. It does, however, remind investors of the supply chain challenges that can appear in any restaurant/food delivery business.)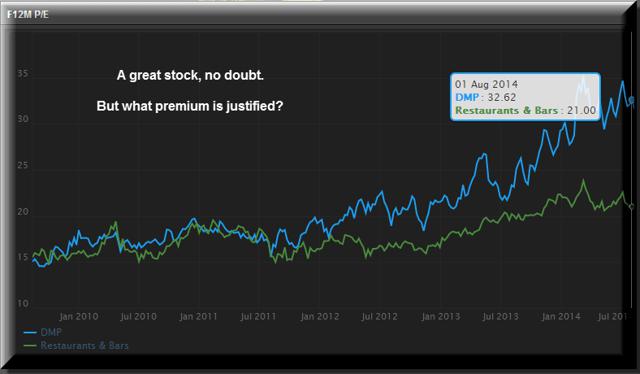 Hungry yet?
All investing is inherently uncertain - and it's hard to fault Warren Buffett's "margin of safety" approach (though credit for its creation belongs to his mentor, Benjamin Graham). Owning stocks with significantly inflated expectations can pay off - Facebook (NASDAQ:FB), Linkedin (LNKD), Under Armour (NYSE:UA) and Tesla (NASDAQ:TSLA) are all up over 10% over the last 30 days. Just recognize the potential for indigestion.
Disclosure: The author has no positions in any stocks mentioned, and no plans to initiate any positions within the next 72 hours.
Business relationship disclosure: Alpha Now at Thomson Reuters is a team of expert analysts that are constantly looking at the financial landscape in order to keep you up to date on the latest movements. This article was written by Steven Carroll, independent commentator and analyst. We did not receive compensation for this article, and we have no business relationship with any company whose stock is mentioned in this article.
Editor's Note: This article discusses one or more securities that do not trade on a major U.S. exchange. Please be aware of the risks associated with these stocks.