One of the most hotly contested economic issues bouncing around Wall Street trading desks of late is the question of inflation. Beyond simply being a harbinger of the economy, it has a direct and immediate impact of commodities and commodity stocks, particularly on gold - miners like Goldcorp (NYSE:G), Barrick Gold (NYSE:ABX) and Randgold Resources (NASDAQ:GOLD), as well as ETFs like the SPDR Gold Trust (NYSEARCA:GLD) and the Market Vectors Gold Miners ETF (NYSEARCA:GDX). While the U.S. Federal Reserve and other federal agencies continue to insist that inflation is well contained, critics cite a simple trip to the grocery store as evidence to the contrary.
Ultimately, forming a solid opinion of either GLD or GDX comes down to understanding the position of the Fed, making a call on inflation, and looking at the interplay between the miners and the commodity itself. A recent report from Oppenheimer named GDX as its top technical play on gold, preferring it to GLD, however there are some countervailing arguments to be understood. I remain bullish on both gold and the miners after an extended period of pain, but prefer a balanced approach here.
The Yellen Fed
A recent story from Reuters boiled down the complexities of Fed policy under its new chair, Janet Yellen, to a singular position: "she'd rather fight inflation than another economic downturn." Essentially, at a time when there is little to no will to use fiscal policy to nurture the economy, Yellen has made clear that she would rather see inflation return to the economy than run the risk of damaging the economic recovery. This position is, of course, aided by the fact that all measures of core inflation have showed little reason for concern. Still, critics argue that the price of goods that consumers buy most have increased significantly. In essence, that a common sense measurement of inflation would reveal that there is already a significant increase in prices.
First deputy managing director at the IMF David Lipton explained the balancing act between inflation and economic recovery: "The challenge that she and the Fed as an institution face is to support the recovery, because fiscal policy ... is no longer on the table for both political and economic reasons." Still, at the last policy meeting, Philadelphia Federal Reserve Bank President Charles Plosser formally dissented and Dallas Federal Reserve Bank President Richard Fisher reiterated concerns over the dovish stance of the central bank.
Trading Gold
In terms of the miners, both Goldcorp and Randgold make Oppenheimer's list. Goldcorp is expected to make sufficient acquisitions to restore its longer-term pipeline after completing an internal asset reallocation to improve the cost structure. Randgold turned in a solid start to the year, and with record production from key assets, the company looks strong. Barrick continues to be one of my favorite individual mining plays, and was just added to Goldman's conviction buy list. Reasons cited were:
(1) Improving operational profile: We expect the company's high-quality core assets to contribute c.80% to total cash flows leading to a decline in overall costs; (2) Inflection in FCF generation: On our estimates, Barrick Gold should turn free cash flow positive beginning in 3Q14, generating more than $5bn of FCF over 2014-18E; (3) Continued portfolio optimization: We expect Barrick to continue divestments in 2014 and beyond which, combined with strong FCF generation, should lower the company's net debt and improve its financial flexibility; and (4) Growth in copper production...
Overall, each of these three has enough positives to be considered.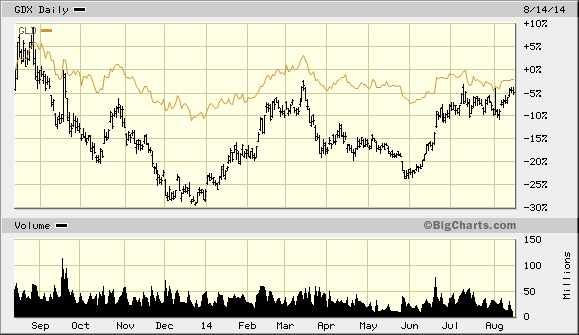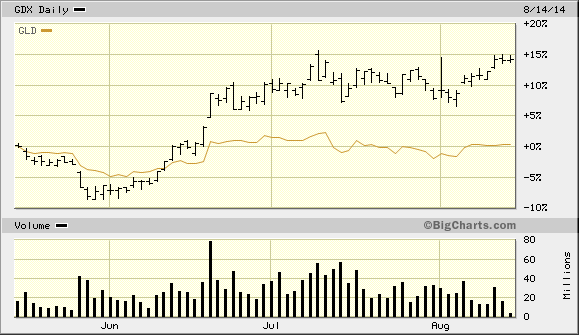 In terms of the two ETFs, there is a reasonable argument for choosing GDX over GLD. The miners have lagged the commodity over the past year, however, in the last three months that trend has reversed (see charts). This reversal is, in fact, one of my concerns with taking an overweight GDX position relative to GLD. Long-term, there may be room to run to return to equilibrium between the two, but the recent snap back gives me pause. Instead, I prefer an equal weighting between the two as we find out how the competing forces play out. Overall then, I remain bullish on gold, believing an allocation is warranted, but would continue to exercise diversification measures and caution.
Disclosure: The author has no positions in any stocks mentioned, and no plans to initiate any positions within the next 72 hours. The author wrote this article themselves, and it expresses their own opinions. The author is not receiving compensation for it (other than from Seeking Alpha). The author has no business relationship with any company whose stock is mentioned in this article.