Transocean Partners LLC (NYSE:RIGP) - Buy Recommendation - PT $25.05
The 25 day quiet period on underwriter reports for RIGP will come to an end on August 25. On August 26, the firm's IPO underwriters are allowed to publish research reports on the Transocean-formed owner and operator of offshore drilling rigs. RIGP has seen mostly gains in its early market performance, after pricing above its expected price and enjoying a healthy 10.5% return in its first day. With academic studies, as well as our own research, showing returns of at least 2%-4% in the period surrounding the quiet period expiration, we see this event as a new buying opportunity for a very solid company.
The 25 day quiet period on underwriter reports that began with Transocean Partners LLC 's July 31 IPO will come to an end on August 25, allowing the firm's IPO underwriters to publish research reports on the Transocean-formed owner and operator of offshore drilling rigs.
RIGP's share prices will likely gain a temporary boost from the publishing of the underwriter analyses.
Early Market Performance: General Gains
RIGP's IPO priced above its $19-$21 per share expected price range at $22 per share and enjoyed a healthy 10.5% return in its first day on the market. The stock continued to make gains through its close at $25.15 per share on August 4 before cooling slightly over the following business week. RIGP closed at $23.97 per share on August 12.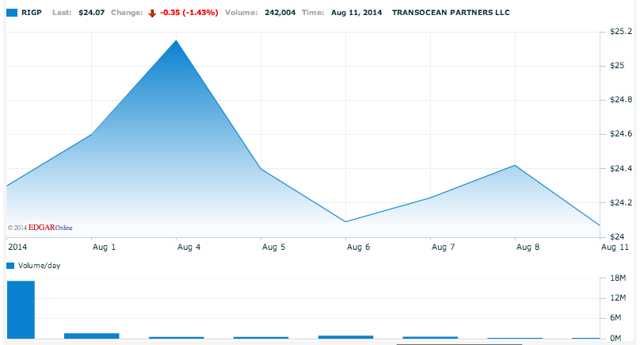 (NASDAQ.COM)
Strong, Reputable Underwriters
RIGP's team of IPO underwriters, including Barclays Capital Inc.; Morgan Stanley & Co. LLC; BofA Merrill Lynch; Credit Agricole Securities Inc.; Citigroup Global Markets Inc.; Credit Suisse Securities LLC; Goldman, Sachs & Co.; DNB Markets, Inc.; J.P. Morgan Securities LLC; Standard Chartered Securities (Hong Kong) Limited; Mitsubishi UFJ Securities , Inc.; and Wells Fargo Securities, LLC, will attempt to push the stock to fresh heights by publishing positive analyses beginning as soon as the quiet period has expired.
Underwriters, Quiet Period Expirations, and Buying Opportunities: Academic Studies
The Journal of Finance (VOL. LVIII, NO. 1; 2003) describes how share prices will generally begin to rise before the quiet period has actually expired, as investors anticipate positive underwriter analyses and begin to buy up shares early order to take advantage of the forthcoming influx of positive information.
As lead author Dan Bradley, PhD, CFA, affiliated with the University of South Florida, and his colleagues explain, 76% of firms enjoy immediate initiation of analyst coverage at the conclusion of the quiet period, almost always with a rating of 'Buy' or 'Strong Buy.' Firms with coverage initiated receive abnormal positive returns of 4.1% for the two days before initiation and the two days after initiation. When multiple analysts initiate coverage, returns have been found to increase further-to 6.4%.
Carter, Piwowar, and Strader (2001) support Dr. Bradley's conclusions, noting that the mean analyst rating at the conclusion of the quiet period is a "Buy," and that higher ratings correlate to higher returns. Lach and Highfield (2009) find that analyst initiations have been less positively biased since the Global Settlement and the NASD and NYSE rules; however, Highfield, Lach and White (2008) found that the five-day cumulative adjusted returns remain statistically significant at approximately 2%.
Bradley et al also noted a significant correlation between the number and reputation of IPO underwriters and rising share prices near the quiet period expiration.
Our own research, performed on a sample of 2014 IPOs, shows above-market returns of 2.3% within an 8 day (-5, +2) period (day 0 being expiration). These data are statistically significant at the 90% level. When we exclude IPOs for REITs and banks from the data set, returns increase further and remain within the 90% significance level. We also found that a greater number of underwriters could lead to reduced volatility of returns in the quiet period. We observed no significant linear relationship between market capitalization and returns or volatility of returns in the same period. We also observed no significant linear relationship between the percentage of the company floated at the time of IPO and returns or volatility of returns.
In all cases, investors' early purchases often lead to an atmosphere of rising demand and an increase in share prices before the quiet period ends, creating a short-term buying opportunity.
Business Overview
Transocean recently formed RIGP to own, operate, and acquire offshore drilling rigs. The firm currently holds a 51% interest in the RigCos that own and operate two drillships and semisubmersible rig in the Gulf of Mexico; the remaining interests in the RigCos are currently held by Transocean. RIGP generates revenues by contracting the use of its fleet to energy companies for the drilling of wells.
RIGP's two drillships, the "Discoverer Inspiration" and the "Discoverer Clear Leader," are contracted to Chevron (NYSE:CVX). The "Discoverer Inspiration's" contract will expire in March 2015, and a new contract with Chevron to last through April 2020 is scheduled to begin the following month. The "Discoverer Clear Leader's" contract will expire in September 2014, and it will begin a new contract to last through September 2018 the same month.
RIGP's semisubmersible, the Development Driller III, is contracted to BP through November 2016.
RIGP hopes to use its relationship with Transocean to strengthen its own operations. Transocean has agreed to give RIGP the opportunity to purchase at least a 51% interest in four more of Transocean's drillships within five years of the IPO. RIGP will also have right of first offer on Transocean's ownership interests in the RigCos that RIGP currently holds majority interests in.
RIGP's relationship with Transocean will also allow RIGP immediate access to the personnel, customers, and other assets with which Transocean has existing relationships.
See our IPO preview of RIGP here.
High Yields on the Horizon
RIGP plans to make minimum quarterly distributions of $0.3625 per unit, or $1.45 per unit annually, subject to the availability of sufficient cash to make the distributions. At the closing price on August 8 of $24.42 per share, this would be equivalent to a 5.94% annual yield.
Stiff Competition in a Fragmented Industry
Offshore contract drilling is highly competitive and fragmented, with no particularly dominant player within the industry.
Many of RIGP's potential competitors operate larger fleets than RIGP or have access to greater financial resources. Competitors include Vantage Drilling, Rowan Companies (NYSE:RDC), Pacific Drilling (NYSE:PACD), and many others.
Management With Strong Industry Experience
Kathleen S. McAllister recently joined RIGP as president and CEO in June 2014; she became a director of the firm in July 2014.
Ms. McAllister previously worked in various positions with Transocean, including as vice president and treasurer, director of Tax Reporting, assistant treasurer, and finance director for the Americas Business Unit and the North America Division.
Ms. McAllister previously served in various treasury, tax, and finance roles with Helix Energy Solutions Group (NYSE:HLX), Baker Hughes Inc. (BHI), Veritas DGC Inc., and Deloitte & Touche. Ms. McAllister received a B.S. in Accounting from the University of Houston.
Conclusion: Strong Buying Opportunity
We are highly optimistic on this stock going forward.
RIGP will have significant opportunities to expand through its relationship with Transocean, and should particularly benefit from the opportunity to acquire four newbuild drillships from Transocean in coming years.
The firm's quarterly distribution policy also provides for exceptional yields, if the company is able to generate sufficient available cash to pay them.
We are also encouraged by the firm's strong leadership team, much of which has already spent time working for Transocean.
At its current price, we believe RIGP is well worth buying into, and the upcoming quiet period expiration will likely provide investors with a strong opportunity to add RIGP to their portfolios.
We invite readers wishing to join the discussion on IPO quiet period expirations to click the +FOLLOW button above the title of this article -- and those looking for the latest development to click +Get real time alerts.
Disclosure: The author is long RIGP. The author wrote this article themselves, and it expresses their own opinions. The author is not receiving compensation for it (other than from Seeking Alpha). The author has no business relationship with any company whose stock is mentioned in this article.