Exactly one year ago, I made a call to buy Teucrium Corn ETF (NYSEARCA:CORN) at a presumed bottom. My argument was mainly based on seasonal and cyclical assumptions. In retrospect, I see that the seasonal argument was weak, and the cyclical argument was really a contrary assumption that corn would behave like many commodities that swing widely and sharply from conditions of over-supply to under-supply.
Anyway, I felt like a genius for exactly two weeks as CORN rallied over that time about 10% and even broke through its 50-day moving average. If I were trading CORN and not so convinced of a bottom, I probably would have exited happy enough with the trade. Five months and a 12% loss later, I stubbornly held on. A reward seemed to come in the form of a large single-day move on January 10, 2014 that preceded a long overdue sustained rally. This rally quickly erased memories of a mid-November announcement from the Environmental Protection Agency (EPA) proposing to scale back ethanol requirements in gasoline.
Another three months and my call of a bottom was made whole again. A large one-day plunge on June 30th produced a new 2014 low, and I finally had to concede "defeat." At that time, an estimated 3.854 billion bushels of corn came in well above expectations, and there was concern that the USDA estimate of feed and residual use was too high. Per farmdocdaily:
"[T]he bottom line is that old crop corn supplies are fully adequate to meet expected consumption needs through the summer, particularly with a large and early maturing corn crop coming on."
I describe all this trading and price history because it is important context for my more sober expectations going forward as I make another case for a sustained bottom in CORN.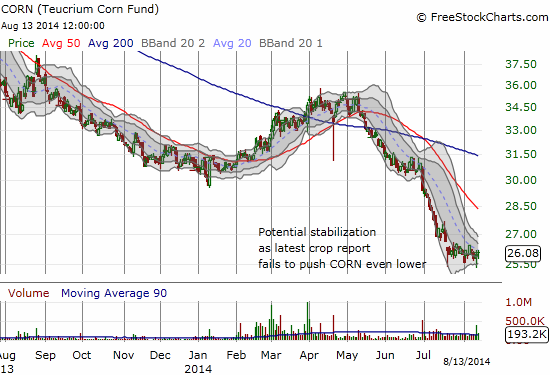 A VERY hard landing for CORN
Source: FreeStockCharts.com
Now fast forward to August 12th and another crop report from the National Agricultural Statistics Service (NASS), Agricultural Statistics Board, U.S. Department of Agriculture (USDA):
"The 2014 corn planted area for all purposes is estimated at 91.6 million acres, unchanged from the June estimate but down 4 percent from 2013. Area harvested for grain is forecast at 83.8 million acres, unchanged from the June forecast but down 4 percent from 2013.

The August 1 corn objective yield data indicate the highest number of ears on record for the combined 10 objective yield States (Illinois, Indiana, Iowa, Kansas, Minnesota, Missouri, Nebraska, Ohio, South Dakota, and Wisconsin).

At 14.0 billion bushels, 2014 corn production is forecast to be the highest production on record for the United States. The forecasted yield, at 167.4 bushels per acre, is also expected to be a new record for the United States. Eleven States expect a record high corn yield for 2014."
Despite the record-setting yield and production, corn prices did not take a fresh plunge. Instead, they remained in-line with a current period of what might be stabilization at what is now multi-year lows. (Charts are below are for cash prices - see an interesting August, 2014 research paper titled "Do Futures Forecast the Future?" for an interesting study concluding that futures prices are no better than cash prices at predicting corn and soybean prices).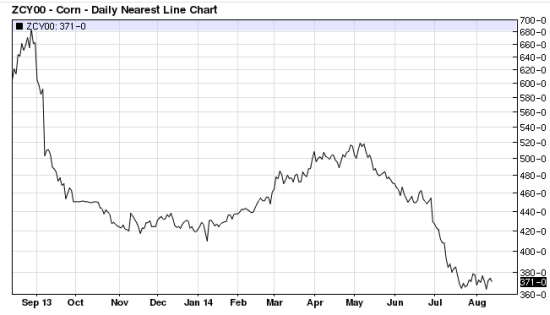 The latest crop report did not push corn prices out of the current period of stabilization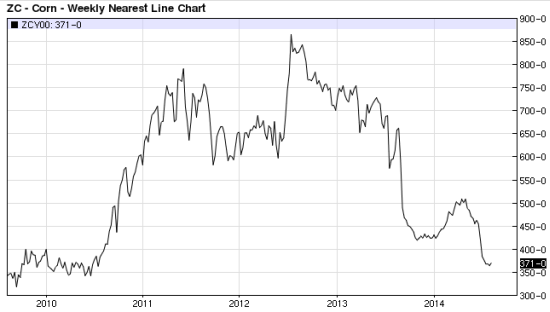 Corn prices are at multi-year lows
Source for charts: BarChart.com
The setup now seems very similar to 2013 where a report predicting record yields and production was greeted with a snapback rally and corn bouncing of recent lows. This time around, the setup has the added benefit of probing multi-year lows which provide for a very clear stop-loss point and a natural point of support. An article in AgWeb.com titled "Basis Hit Hard, Driving Corn Prices to $2.50/bu. in Corn Belt Fringe" provides several points that suggest corn prices may bottom out here as markets adjust to conditions of high production and low prices:
Major growth in corn acreage has occurred in "transitional areas." The implication is that with corn prices so low, these areas, like North and South Dakota, and northwestern Minnesota could be forced out of production and into other crops like soybeans next Spring…."Of the 16.6 million U.S. corn acreage pop over the decade, North Dakota alone was responsible for 14.5% of it, or an additional 2.4 million acres. Iowa increased by 1.2 million, exactly half the increase of North Dakota in actual acres."
Lower production costs, smaller yields, and lower bin requirements could motivate switches away from corn and into other crops.
The boom in North Dakota's Bakken oil fields has caused a rail car shortage in surrounding areas. This shortage has caused transportation bottlenecks and higher transport costs, making low corn prices even more difficult to bear.
In states further south, like Texas, a switch to cotton could provide a $50/acre advantage as cotton requires a lot fewer inputs.
The basic point is that extremes in price force responses first from the most marginal locations of production. It appears that corn may have reached such a critical tipping point. The planting reports (or forecasts of planting acreage) may give the first confirmations that a sustained bottom has formed for corn.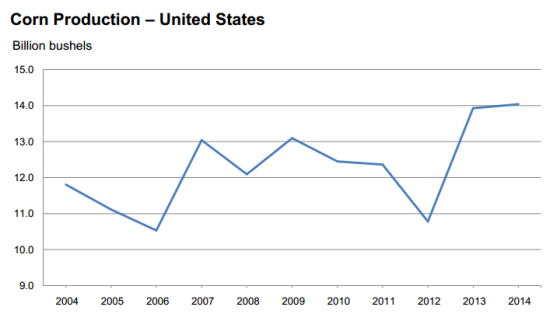 Record U.S. corn production
Source: August 12th and another crop report from the National Agricultural Statistics Service (NASS), Agricultural Statistics Board, U.S. Department of Agriculture (USDA)
Be careful out there!
Disclosure: The author is long CORN. The author wrote this article themselves, and it expresses their own opinions. The author is not receiving compensation for it (other than from Seeking Alpha). The author has no business relationship with any company whose stock is mentioned in this article.