A common deal-breaker for many potential investors of Wells Fargo (NYSE:WFC) is that the company is overexposed to the housing market - any potential downturn in this sector will supposedly hit Wells Fargo harder than other banks in the sector. In this article, I wish to counter that assumption and argue that Wells Fargo has one of the most enviable business models among its peers. While Wells Fargo is significantly involved in the housing sector, the institution also has among the best reputations going in terms of its consumer and business banking models. While I am optimistic on the future of the U.S. real estate housing market, Wells Fargo's diversified business model should allow it to thrive even in the midst of a sluggish housing market.
In 2013, Wells Fargo achieved the status of becoming the world's largest banking institution by market capitalisation. The firm conducts its operations through three main business lines; 1) Community Banking, 2) Wholesale Banking, and 3) Wealth, Brokerage and Retirement. While the bank has a diversified business model, given Wells Fargo's significant stake in the housing market, investors could be justified in being concerned about the future viability of this industry - rising interest rates and stagnant housing prices threaten to derail any potential profitability in this sector over the next five to ten years. On a more short-term basis, we have been seeing home loans for mortgages across the U.S. decreasing, with mortgage applications going down by 2.7% for the week ending August 8.
However, it is fair to say that in a rising interest rate environment, loans for any type of financial product will see decreased demand without economic or industry growth. All else being equal, a consumer/business will only take out a loan if doing so yields a positive NPV; e.g., if I were to take out a loan at 2% to invest in a factory that returns 5%, then the investment makes sense. However, if I take out a loan at 10% to invest in a factory that returns 5%, this is not viable, as I am paying more for the loan than I am receiving on my investment. Therefore, I believe that in a rising rate environment, one needs to look at interest rate risk from a holistic perspective. According to the 2013 Annual Report, of Wells Fargo's 2013 revenue of $83.8 billion, $42.8 billion came from net interest income, while the remaining $40.98 billion came from noninterest income.
In this regard, Wells Fargo seems to be well-capitalised in terms of its noninterest income sources, and in my opinion, given the right macroeconomic growth conditions, is poised to grow robustly in a rising interest rate environment. In my opinion, any hikes in interest rates by the Federal Reserve will likely be done on a controlled basis, and continued uptrends in economic growth will continue to lead to higher house prices. However, Wells Fargo has exposure to a much wider range of business lines than simply the housing market, and this should make the bank strong enough to withstand any potential shocks in this sector. The bank's 2013 Annual Report outlines a number of noteworthy achievements for Wells Fargo:
Within the Commercial Banking space, the firm managed to increase new loans to small business by 30% from the previous year.
The firm grew cross-sell to 10 products per household in 2012.
The firm's revenue within the Wholesale Banking industry grew by $2.5 billion from the previous year, due to growth in acquisitions and non-interest income.
The firm's Wealth, Brokerage and Retirement function, which caters to high net worth investors, grew net income by $47 million from 2012 to a level of $1.3 billion in 2013.
In terms of the housing market specifically, what does the future look like? Well, since 2010, we have seen a significant rebound in housing prices in the U.S. market, according to the Moody's Commercial Property Price Index. In addition, we see that Mortgage Delinquency Rates have steadily been falling: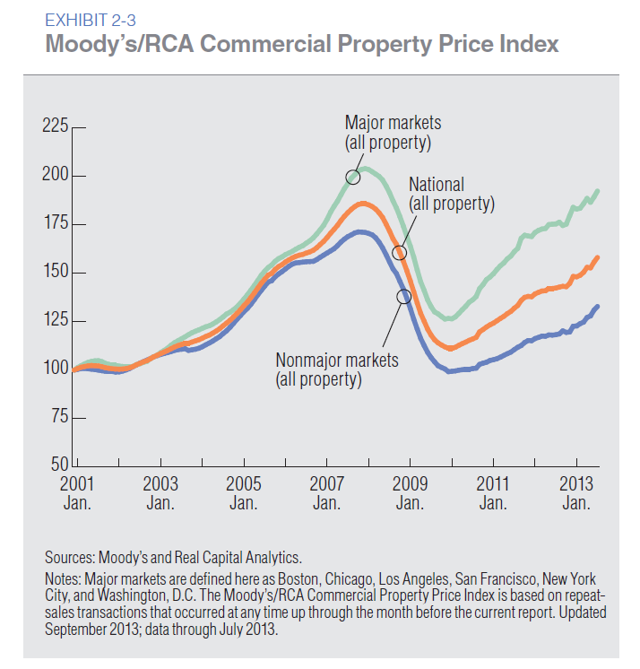 (Source: PWC - Emerging Trends In Real Estate 2014)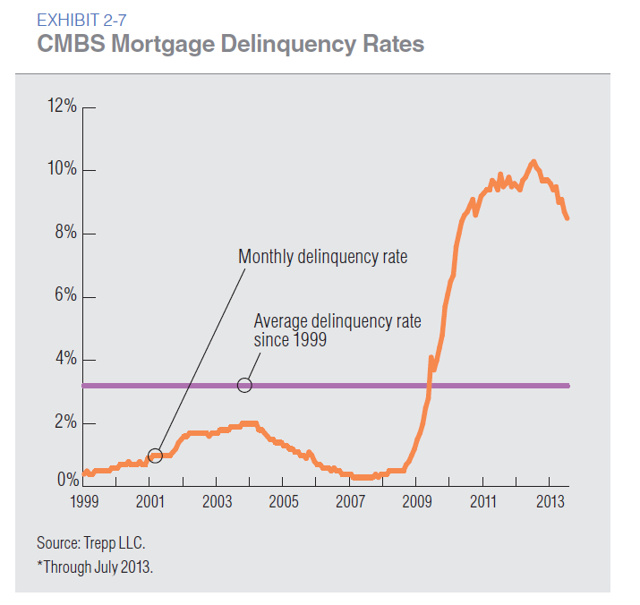 (Source: PWC - Emerging Trends In Real Estate 2014)
Additionally, a survey carried out by the Association of Foreign Investors in Real Estate in 2014 across 21 countries found that 81 per cent of respondents planned to increase their exposure to U.S. real estate assets. Moreover, according to PWC's "Emerging Trends In Real Estate 2014" document, 2.5 percent Gross Domestic Product Growth in the second quarter of 2013, while not outstanding, is sufficient to create demand for real estate product given a lack of new supply. All in all, I see the future of the U.S. housing market as being broadly positive.
In conclusion, I think Wells Fargo remains a great investment going forward. The company has a good business model in place to be able to weather any potential shocks associated with a downturn in the housing market, but has significant exposure to reap benefits from the upside.
Disclosure: The author is long WFC. The author wrote this article themselves, and it expresses their own opinions. The author is not receiving compensation for it (other than from Seeking Alpha). The author has no business relationship with any company whose stock is mentioned in this article.