The bull run in stocks with increasing consumer confidence would ordinarily lead to a partial reversal of the significant cost cutting which has been more than partially responsible for the large increase in free cash flows. Typically found is reduction in overhead both during and several quarters out of recession, at which point costs once again flair up. According to McKinsey & Co., only 10 percent of cost reduction programs sustain their results three years on.
Although now just 6 quarters into the recovery, the preponderance of the cost cuts are sticking around, as the following chart shows. This fiscal responsibility has brought down the cost of capital due to the affect of debt and cash flows on stability and other credit metrics of CT Capital's model.
Because a certain percentage of corporate fat (unneeded spending) can be captured, we consider it part of free cash flow. While almost all firms have a ways to go before they can be considered lean organizations, corporate America is headed in the right direction.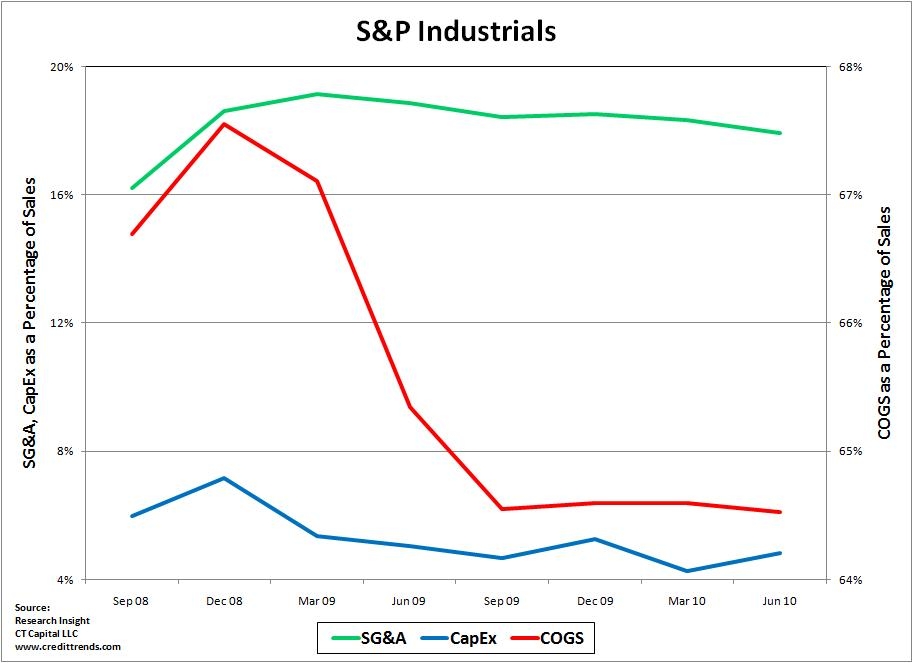 Related articles:
Disclosure: I have no positions in any stocks mentioned, and no plans to initiate any positions within the next 72 hours.