It's been four months since New York REIT (NYSE:NYRT) listed shares on the New York Stock Exchange and the company isn't slowing down. Last week the "pure play" New York City REIT announced its buying the Twitter Inc. headquarters in Manhattan. The $335 million sale/leaseback consists of a 12-story office tower and an adjacent six-story mixed-use building, with a total of roughly 282,000 rentable square feet.
The property is 99% leased and besides Twitter, which represents 75% of annualized cash rental income, tenants include Room & Board Inc., which occupies the retail portion of the building and represents 23% of rental income, and Flywheel Sports Inc., which represents 2% of rental income.
New York REIT was required to make a $33.5 million nonrefundable deposit upon the execution of the agreement, the company said in a Form 8-K filing and the REIT intends to fund the purchase through available cash on hand and borrowings under its revolving credit facility.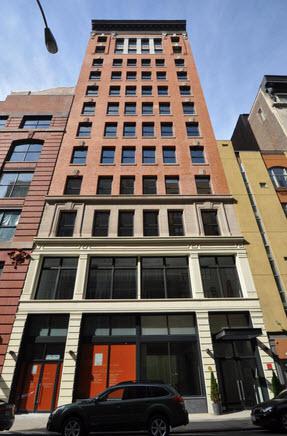 In an interview with the Commercial Observer, Michael A. Happel, the president of New York REIT, explained:
We are thrilled to have reached an agreement to acquire the headquarters of Twitter. This flagship property located in one of Manhattan's most desirable sub-markets, has been fully renovated and is distinguished by two new lobbies, brand new state-of-the-art building systems, windows, elevators and a stunning rooftop terrace that overlooks the Hudson River.
According to sources, NYRT is paying an estimated 4.75% cap for the Twitter building and that will basically max out the credit facility. I suspect that NYRT will raise equity which is certain to dilute investors given the current implied cap rate. However, Andrew DiZio, portfolio manager of the Stratton Real Estate Fund, believes "overall leverage is still within management's targeted range, making it more likely that NYRT places attractively-priced mortgage debt on the Twitter building to reduce the line of credit balance."
Regardless of the capitalization it's clear that NYRT doesn't enjoy the same cost of capital advantages as the larger peers S.L. Green (NYSE:SLG) or Vornado Inc. (NYSE:VNO).
Remember, the cost of debt is more or less the same for all parties involved but debt is cheaper than equity by a lot today. Private equity will use more leverage in its capital stack, therefore will have a lower cost of capital than the public REITs.
Cost of equity for public REITs is generally considered implied cap rate. According to Morgan Stanley research, SLG trades around 4.7% implied cap, VNO 5.2% and BXP 5.1%. NYRT is somewhere around 5.5%. A bull would say that implies relative value, but it also implies that NYRT can't competitively bid without using higher leverage, and post- the Twitter Building acquisition, leverage is more or less maxed to management's range so the company needs to raise equity to grow, but equity at current levels would be very dilutive.
That brings me to another thought. Why wouldn't Empire State Trust (NYSE:ESRT) acquire NYRT? The founders of ESRT, the Malkin's, didn't go through the publicly contentious process of battling the Helmsley Estate to take NYRT public to stay small, and they could use additional scale to leverage G&A. See my article on ESRT here.
Furthermore, NYRT's mastermind, Nicholas Schorsch, has shown a propensity to sell so that he can publicize a "win" and sell more non-traded shares - where his bread is really buttered. NYRT is currently externally managed and the New York City assets seem to match up for ESRT. This deal should be done as it leverages ESRT's brand image and further diversifies the 18 property portfolio. NYRT tendered shares at $10.75 and they are trading at $10.50 today. See my latest article on NYRT here.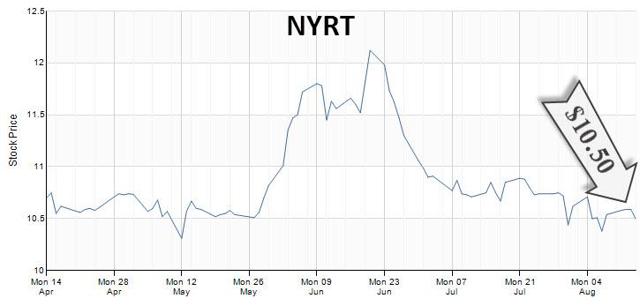 For more information on SWAN (sleep well at night) investing, check out my REIT newsletter HERE.
Source: The Commercial Observer (including photo)
Disclaimer: This article is intended to provide information to interested parties. As I have no knowledge of individual investor circumstances, goals, and/or portfolio concentration or diversification, readers are expected to complete their own due diligence before purchasing any stocks mentioned or recommended.
Disclosure: The author is long O, DLR, VTR, HTA, STAG, UMH, CSG, GPT, ARCP, ROIC, HCN, OHI, LXP, KIM, WPC, DOC, UDF, EXR. The author wrote this article themselves, and it expresses their own opinions. The author is not receiving compensation for it (other than from Seeking Alpha). The author has no business relationship with any company whose stock is mentioned in this article.