The U.S. Census Bureau reported Friday that advance estimates of retail trade sales for November were 338.8 billion, seasonally adjusted, an increase of 0.92% from the previous month and 8.1% above year ago levels.
Click to enlarge: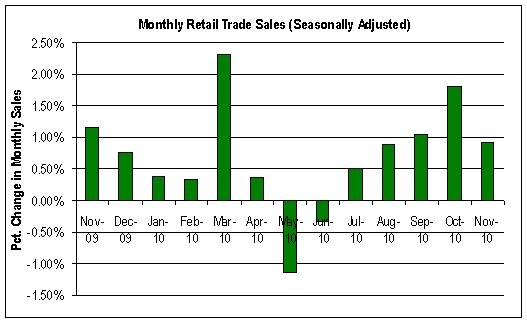 Source: U.S. Census Bureau / The Mays Report
Furniture and home furnishings sales have declined in the last two months and have generally weakened since July. With the state of the housing market I would expect retailers in this category, such as Tuesday Morning (TUE) to remain weak for the foreseeable future.
Electronics and appliance store sales declined in the last two consecutive months and in three of the most recent four months. This would explain Best Buys (NYSE:BBY) recent disappointing sales. Department store sales surged in November, largely due to the holiday shopping season. However, year to date, department store sales are down 0.9%. Those department and electronic specialty store sales continue to shift to the internet as non-store retail sales were up 2.1% in November and 14.2% year over year.
We have not seen retail trade sales at this level since June 2008, a few months before the beginning of the peak of the financial crises. In June 2008 the unemployment rate was 5.5%, today it is 9.8%.
Click to enlarge: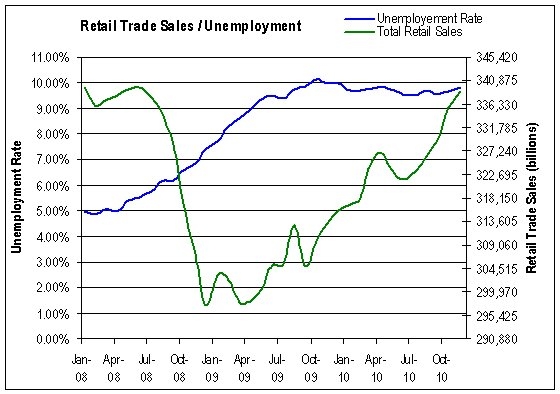 Source: U.S. Census / The Mays Report
Personal consumption expenditures are also back above January 2008 levels. This magic trick can only work by using some smoke and a mirror called leverage. Some may argue that consumer credit has been declining. This is also an illusion. Most of the decline in consumer credit is the result of bank write-offs. Check out this article written in October at Market Watch, entitled "Consumers paying off debt? Not Likely", which discusses this in some detail. High unemployment mixed with near record retail spending is not a dish that can stay fresh enough to enjoy for long.
Neither the author of this article or any family members own shares in Best Buy (BBY), or Tuesday Morning (NASDAQ:TUES) as of this writing. For a complete disclosure of my policy on ownership of stocks written about or recommended, please see the about page

Disclosure: I have no positions in any stocks mentioned, and no plans to initiate any positions within the next 72 hours.