This divergence report started February 21, 2014 using closing prices for five firms selected for their inventiveness [NBT] and six more firms chosen for their memory chip technological expertise [MEM].
The intent in February was to use analyst estimates as a "market sentiment" gauge of upside potential. Picks from Yahoo! Finance were supplemented with one year mean target price estimates reported by Yahoo! from broker analysts. Six months of reality has now passed to provide a half-way grade for analyst February upside calls.
Wizards of Wall Street Weighed In
One year mean target price set by analysts multiplied by the number of shares in a $1k investment were used to compare eleven stocks. (5 NBT + 6 MEM). The number of analysts providing price estimates was noted after the name for each stock. Three to nine analysts was considered optimal for a valid mean target price estimate.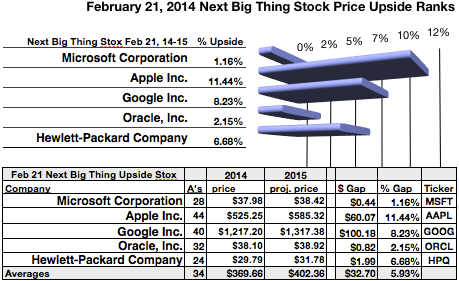 One year mean target price set by brokerage analysts matched against February 21 closing price compared five next big thing company stocks upside price potentials into 2015. Apple Inc. (NASDAQ:AAPL) exhibited an 11.44% price upside to lead the field by market sentiment.
Others on the list beside Apple Inc. were: Google Inc. (NASDAQ:GOOG) (NASDAQ:GOOGL) with 8.23%; Hewlett-Packard Company (NYSE:HPQ) showing 6.68% upside; Oracle, Inc. (NYSE:ORCL) projected 2.15%; Microsoft Corporation (NASDAQ:MSFT) posted 1.16% price upside.

Target price set by brokerage analysts matched against February 21 closing price to compare six memory chip company stocks upside price potentials into 2015. SemiLEDs Corporation (NASDAQ:LEDS), a Taiwan firm, exhibited a 120.59% price upside to lead the field.
Others on the list beside Taiwan's SemiLEDs were: Netlist Inc. (NASDAQ:NLST) in Irvine, CA with 46.34%; Rambus Inc. (NASDAQ:RMBS) from Sunnyvale, CA showing 22.14% upside; Integrated Silicon Solution Inc. (NASDAQ:ISSI) out of San Jose, CA posted 16.43% upside; Micron Technology, Inc. (NASDAQ:MU) in Boise, ID showed 9,29% upside; Spansion, Inc. (CODE) projected 8.47%.
Wall Street Meets Main Street
February 3, 2014 closing prices compared to August 1, 2014 closing prices were reported and charted below.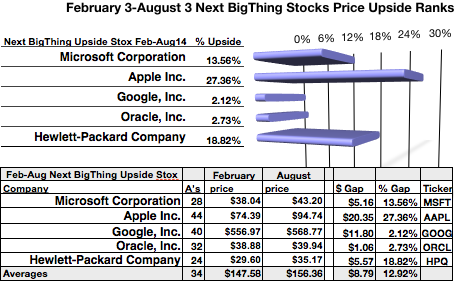 The price comparison showed three NBT stocks with double digit percentage upsides, and two with single digit upsides. The best price upside was 27.36% posted by Apple, Inc. The worst performer was Google Inc. at 2.12%. The average for the 5 NBT dogs was 18.82% price upside.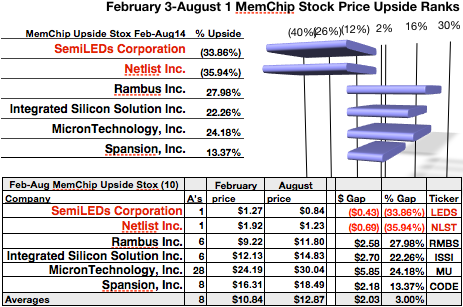 Memory chip maker price comparisons showed two MEM stocks with double digit percentage downsides, and four with double digit upsides. The best price upside was 27.98% posted by Rambus Inc. The worst performer was Netlist Inc. at 35.94% downside. The 6 MEM dogs averaged a 3% price upside.
The Road Between Wall Street & Main Street
Eleven charts and graphs below document monthly price changes compared to analyst straight line incremental and updated 1 yr target price projections.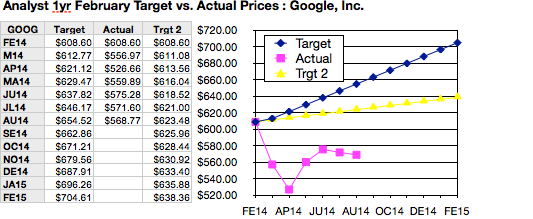 Four NBT stocks showed higher prices after six months, Google was lower. Only Microsoft in the NBT grouping roughly conformed to analyst upside predictions.



Four MEM stocks showed higher prices in six months. Two were dramatically lower. Only two stock charts, Integrated Silicon Solutions, and Micron Technology, roughly conformed to analyst revised upside predictions
Were Analysts' Forecasts Better For Net Gains?
All eleven February NBT & MEM stocks were projected to show $14 or more in net gains by 2015 per analysts.

All five NBT stocks showed gains come August based on dividends plus mean target price estimate from analysts less broker fees. Only Google has not kept pace with projections. Apple, Microsoft, and Hewlett-Packard exceeded analyst February targets and the revised targets for August. The average net gain for NBT dogs from February to August was $126.50.

Only the two bearish MEM stocks disappointed analyst expectations. The other four all outgained their February targets by August but failed to measure up to the analyst revised upward glide path. However, Integrated Silicon Solutions is closest to the August mark.
The average net gain for six MEM dogs from February to August was $9.99.
Actionable Conclusion: Expect Analyst Upside/Downside Calls to be Less Than 100% Accurate

The scorecard was completed. Analyst 1 yr. mean target price projections came in 0% to 80% accurate at the halfway point for Next Big Thing & Memory Chip stock purchase research.
Stocks listed above were suggested only as decent starting points for a NBT or MEM stock purchase research process in February, 2014. These were not recommendations.
Gains as reported did not factor-in any tax problems resulting from dividend, profit, or return of capital distributions. Consult your tax advisor regarding the source and consequences of "dividends" from any investment.
Disclaimer: This article is for informational and educational purposes only and should not be construed to constitute investment advice. Nothing contained herein shall constitute a solicitation, recommendation or endorsement to buy or sell any security. Prices and returns on equities in this article except as noted are listed without consideration of fees, commissions, taxes, penalties, or interest payable due to purchasing, holding, or selling same.
Graphs and charts were compiled by Rydlun & Co., LLC from data derived from www.indexarb.com; www.dividend.com; finance.yahoo.com; analyst mean target price by Thompson/First Call in Yahoo! Finance.
Disclosure: The author is long MSFT. The author wrote this article themselves, and it expresses their own opinions. The author is not receiving compensation for it (other than from Seeking Alpha). The author has no business relationship with any company whose stock is mentioned in this article.
Editor's Note: This article covers one or more stocks trading at less than $1 per share and/or with less than a $100 million market cap. Please be aware of the risks associated with these stocks.