With the big year at the box office Twenty-First Century Fox (NASDAQ:FOXA) has had, you would think it would have been rewarded better, but the company has been taking a hit from weakness in its usually strong TV lineup. The market also didn't like its $75 billion bid for Time Warner (NYSE:TWX), which still lingers over the company.
Nonetheless, the company is flush with cash, and it easily outperformed expectations in the latest quarter, with the earnings per share of $0.43 beating by 4 cents. The weak showing in its broadcast TV business weighed on the company, even as cable and film did very well.
Fox enjoyed strong performances in the fourth quarter from the releases of The Fault In Our Stars, X-Men: Days of Future Past and Rio 2, which generated record results.
Continuing pricing power from it affiliates in cable was another key catalyst for the company.
It also recently announced a share buyback program of $6 billion.
source: StockCharts.com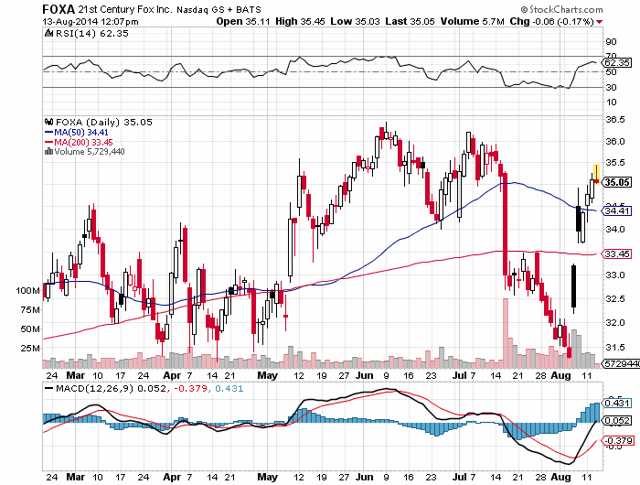 Earnings
Revenues for full year climbed to $31.9 billion, a gain of 15% year-over-year. The majority of that was from film and cable, just as it was for the most recent quarter. Part of it was also attributed to consolidating Sky Deutschland.
Full-year EBITDA came in at $6.72 billion, up 7% over last year. Cable accounted for over 50% of EBITDA growth for the year. When taking into consideration expenses rose 17% during the year, it's an impressive performance.
Net income from continuing operations for fiscal 2014 reached $3.8 billion or $1.67 per share. Much of that was the result of an increase from investments and sales.
Considering the results included a weakening broadcast TV segment, you can see how strong cable and film is at the company; although film is of course dependent upon hits, so that could change from quarter to quarter or year to year. Still, Twenty-First Century Fox has been strong in its film choices, so should do well going forward. That will be especially true over the next several years, with the next three installments of its blockbuster Avatar franchise set to be released in 2016-2018.
Since the rest of the year is expected to generate some decent political advertising dollars for the overall industry, Twenty-First Century Fox will get its share of that; especially with its cable business. Broadcast is likely to continue to struggle because of the continual decline in its former powerhouse American Idol. Advertising revenue from broadcast was down 11% from the same reporting period last year.
TV challenges
In the past the company had enjoyed predictable and sustainable results because of American Idol. Those days are over, and it now must find a new flagship franchise for its broadcasting segment to build back that steady performance it has been used to.
So far that has eluded the company, and until broadcast TV improves it will remain a negative catalyst. This is important to understand because it's the most predictable content unit of the business - whether it's a negative or positive effect.
While the company can have great quarters in its film business, as it just did, it needs to be accompanied by a robust and solid broadcast business in order to offset the volatility associated with the more unpredictable nature of the box office.
It's a major reason the share price has been taking such big swings over the last year and basically going nowhere.
Time Warner Factor
One of the problems with making its interest in Time Warner known from the huge bid for its competitor, is it could continue to be a negative catalyst on the company because of the competitive nature of Rupert Murdoch, who has been known for continuing to pursue an asset he wants for years until he gets it. If investors believe he is likely to continue to pursue Time Warner, it would put some downward pressure on the stock unless he or Twenty-First Century Fox make some type of definitive statement there is no more interest in acquiring the giant media company.
The market didn't like the bid by Murdoch for Time Warner, so it's definitely considered a negative move by investors. Again, it depends on whether or not the market believes Murdoch will continue to have an interest in acquiring Time Warner, as to how much it could have an impact on the share price.
After the bid the stock of FOXA took over an 11% hit in the weeks afterwards. In that regard, the rejection of the bid and dropping its pursuit of Time Warner, at least for now, was the best outcome. Still, it shows any lingering doubt concerning Time Warner could hold back the stock performance some.
During its latest earnings report Chase Carey announced it was done in its pursuit of Time Warner, but there is still doubt out there as to that being the reality over the long term.
Cash and Giving Cash Back to Investors
With free cash flow for 2015 expected to be at about $8.1 billion, it underscores the strength of FOXA to boost its cash position. To me, there is no doubt that in some way part of this will be returned to shareholders.
We already know of its stock buyback program for the next 12 months. I also wonder if it will add anything to its dividend, which is $0.25, with a yield of 0.70%. It's possible the company may wait until it turns around its broadcast TV fortunes, but with a strong second half in advertising expected, and a very strong outlook for 2016, it may seriously consider taking that step.
There is still a lot of room left in affiliate and retransmission fees to grow, so that can offset an underperformance at the box office, or an ongoing weak TV schedule.
I think shareholders would prefer an increase in dividends, but we'll see how it plays out. One way or another, we should see some cash returned to shareholders in the near future.
Explosive 2016
When looking at 2016, investors should be very interested in Twenty-First Century Fox. There will of course be a huge increase in political spend because of the presidential elections. But there is also the next installment in its powerful Avatar franchise, which should have a lot of pent-up demand going for it.
If Avatar 2 meets and/or exceeds expectations, there is no doubt the media giant will have positioned itself for a nice three-year run, with Avatar 3 and Avatar 4 scheduled to be released in 2017 and 2018.
As I write, FOXA hasn't received any premium for its long-term growth outlook. As it stands, it now has over 15x forward earnings. When measured against the S&P 500, which also has forward earnings at about the same level as Twenty-First Century Fox, the outlook is much better, as over the longer haul the S&P's growth prospects are under 10%.
This suggests to me that the company is undervalued, and may be a bargain at the little over $35.00 it is now trading at.
Conclusion
Since Twenty-First Century Fox is struggling with its broadcast TV lineup, resulting in lower advertising revenue and less predictability, it will continue to put downward pressure on the share price. Any improvement in this segment will be a positive catalyst for the company.
When I say it will put downward pressure on the share price, I mean in offsetting other strong areas of the company, not necessarily resulting in no growth. The increase in political spend, even with a weaker American Idol, will still produce some good results in the first two quarters of fiscal 2015, which will give the company a boost. But over the longer term, FOXA needs to land another big franchise show, or at minimum a couple of good performers to offset the continual drop in viewers in its broadcast segment.
Looking ahead to next year, it could be a difficult time, as the comps for the fourth quarter will be difficult to meet or surpass. Consequently, the share price is likely to come under pressure at that time; although any positive surprise would limit the effect. The market is of course aware of this, so it's not probable it'll be a take a big hit unless the underperformance is larger than expected.
Further out, 2016 promises to be an extraordinary year for Twenty-First Century Fox, with political ad spend and the release of Avatar 2. If by that time it has managed to produce a couple of significant TV hits, there is no doubt in my mind the share price is going to soar. Even without any major TV hits it will likely do so.
If Avatar 2 is a home run, then we'll see the company set up for a powerful three-year run which has the possibility of bringing significant returns to shareholders in light of the strength of cable and its successful films.
Finally, one offsetting factor, as mentioned earlier, is if there are ongoing concerns over the company making an even larger bid for Time Warner; one that would almost be impossible to reject by the management of the company.
This is the reason it was not a great idea to make the bid in the first place, although without a doubt it had to have been a trial balloon by Murdoch to get an idea of what it would take to land Time Warner.
Overall I like the longer term outlook for Twenty-First Century Fox, especially at what I consider a good entry point.
Disclosure: The author has no positions in any stocks mentioned, and no plans to initiate any positions within the next 72 hours. The author wrote this article themselves, and it expresses their own opinions. The author is not receiving compensation for it (other than from Seeking Alpha). The author has no business relationship with any company whose stock is mentioned in this article.