Agricultural equipment manufacturer Deere & Co. (NYSE:DE), managed to beat revenue and earnings estimates Wednesday, but only after previously guiding lower last quarter. More concerning, at least in the short term, was the company's guidance for negative revenue and earnings growth for the year, on the back of continued weakness in the agricultural commodities market. Apparently, the company sees so much softness in crop prices that it is scaling back its production significantly in an effort to adapt to the challenging environment. Though the share price has decreased of late, I believe that the stock remains only slightly undervalued to fairly valued at this time. Long-term investors may be willing to accumulate shares of this high-quality company on weakness, but investors with a shorter time horizon might do well to hold for now and wait for a larger margin of safety before applying new capital in this particular name.
What happened in the quarter?
Deere reported earnings of $850MM on the back of $9.5B total revenues, each down 13% and 5%, respectively. As others have pointed out, the diminished effect of revenue decline on earnings had much to do with a reduction in share float as DE continues with an aggressive buyback program: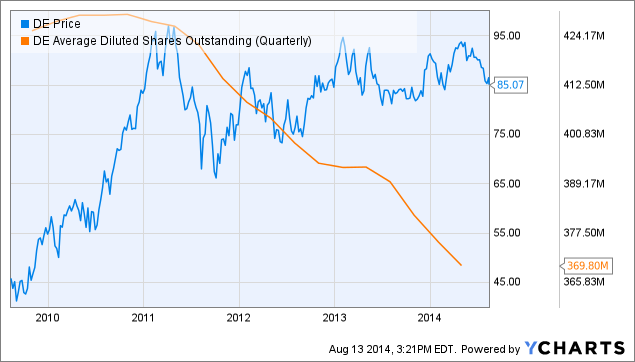 A drop in equipment sales were responsible for most of the decline. Revenues for equipment sales decreased about 6% y/y, which was accompanied by some operating deleverage as operating and net margins for the segment declined significantly, by over 240 and 120 BPS, respectively. Management cited higher production costs and unfavorable product mixes as chief factors in the margin decline, which combined with lower shipment volumes overall and unfavorable forex effects to put significant pressures on the segment. This significant operating deleverage is probably what prompted management to cut back on equipment production. This move would be expected to stabilize margins (or at least buffer against further declines), which will probably prove to be a prudent decision for now, given that cereal prices are bound remain softer than in recent years, with bumper crops widely forecasted.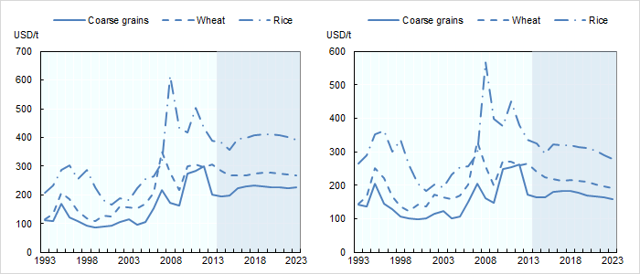 Source: OECD
More favorably, the company's financial services segment produced improved results relative to last year, posting an improvement in net income of about 8.2% y/y. Management cited satisfactory growth in the credit portfolio, offset by a higher credit loss provision. Though this wasn't enough to offset declines in equipment sales, it was one of the few bright spots in the conference call. It was a middling picture for the remainder of the call, with sales and operating margin declines in Agriculture & Turf (-11%, -200 BPS) offsetting decent profit growth in the Construction and Forestry segment (19%, +520 BPS). The latter probably should have been expected with housing continuing to recover in North America.
With all that in mind, Deere management gave soft guidance for the remainder of the year, as is their wont. Revenue for Q4 is expected to fall 8% y/y (implying Q4 revenues of about $9.2B compared to $10B one year ago), and net income for the year is forecast to come in around $3.1B for the year. Again, with commodity prices falling, without any real sign of improvement in the near term, this shouldn't be surprising, though management did suggest that an uptick in US livestock activity would partially offset this with increased sales of mid- and smaller sized tractors and similar equipment. Looking at commodities forecasts, grain prices are forecast to remain flat over the next several years, whereas meat prices are forecast to steadily run higher.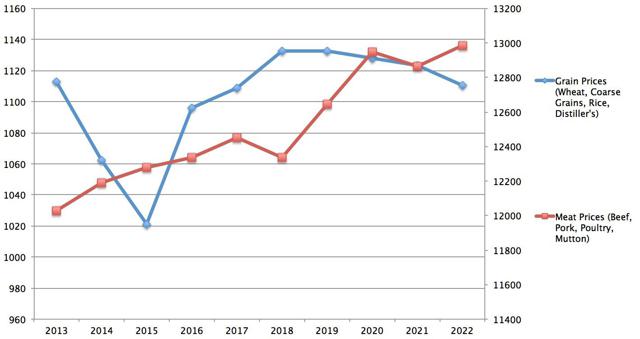 Source: self produced; data from OECD Agricultural Outlook
Despite these cyclical concerns, DE has an extensive track record as a quality company. It has an outstanding dividend record: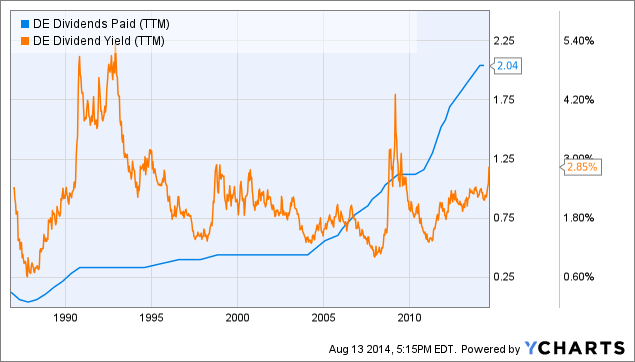 DE Dividends Paid (NYSE:TTM) data by YCharts
And despite the cyclical industry it operates in, has managed to grow book value fairly consistently over the years: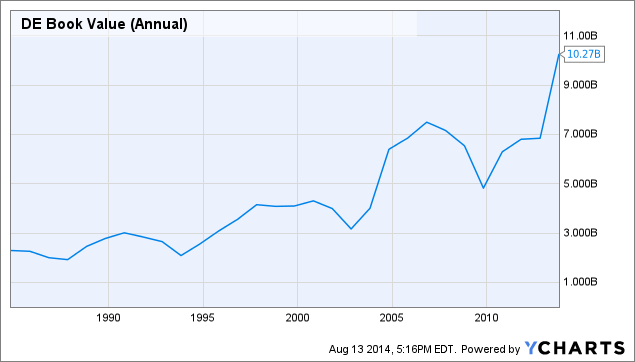 DE Book Value (Annual) data by YCharts
Despite these short-term pressures, the company's management remains optimistic about Deere's future prospects. So are are those future prospects worth paying for at the moment?
Valuation:
After incorporating these latest results as well as management's forecast into my discounted cash flow model, my fair value estimate for DE is $91 / share. I calculate a BVPS of $29. I use a statistically weighted base/bear case multi-stage discounted cash flow model, informed by a statistical analysis of trading multiples and revenue / earnings forecasts. The model forecasts continued pressure on top-line growth with revenues growing at about a 3.2% CAGR over the next 5 years and EPS growing in line at around 3.3% CAGR. I expect that operating deleverage will continue until at least 2016 or so, after which point increasing worldwide meat consumption in combination with recovering grain prices will allow DE (and other Ag companies) to leverage back to profit growth. Model output is reproduced below.
| | | | | | | | | | | |
| --- | --- | --- | --- | --- | --- | --- | --- | --- | --- | --- |
| | 2014 | 2015 | 2016 | 2017 | 2018 | 2019 | 2020 | 2021 | 2022 | 2023 |
| Revenue | $38,417,509,188.90 | $39,862,744,286.96 | $41,395,851,278.76 | $43,050,064,908.12 | $44,770,978,378.33 | $46,561,827,634.19 | $48,424,319,616.75 | $50,361,317,717.89 | $52,375,801,522.59 | $54,470,876,739.89 |
| Cost of Revenue | $26,709,361,305.17 | $27,709,004,115.17 | $28,770,364,242.87 | $29,919,812,206.21 | $31,115,631,742.42 | $32,360,262,411.09 | $33,654,684,590.41 | $35,000,888,228.51 | $36,400,943,900.62 | $37,857,011,215.38 |
| Gross Profit | $11,708,147,883.72 | $12,153,740,171.79 | $12,625,487,035.89 | $13,130,252,701.92 | $13,655,346,635.91 | $14,201,565,223.10 | $14,769,635,026.34 | $15,360,429,489.38 | $15,974,857,621.98 | $16,613,865,524.51 |
| OPEX | $6,987,974,090.71 | $7,247,576,355.31 | $7,515,544,432.47 | $7,815,260,980.46 | $8,127,959,813.18 | $8,453,077,827.41 | $8,791,201,226.47 | $9,142,853,478.96 | $9,508,570,069.17 | $9,888,919,600.67 |
| Net Income | $2,624,949,948.78 | $2,732,157,701.92 | $2,853,349,999.39 | $2,967,862,687.45 | $3,087,073,157.76 | $3,210,560,071.99 | $3,338,987,074.23 | $3,472,551,175.70 | $3,611,458,106.95 | $3,755,922,703.48 |
I assume a cost of equity of about 11%. My FVE implies a forward PE of 12.8, based upon predicted EPS of $7.10 as operating deleverage continues in the short term. Based upon this, I see DE shares as being relatively fairly valued to slightly undervalued. This may represent a decent entry point for long-term investors, though price weakness in the near term may offer a better opportunity, particularly for those with a shorter time horizon.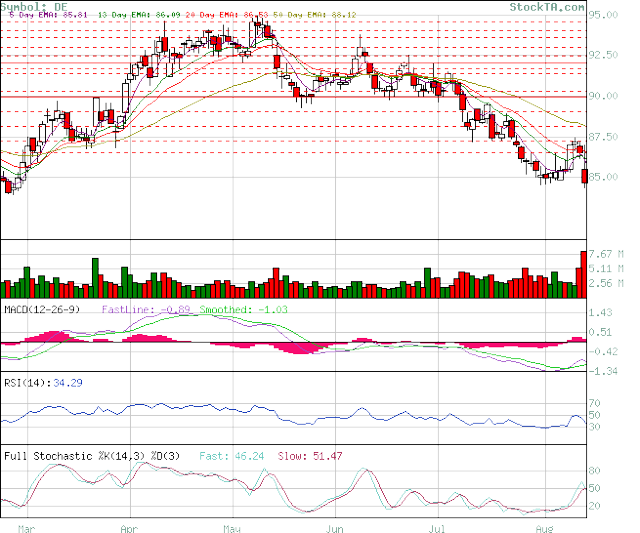 Looking at the technicals, the MACD is still showing signs of bearishness. The RSI is beginning to look oversold though given the strong downtrend at the moment I would hesitate to emphasize its use. There does appear to be support in the $80's range, though a breakthrough there would probably portend further price weakness into the $70's.
Conclusion:
DE's latest operating results indicate a company with significant short-term revenue issues that are probably to be expected with any cyclical company. However, the company's operating track record earns them some credit in my book, so I'm willing to hold onto my shares for the long-term. After this period of weakness subsides in a year or two, earnings growth in the high single to low double digits would be a reasonable expectation. I'd be willing to buy more on further price weakness, accumulating shares if we get below $82, and definitely buying if we pierce $73.
Disclosure: The author is long DE. The author wrote this article themselves, and it expresses their own opinions. The author is not receiving compensation for it (other than from Seeking Alpha). The author has no business relationship with any company whose stock is mentioned in this article.