On August 14th, Monster Beverage (NASDAQ:MNST) announced a partnership with Coca-Cola (NYSE:KO) that would see the latter take a 16.7% equity stake in the former in addition to asset transfers between the two companies. Shares of Monster Beverage jumped significantly as investors welcomed this new partnership. As part of the deal, Monster Beverage will transfer its non-energy drink brands to Coca-Cola and Coca-Cola will transfer its energy drink brands to Monster Beverage. This will enhance Monster Beverage's energy drink market position while removing its non-core non-energy drink brands. Additionally, Monster Beverage is set to receive a rather significant cash payment from Coca-Cola amounting to $2.15 Billion. Coca-Cola will have two seats on Monster Beverage's board of directors. This long rumored partnership between the two companies finally coming to fruition is certainly bullish for Monster Beverage. The company becomes more concentrated in the energy drink business where it has performed while also receiving a significant cash infusion from a powerful and strategic partner that is taking a sizable equity stake in Monster Beverage.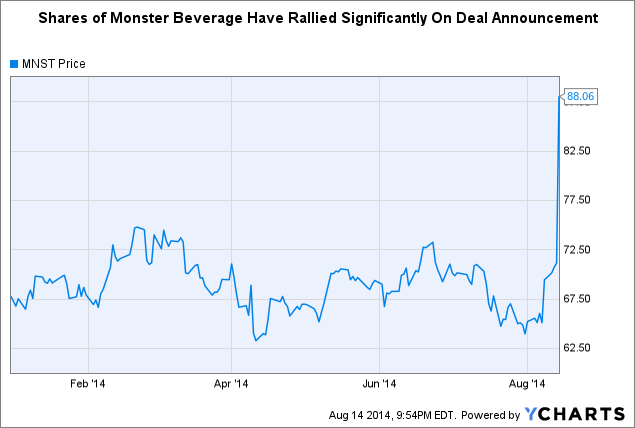 MNST data by YCharts
Brand Swap Places Monster Beverage In Strong Position
As part of the deal, Monster Beverage will be utilizing Coca-Cola's extensive distribution network, which should help the company expand sales meaningfully. While the cash payment from Coca-Cola will add a significant amount of funds to the company to fund CAPEX and expansion efforts, the brand swap will be instrumental in driving case volume growth in the future. Monster Beverage reported its Q2 2014 results last week which showed strong earnings growth on the back of healthy case volume growth of roughly 6.4% compared to Q2 2013. One important note to put the transaction in perspective is that in Q2 2014, Monster Energy brand drinks accounted for 93.1% of Monster Beverage's net sales. This segment of the company's business produce the lion's share of sales and the transfer of the company's non-energy drink brands to Coca-Cola is a rather small portion of the company's assets. Conversely, while Coca-Cola does not break out the sales volume of its energy drink brands, NOS, Full Throttle and Burn have strong market presences and should provide value to Monster Beverage once they are transferred from Coca-Cola.
Coca-Cola's Acquisition Precedents Could Point To Further Stake In Monster Beverage
One potential long term result from the announced partnership between Monster Beverage and Coca-Cola could be the latter making a full offer for the former. While this does not seem likely in the near term as Coca-Cola could have simply made a full offer for the company instead of this deal, the partnership could develop further and Coca-Cola may in fact try and take over the company. This strategy from Coca-Cola has precedent with Honest Tea and Zico as Coca-Cola took minority equity stakes in both companies before eventually making successful offers for the full respective companies. Although Honest Tea and Zico were small brands relative to Monster Beverage, it could be a potential route for Coca-Cola to follow. Maybe Cola-Cola's acquisition of 10% of Keurig Green Mountain (NASDAQ:GMCR) for $1.25 Billion this past February is a more comparable transaction. Back in May Coca-Cola decided to exercise an equity option for additional shares of Keurig Green Mountain that brought Coca-Cola's equity stake in the company to 16%. Shares of Green Mountain Keurig have performed well and are up by 42.6% since the initial investment by Coca-Cola was announced on February 5th of this year. If Coca-Cola's transaction with Green Mountain Keurig serves as any precedent, Monster Beverage could be poised for strong gains.
Transaction With Coca-Cola Should Support Bull Case For Monster Beverage
Monster Beverage is in a strong position as the company has now gained the support of major and worldwide beverage leader in Coca-Cola. In addition to the significant cash payment that Monster Beverage will take, the company receives important energy drink brands which further position the company as a leader in the energy drink market. Coca-Cola's distribution network should help Monster Beverage expand its case volume sales. The deal is expected to close at the end of this year or in early 2015. This partnership could potentially be very lucrative for Monster Beverage and even if Coca-Cola does not attempt to buy out the rest of the company, Monster Beverage should be able to produce strong growth and returns for its shareholders.
Disclosure: The author has no positions in any stocks mentioned, and no plans to initiate any positions within the next 72 hours. The author wrote this article themselves, and it expresses their own opinions. The author is not receiving compensation for it (other than from Seeking Alpha). The author has no business relationship with any company whose stock is mentioned in this article.