Two interesting news items this week:
U.S. ETF assets broke through $1 Trillion in assets for the first time this past week. Global Head of ETF Research and Implementation Strategy at BlackRock Deborah Fuhr said in a press release:
Increasingly both retail and institutional investors are building global, multi-asset portfolios that are designed to capture the performance of key 'benchmarks' for attractive market sectors -- an application for which ETFs and ETPs are particularly well suited.
Dovetailing nicely with Ms. Fuhr's quote above --- there was a report late in the week that highlighted the extensive use of ETFs by former Fidelity Magellan portfolio manager and long-time hedge-fund manager Jeff Vinik.
As an institutional investor, Vinik must disclose holdings and his September 30, 2010 13-F from his SEC filing is summarized below: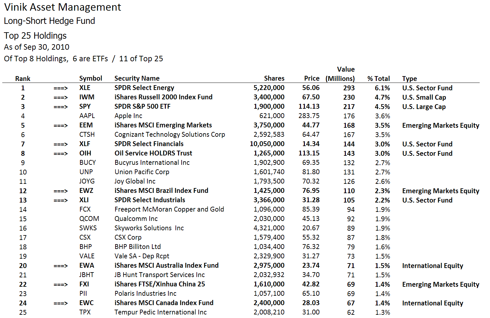 Looking over Vinik's holdings, the exposures are specific. A U.S. sector tilt, U.S. Small Cap, and Emerging Markets exposure. Note that SPY is the only of Vinik's ETF holdings that is a diversified U.S. large cap index. Ten of the 11 other ETFs represent targeted exposures.
In the grand scheme of things, $1 trillion in assets is still a drop in the bucket --- ETF/ETN assets are poised to head dramatically higher over the next 3-5 years.
Disclosure: I have no positions in any stocks mentioned, and no plans to initiate any positions within the next 72 hours.