Peter Schiff tells a story of a little island that expands economically and teaches you step-by-step all the fundamentals behind it. Although the story is simple to read, it discusses all the important economical principles like savings, credits, loans, inflation, and trade. How the island economy grows when the productivity, and not the spending of the island, grows.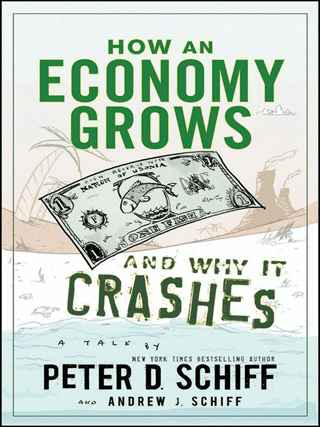 Every story, like how an entrepreneur is born on this island, is followed by a "takeaway" that describes how the story relates to today's real economical events. The book is infused with a good sense of humor and good similarities of the fictional names to the ones you've heard of.
Like most economists of this generation, Bernacle (sounds like Bernanke?) saw consumption as the elusive driving force of growth. The biggest consumers were therefore considered the engines of growth. But shopping in a mall is much more pleasurable than working in a mill. Anyone with half a brain knows that.
Government intervention and its effects on the economy are discussed in detail. You will like reading the story of "Fishy Macs and Finnie Mae".
Hut prices … been bid up to ridiculous levels by a combination of factors that would never return. Trying to keep them from falling was like trying to keep a bridge from collapsing after all the support had been knocked away.

Despite the fact that many islanders were upset for overpaying for the huts, the economy would be better if prices came down and building ceased altogether, at least until real demand returned.
You will like this book if you are interested to learn the basics of economy in a simple read or if you are looking for a joyful read before you sleep or even at a beach on a vacation!

Disclosure: I have no positions in any stocks mentioned, and no plans to initiate any positions within the next 72 hours.