Celanese Corp. (NYSE:CE) is a global technology leader that produces chemistry solutions and specialty materials used in major industries and consumer applications. It is headquartered in Irving, TX and has over 7,400 employees worldwide. The company was founded in 1918.
Its product mix is diverse ranging from automotive and medical polymers to low calorie sweeteners to resins and compounds used in film, carpet, and paints.
Celanese is a relatively under-followed company, with a little over 800k shares per day trading hands recently. As it turns out, despite trading stocks frequently for the past 10+ years, and it being in my backyard here in Texas, I only had a faint awareness of what it did.
As I normally do, I was screening for stocks that have high earnings yields and high ROIC along the lines of the Joel Greenblatt's Magic Formula for Investing. (He wrote several books, including "The Little Book That Beats the Market".)
Having done this for a while as one of my many stock screens, I see familiar names quite often. Celanese being somewhat unfamiliar led me to ask, "Does This Company Belong in My (or Your) Portfolio?".
The competitors to Celanese are those in the chemical space such as Eastman Chemical (NYSE:EMN), CF Industries (NYSE:CF), PPG Industries (NYSE:PPG), Air Products and Chemicals (NYSE:APD), and larger ones DuPont (NYSE:DD) and Dow Chemical (NYSE:DOW).
Several of these companies are trading at low P/E ratios, so CE is not alone here, but this low P/E is certainly notable. I have chosen two of those companies for comparison and perspective (the ones with the lowest P/Es):
Trailing Twelve P/E:
Celanese: 7.29
CF Industries: 8.55
Eastman Chemical: 10.6
Next Year Estimate P/E:
Eastman Chemical: 10.3
Celanese: 11.0
CF Industries: 12.0
The other competitors above are all higher in both areas.
Greenblatt calculates Earnings Yield as EBIT/Enterprise Value, which is slightly different than a straightforward Earnings Yield Calculation, which is simply the EPS/Price, or the inverse to the P/E. The result is essentially the same, which is that the Earnings Yield is the return you should expect to get on a company's current earnings.
Greenblatt Earnings Yield (EBIT & Enterprise Values shown below):
Celanese: $1.972B/$11.26B = 17.51%
CF Industries: $2.65B/15.07B = 17.59%
Eastman Chemical: $1.851B/$16.61B = 11.14%
All three of these are attractive numbers, but CE and CF stand out.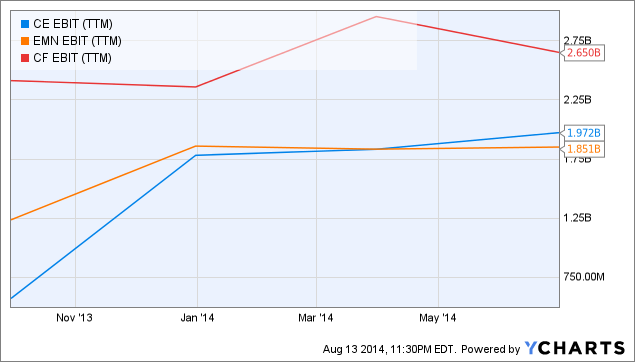 CE EBIT (NYSE:(TTM) data by YCharts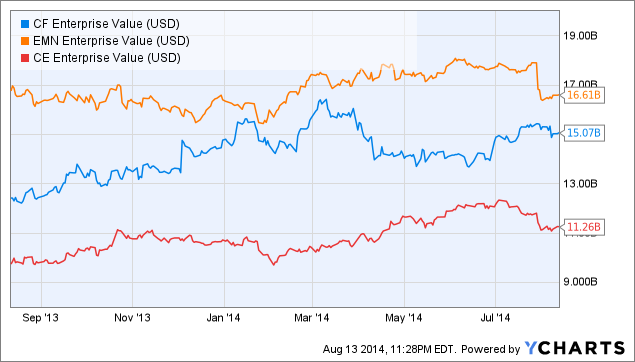 CF Enterprise Value data by YCharts
Simple Earnings Yield: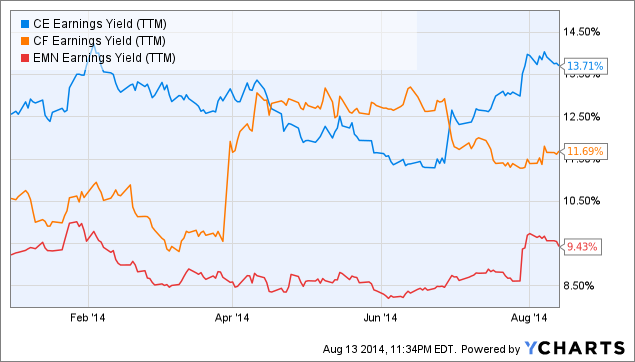 CE Earnings Yield (TTM) data by YCharts
Celanese: 13.71%
CF Industries: 11.69%
Eastman Chemical: 9.43%
(These are the inverse P/E)
Again, these are still attractive numbers, and Celanese and CF stand out.
The other side of the Greenblatt Magic Formula is Return on Invested Capital. ROIC is used to benchmark the effectiveness of management teams, where the higher ROIC between two companies should mean that one is managed more efficiently (everything else being equal).
Return on Invested Capital:
Celanese: 22.79%
CF Industries: 17.62%
Eastman Chemical: 14.22%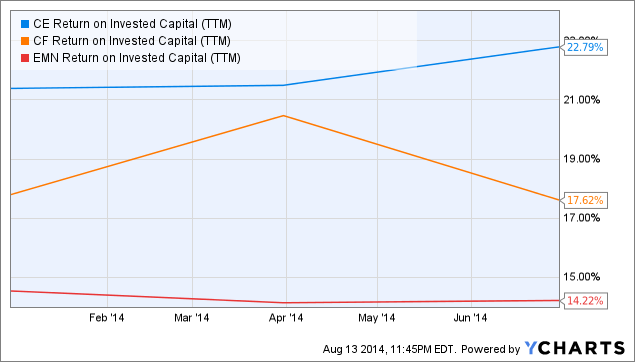 CE Return on Invested Capital (TTM) data by YCharts
Here, Celanese stands out again, but the other two are also strong.
Perhaps ROIC was high recently and is more of an anomaly. We look a little longer term to make sure. Here is the 5 year average of ROIC (from Fidelity.com):
Celanese: 14.06%
CF Industries: 18.09%
Eastman Chemical: 11.46%
Here, all three are solid, with Celanese and CF Industries leading. One difference is that ROIC went up recently for CE, where CF went down.
At least as far as Greenblatt's Formula goes, a high earnings yield and high ROIC makes for a good investment. Celanese meets that criteria (CF does also).
Celanese currently has a 1.69% dividend yield with a 15.1% payout ratio. A little low but plenty of room for increases. Analysts are projecting earnings growth over the next 3-5 years of 8.47%. Here's how that compares:
Projected Earnings Growth (3-5 years):
Celanese: 8.47%
CF Industries: 8.40%
Eastman Chemical: 8.07%
Celanese stands out again, but all three are close.
In fairness, CF Industries has a significantly higher profit margin and operating margin than both Celanese and Eastman Chemical. But, Celanese and Eastman Chemical have actually improved their margins recently, where CF has decreased theirs (understandable as it was quite high and hard to improve).
Where there are areas to be concerned, it could be:
Debt: All three companies have a decent amount of debt, with total debt to equity ratios being: CE: 116%, CF: 79%, EMN: 121%
Revenue Growth has been underwhelming (year over year): CE: 5.62% CF: -14.66% EMN: 2.10%
The current ratio is very good for each, so there is no issue with meeting obligations short term, and having debt is not out of the ordinary for capital intensive companies, especially with ultra low interest rates. Moody's just commented on the debt, mentioned below.
The revenue growth is better for CF when looking at the three and 5 year average (11.35% and 6.90% respectively), but the above underwhelming revenue growth for all three should be considered.
Recent News and Stock Action:
CE stock price has fallen from a high of $66.35 reached July 7. It fell to $58/share with the recent pullback and now trades at $59.35.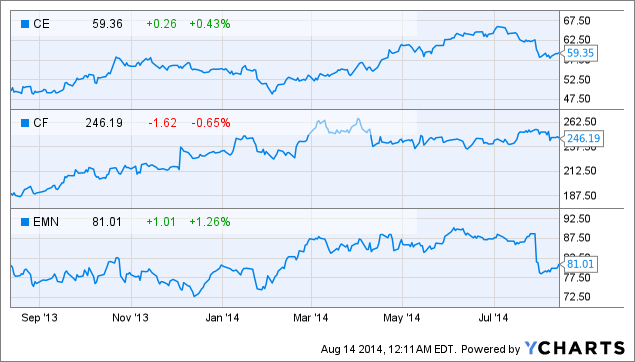 The whole stock market fell and the chemical companies did, too, so this was not unexpected.
Earnings were announced July 17, where they recorded the highest adjusted EPS in their history and expanded margins. They deployed $50 million on share repurchases and $39 million towards dividends. They still have $1.1B in cash on the balance sheet. They are expecting to grow EPS in the range of 15-17% for 2014 (all according to management).
There was no notable news to warrant the big stock drop of 12.5% other than participating in the broad market sell off in a bigger way, seeing that it had run up more than the general market leading up to that.
Celanese is increasing the prices of several of their products sold in Asia and their Corporate Family Rating (CFR) has just been increased to Ba1 from Ba2 by Moody's. The probability of default rating was upgraded to Ba1-PD from Ba2-PD. A Ba1 probability of default is less than 0.71% in 1 year (Ba1 substituted for BB here)
"The upgrade was triggered by the improved financial performance at Celanese over the past year," stated John Rogers, Senior Vice President at Moody's. "While we expect financial performance to continue to improve, the rating will likely be capped at Ba1 until management provides financial targets for leverage that would support an investment grade rating and refinances the secured debt in its capital structure."- Quote from Moody's.
Celanese stock price is trading above its 50 and 200 week SMA, and recently held the 50 week and its trendline.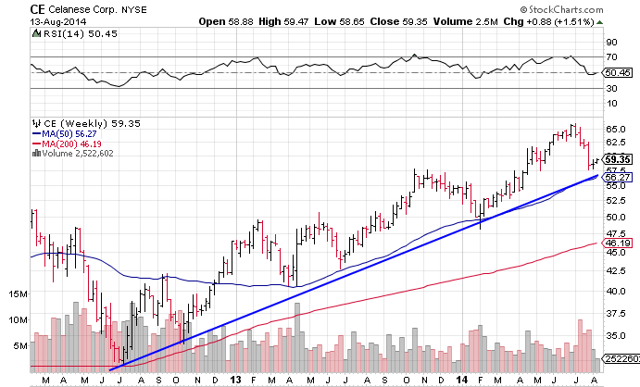 Using a DCF calculation, and assuming only 2% earnings growth, we arrive at a fair value of $92.25. Analysts are expecting over 8% earnings growth, meaning the fair value could be even higher.
Chemical companies are currently trading at an average p/e of 16.7, leaving plenty of room for CE to move up in valuations. If it grows earnings at 8%/year AND has p/e multiple expansion that comes anywhere close to 16.7, AND grows its dividend (has a 15% payout ratio with $1.1B in cash), Celanese Corp. could approach 29%/year total return over the next 5 years.
Personally, that seems hard to believe considering we will most likely have a serious stock market correction between now and then, but with a p/e of 7.29 and double digit earnings yield and ROIC this is an attractive risk/reward scenario despite the overall stock market.
To come full circle, this is also consistent with the Greenblatt Formula which seeks to find the stocks that have a great chance to have above average returns. Celanese seems to be one of those stocks.
I don't know what catalyst will prompt investors to flood to a company that makes resins and compounds for paint among other things. It certainly isn't an exciting Tesla, biotech, or even AAPL.
But, if investing in stocks that have an above average chance of delivering strong total returns appeals to you, CE should be considered.
Disclosure: The author is long CE. The author wrote this article themselves, and it expresses their own opinions. The author is not receiving compensation for it (other than from Seeking Alpha). The author has no business relationship with any company whose stock is mentioned in this article.
Additional disclosure: Disclosure: Kerry Prazak, CFP® is the owner and portfolio manager of East Lake Financial, LLC, a Registered Investment Adviser. Kerry Prazak, East Lake Financial, and/or its clients may hold positions in any ETFs, mutual funds, and/or any investment asset mentioned above. The comments above do not constitute individualized investment advice. The opinions offered here are not personalized recommendations to buy, sell or hold securities. Kerry Prazak or his clients may own the above stocks/ETFs and/or options relating to those stocks/ETFs. Please do your own due diligence before investing. Thanks!