The 10% sell off in shares of Carriage Services Inc. (NASDAQ: CSV) so far this year presents an exciting asymmetric risk-reward opportunity for investors. Carriage is grossly under-followed, with only 2 analysts following the company. After a roughly 10% sell-off in shares so far this year, Carriage trades at a valuation among the lowest in the industry, despite Carriage's exceptional operational metrics and proven model for fueling sustainable-future growth. By the end of next year, I believe shares could be trading around 50% higher than current prices.
Business Overview & Strategy
Carriage is a national funeral home and cemetery operator with 167 funeral homes located across 27 states and 32 cemeteries located across 11 states. The company's funeral homes segment accounts for approximately 75% of overall company revenue, while the cemeteries segment accounts for the remaining 25%. Carriage is the third largest death-care consolidator in what the company characterizes as a "highly fragmented industry," as the majority of the more than 24,000 funeral homes are represented by small, locally-owned independent operations. Service Corp International (NYSE: SCI) is the largest player in the space, with StoneMor Partners L.P. (NYSE: STON) a distant second.
As the industry is characterized by low growth, low technology, and stable earnings, Carriage has, over the years, adopted a business strategy that generates growth by making targeted and strategic acquisitions and fixing regional and corporate overhead to allow even modest growth in the sales of Carriage's business to result in improved margins.
Acquisitions Set to Drive Overall Growth
The company's business model has evolved over past years so that the company now generates the majority of its overall growth through funeral home acquisitions. The company's same store funeral and cemeteries segments can be relied on to consistently produce stable revenue and earnings, while acquisitions are increasingly becoming the company's primary growth segment. The slide below, taken from Carriage's annual shareholder presentation, shows a breakdown of Carriage's revenue since 2009.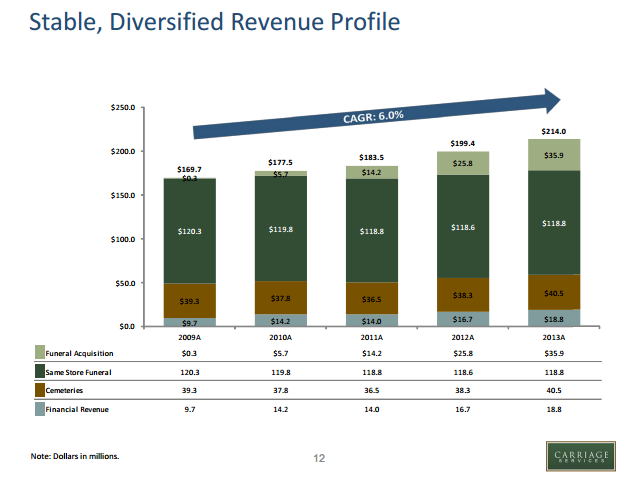 Image Source: Carriage Services Investor Presentation
As shown above, funeral acquisitions continue to become a larger part of the Carriage's overall revenue stream. In 2009, this segment barely generated enough revenue to even show up on the chart. In 2013, however, funeral acquisitions accounted for 16.8% of overall revenue. Since 2010, Carriage has grown this segment at an compound annual growth rate of 84.67%, and while such a rate is unsustainable, Carriage is still looking to grow this segment at an accelerated pace going forward. Currently, Carriage is forecasting acquiring $16-$18 million in new annual revenue through acquisitions in 2014 alone.
It's a good thing that Carriage has started to aggressively acquire funeral homes in recent years, as Carriage's other segments (same store funeral, cemeteries, and financial revenue) have been relatively stagnant, which makes sense as the number of people dying in the United States has been climbing, but only marginally.
Even with this stagnation in these other segments, Carriage has been able to deliver a 6% CAGR for total revenue over the past 5 years. For Carriage the runway is certainly there to sustain growth of this caliber, as out of the 24,000 or so funeral homes in the U.S., only 12% are under consolidators' control, with Carriage being the smallest of the three major consolidators. Carriage's long-term goal is to reach $300 million in sales by 2018, fueled nearly entirely by $45 million in acquisitions the company plans to make by that time. Starting in 2013, that assumes a 7.09% CAGR in revenue.
Improved Leverage Will Result In Increased Profitability
Carriage stepping up its acquisition efforts is going to play right into the company's secondary growth strategy. By already having fixed regional and corporate costs, Carriage now stands to benefit on margins as the company brings more locations into the overall scheme.
At the assumed $45 million in acquisition purchases by 2018, Carriage's leverage and return on equity would also increase. The slide below outlines the effect Carriage expects from its acquisitions on its profitability and return metrics.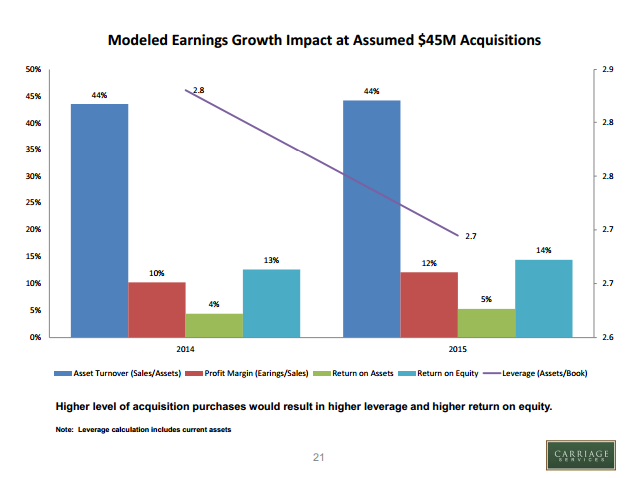 Image Source: Carriage Services Investor Presentation
If Carriage did in fact increase its profit margin to 12% and ROE to 14% by 2015, that would only increase the lead the company current has in these metrics over its main competitor, Service International. Over the trailing twelve months, Carriage has a profit margin of 7.15%, compared to Service's 4.32% margin, and a 9.74% return on equity, compared to Service's 8.43%. (It is not appropriate to compare StoneMor Partners alongside Carriage and Services as StoneMor is organized as an L.P.)
Balance Sheet Breakdown
As of the Carriage's latest quarterly report, reported on August 5, the company has $32 million in current assets and $39 million in current liabilities, giving the company a current ratio of 0.82. In most industries, anything below 1 is considered dangerous. In the funeral home/cemetery industry, however, Carriage is actually on the strong side, with Carriage's much larger competitor Services International having a current ratio of only 0.63 as of its latest quarterly report.
Overall Carriage has a very solid balance sheet, especially when compared on a relative basis. Carriage has a total assets to total liabilities ratio of 1.26, compared to Service's 1.13. Carriage does have a great deal of debt ($129.8 million long-term), as would be expected with its aggressive acquisition strategy, but has a $325 million credit facility with Bank of America and is well within the covenants contained in this facility.
Valuation
Carriage's stock has traded down from $20 at the beginning of 2014, primarily because of disappointing guidance the company issued in March that called for $231-$235 million in revenue and basic EPS of $1.18-$1.22 for FY 2014 and $254-$262 million in revenue and basic EPS of $1.42-$1.48 for FY 2015.
Since trading down around $16, Carriage has popped up to $18 after reporting an impressive earnings report, and currently sits just below the midpoint of its 52 week range. Still, at current prices Carriage trades at a significant discount to the overall industry, despite the fact that Carriage possesses fundamentals superior to most, if not all, of these companies.
The chart below shows a comparison of the forward price to earnings ratios of 4 companies similar to Carriage Services and their expected EPS growth rate from 2014 to 2015. While these companies are not identical, they all operate in the so-called "deathcare" industry. Service International is a funeral home operator like Carriage, Hillenbrand's Batesville segment sells caskets, Matthews International produces memorialization products, and Chemed's Vitas segment offers special care to those with life-limiting illnesses.
 
 
Forward P/E
Expected 2014-2015 EPS Growth
Carriage Services
CSV
14.13
18.25%
 
 
 
 
Service International
SCI
19.59
14.55%
Hillenbrand
HI
15.56
12.08%
Matthews International
MATW
16.73
10.07%
Chemed
CHE
19.12
8.43%
 
 
 
 
Average Excluding CSV
17.75
11.28%
Data Source: Forward P/E - YCharts, Expected EPS Growth Rate - Zacks
Despite having the highest expected growth rate, Carriage is being awarded with the lowest forward price to earnings multiple, which is more than 3 points less than the industry average. Given Carriage's acquisition-driven growth model, superior, as well as strengthening, operational metrics, and solid balance sheet, Carriage truly deserves a premium valuation, so why doesn't Carriage have this "premium valuation" it supposedly derserves?
A lot of it has to do with how grossly Carriage has already outperformed the industry to this point.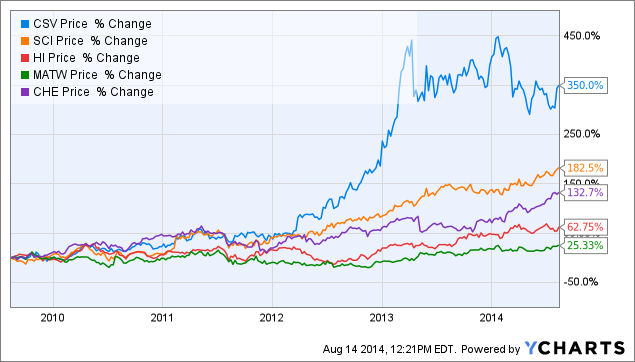 Right around 2012 and 2013, when Carriage really began stepping up its acquisition efforts, its stock began to soar. Ever since early 2013, however, the market has backed off from Carriage, believing much of the company's potential growth to already be baked in. Despite Carriage's $45 million in acquisitions goal by 2018, investors have simply grown skeptical that acquisitions can be a sustainable growth method for the company, and think that Carriage will soon return to the days of growing at the 1.6% rate the funeral home industry is projected to grow at for the next 5 years.
That's why Carriage trades with the price to earnings ratio it does. I believe the market is wrong, however, and will soon wake up to the reality that acquisitions can be a catalyst for the company to continue outperforming. Why?
First and foremost, as Carriage brings more acquired businesses into its operations, the cash its empire generates is increasing at a pace that has, and will continue, to allow the company to acquire aggressively. Over the past 5 years, Carriage's cash from operations has nearly doubled on a trailing twelve month basis, compared to a 24% increase in debt levels.
Further, Carriage is very disciplined in its acquisitions. I know every company in the world says this, but Carriage truly means it. When making acquisitions, Carriage only considers businesses that will make an immediate positive impact on cash flows. Carriage isn't waiting around for years on end for its acquisitions to start making money.
Finally, and probably most important, there is still so much more room left for Carriage to run. Remember, only 12% of the 24,000 funeral homes in the U.S. are under the control of consolidators, so it's not like Carriage is running out of quality options. Carriage has a massive number of potential targets, and thus can weed out the weak and only acquire the best of the best.
As the market begins to realize that Carriage is, in fact, capable of sustainably fueling growth through acquisitions, as will be evidenced in future earnings reports, I believe Carriage will begin to be rewarded with this "premium valuation." In fact, I believe this shift has already begun, as on the company's most recent earnings report, delivered on August 6, the stock shot up from $16 to $18. Even if Carriage only rises back to the industry average, however, there is substantial upside.
| | | | |
| --- | --- | --- | --- |
|   | Best-Case Scenario | Expected Scenario | Worst-Case Scenario |
| 2015 EPS | $1.62 | $1.49 | $1.12 |
| P/E Multiple | 17.75 | 17.75 | 14.13 |
| Share Price | $28.76 | $26.45 | $15.83 |
| Variance (from $18.00) | 60% | 47% | -11% |
Data Source: Author's Calculations
Above I outline 3 scenarios. The "best-case scenario" assumes that Carriage delivers on the 12% profit margin and 7.09% CAGR on revenue as outlined in the company's shareholder presentation. The "expected scenario" assumes that Carriage delivers on the average analyst expectation for 2015. Both of these scenarios also assume that by 2015 Carriage's P/E multiple will have risen to the industry average. These scenarios imply 60% and 47% upside, respectively.
The "worst-case scenario" assumes that Carriage misses the 2015 EPS estimate by 25% and only maintains its current forward price to earnings ratio. Under this scenario, there is only 11% downside from the current stock price around $18.00.
The Takeaway
Despite the stagnant nature of the funeral home/cemetery industry, Carriage seems to have found the equation for consistent mid-single digit growth. In the forthcoming years Carriage will step up its acquisitions and, as a result, likely expand the company's margins. Even with superior fundamentals, Carriage trades at a considerable discount to the overall industry, something I expect to soon change. By the end of next year I see shares trading up in the high $20's, which is why I will be building a position in the company over the next couple of days. Happy investing!
Disclosure: The author has no positions in any stocks mentioned, but may initiate a long position in CSV over the next 72 hours. The author wrote this article themselves, and it expresses their own opinions. The author is not receiving compensation for it (other than from Seeking Alpha). The author has no business relationship with any company whose stock is mentioned in this article.