I have to admit I was quite amused by an article on my biggest holding Gilead Sciences (NASDAQ:GILD) this week on SeekingAlpha entitled "Gilead Sciences Looks Like A Contrarian Short". The piece was well written, much commented upon and was one of the most popular articles on SeekingAlpha that day. It was also dead wrong.
The author had several themes to why he thought Gilead was overvalued. I will focus on and will rebut two of his main points that have no foundation in fact.
All the potential good news is already priced in Gilead's stock.
This one of the easiest parts of the author's arguments to refute. We don't even have to work very hard to do so. Just today the U.K.'s National Institute for Health and Care Excellence announced they support Gilead's blockbuster Hepatitis C drug Sovaldi for the National Health Service at a full regimen price of 35,000 pounds ($58,380 or ~$700/pill). Obviously this opens up a significant new stream of revenue for many years for Sovaldi.
In addition, the company disclosed this morning that an arbitration panel ruled that Roche is not entitled to any damages or relief in its arbitration case filed in March 2013 against the company and Pharmasset pertaining to rights to Sovaldi removing a legal overhang on the stock.
Finally, the consensus earnings estimate for Gilead in FY2014 has gone up 13 cents a share just in the last week to $8.02 a share. A month ago, the consensus was at $6.55 a share and three months ago it was at $6.17 a share. I expect these estimates to continue to go up as we get closer to the third quarter results as Sovaldi has blown through every expectation so far.
I should not have to mention that Sovaldi should see accelerating growth in Europe and still has huge new markets like Japan that it should be able to access over the next year. The company also has new improvements coming for its market leading HIV franchise and potential new treatments for certain types of leukemia and RSV in late stage trials.
At present valuations, Gilead looks like a contrarian short.
I am not sure what valuation metric the author is basing this on. Yes, if you look at 2013's earnings of just over $2 a share, the stock could look expensive at around 45 times the previous year's earnings. However, the stock market is a forward looking mechanism and is focused on the over $8 a share Gilead will make this year. This means the stock is trading at ~12 times forward earnings, a ~25% discount to the overall market multiple. The average stock in the market is not going to quadruple earnings on better than a 130% gain in sales this year either.
Not only is Gilead not overvalued, it maybe the cheapest large cap growth stock among equities that I know of. Anyway, that is my take on this article and on Gilead's valuation and prospects. I am sure the stock will continue to respond by doing what it does best, going up. STRONG BUY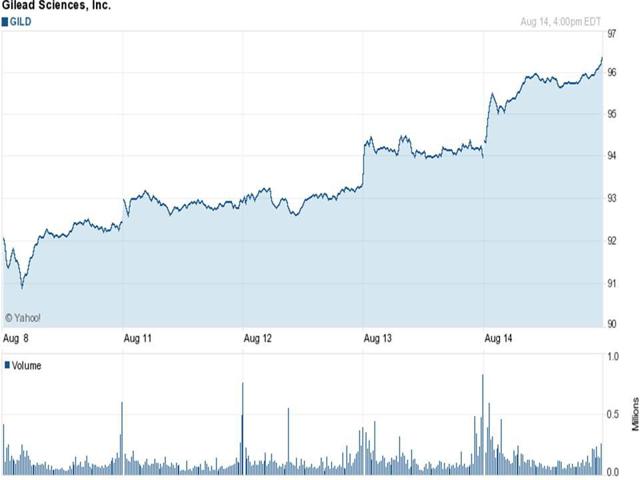 Disclosure: The author is long GILD. The author wrote this article themselves, and it expresses their own opinions. The author is not receiving compensation for it (other than from Seeking Alpha). The author has no business relationship with any company whose stock is mentioned in this article.