Part I: The Bullish Trend for the Forgotten Emerging Market
A Potential Dilemma or an Opportunity?
There are many markets in the world to play. The diligent investor should never have a weak amount of research and opportunities to be studying.
For instance, the United States, with less than 5% of the total global population, uses roughly a quarter of the world's fossil fuel resources.
There are now more than 1.7 billion members in the consumer class, and nearly half of them live in developed economies (Europe, Japan, and North America).
With populations increasing by 41% to 8.9 billion by year 2050 as some projections claim, there will be substantial increased demand for goods and consumption.
This surge in human numbers threatens to offset any savings in resource use from improved efficiency, as well as any gains in reducing per-capita consumption. Even if the average American eats 20 percent less meat in 2050 than in 2000, total U.S. meat consumption will be 5 million tons greater in 2050 due to population growth.
With the BRICS nations becoming wealthier (Brazil, Russia, India, China, South Africa), China alone expects to have a middle class reaching 1 billion, 70% of their population, by 2030. That alone is more than 3 times the entire population of America. When population increased in Latin America by 50 million during the last decade, 20 million of them were Brazilians. India's growth will add 150 million into their middle class by 2020 and only accelerate from there.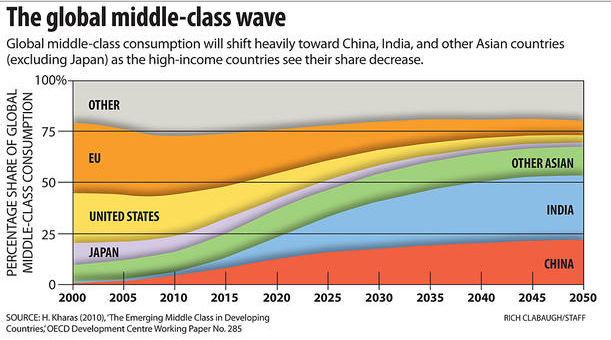 There is no doubt, however, that the emergence of a new middle class, with spending power to match developed nations, will offer tremendous business opportunities.
So the thesis can be summed up in one sentence: with an increase in population, there will be less land available, as homes will have to be built for the increase in humans, for farming and extracting resources. We must do more with less.
And the question must be then: where will all these resources come from to satisfy the growing population?
One answer: the frontier markets, especially Africa.
Africa - The Overlooked Emerging Market
There are many frontier markets that have substantial growth relative to the developed markets globally. Such countries are Saudi Arabia, Qatar, Nigeria, Vietnam, and Mongolia (here is an article I had written covering Mongolia's potential and future).
Africa is one of, if not the most, resource filled continents on earth. Over 75% of the platinum that is crucial to vehicles comes from South Africa and 80% of rhodium. Gold mining is a large contributor to African countries' exports. Some of the world's largest deposits are in Africa alone. Over 70% of the world's tatalum, a mineral used in laptops, cell phones, and other electrical devices, comes from Africa. Over 1/3 of the world's cobalt comes from the continent, mostly through Zambia and the DRC. Chromium, which comes from chromite, and aluminum which comes from bauxite, are also found and mined in abundance from South Africa. Uranium is also found in massive reserves from Africa, as the vast amount of this resource is largely untapped. And also do not forget the large amounts of oil that comes from the continent. About 1/10 of global oil comes from Africa. There are large coal deposits and plentiful iron ore deposits and rich amounts of copper throughout the country.
There are over 1 billion people in Africa with more than half of the population under the age of 25. Some estimates see Africa's population reaching nearly 2 billion by 2050. The growth goes as far as even frightening some analysts.
As much of Africa is still developing, and it contains some of the poorest countries on earth, time will tell how it will sustain such massive population growth.
(Source: United Nations)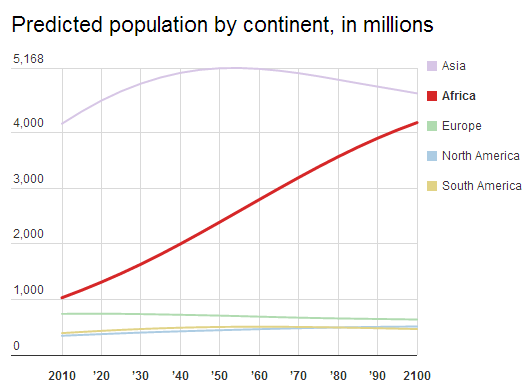 With a resource filled continent and young population, this creates an opportunity for investors to take advantage of the high growth and rising incomes.
China: Investing in Africa's Future
China is aware of its growing population and importance of securing resources for its future consumptions. In fact, China has been steadily investing in Africa's infrastructure by financing projects, buildings roads, and a project to create a fiber optic network to help expand cell phone and internet access.
The rate of return on foreign investment is higher in Africa than in any other developing region. Global executives and investors must pay heed.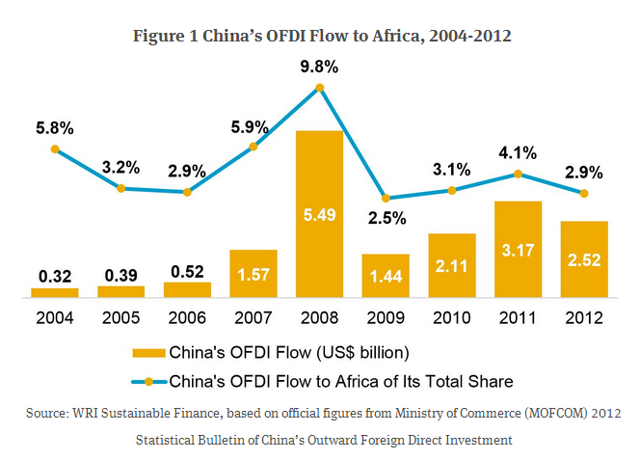 China has been investing in a variety of sectors and projects, but it should be no surprise that the majority of money is going to financing mines and energy extractions.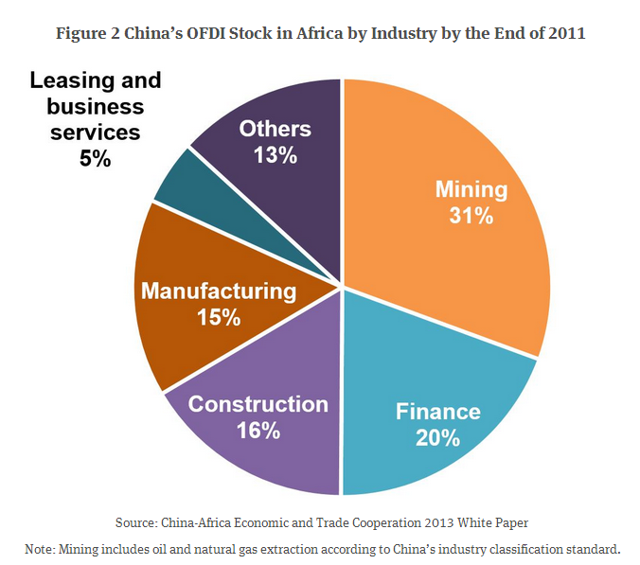 It should also be no surprise that America is growing worrisome of the countries' ties with one another.
With China's growing influence in Africa in recent years, the United States, Japan, India and the European Union have established platforms for dialogue with Africa. This has also made Beijing realize that it can protect itself from international pressure by adjusting its Africa policy through cooperation with other world powers.
We can sum up their relationship simply in four steps:
Chinese financing funds projects and infrastructure that Africa desperately needs.
Natural resources extracted from Africa will be sold into China.
The added wealth from sales and increased standard of living in Africa will give them the ability to consume more.
Chinese manufactured goods will be created from the resources at low costs and flown back into Africa for consumption.
An ingenious relationship, indeed.
Parting Thoughts for Part One
It has been no secret that China is growing tired of America's "free lunch" tactics of quantitative easing i.e. printing money. The investor should keep in mind that China has over $3 trillion in United States denominated debts and dollar surpluses. Every time the American dollar depreciates a mere 10% that is wiping out over $300 billion in their purchasing power. This gives the Chinese some anxiety and have started to convert these dollars into tangible assets and investments while they still have the ability to do so.
The International Monetary Fund has projected that during the next five years, ten of the 20 fastest-growing economies in the world will be in sub-Saharan Africa, and two will be in north Africa. None will be in the developed west, says Reuters.
America, the U.K. and France still lead the world with investments in Africa. But China has shown greater interest in developing their infrastructure and projects as they have overtaken the United States as Africa's largest trading partner.
The investor should contemplate on opportunities for investing in Africa along with the increasing foreign inflows into the country.
With parting thoughts the investor should please read/skim through the articles I have hyperlinked throughout part one as a more informative analysis of Africa's opportunity. Also the investor should begin pondering questions such as:
With the leadership changing in African countries, how will this transcend into a more business/investor friendly continent?
The abundance of natural resources are intriguing, how can investors take part in unlocking these minerals and energy?
With mining companies as the main focus in African investments, what are other opportunities, such as consumer retail and real estate that are available?
With Chinese investing in the country's roads and infrastructure and schools, what will this mean for every day Africans and for business?
With an extreme population growth and over 1 billion in current individuals, the majority a young populace, what will be future popular trends?
As Africans grow wealthier through employment of new businesses and the continent's natural resource extraction, what are ways to invest in their growing demand and consumption from an increasing middle class?
With the BRICS nations' populations trending rapidly into higher income brackets, where will the needed supply of energy and resources come from?
With the developed world's servicing unsustainable debts and stagnating growth, where will investors look to deploy capital with decent real returns?
With a short number of analysts looking at Africa currently, this gives the prudent capitalist opportunities to find cheap companies and securities at discounted valuations.
"Africa needs huge infrastructure investment in order to meet the needs of its growing and increasingly urbanized population, especially in electricity and transport infrastructure," the report reads.
These are just some ideas that should be thought about. I hope part one gave the investor some knowledge of Africa and what possible opportunities are available. It will not be a smooth ride, but in the long run, Africa could be the next high growth - cheap valuation story as Asia was.
Part 2: Investing in the Forgotten Emerging Market
Africa Opportunity Fund: Vehicle for Value-Laden Ideas
Africa Opportunity Fund (OTC:AROFF) is a closed end fund that gives investors a way to invest alongside competent management and micro-macro trends in Africa that are, most importantly, cheap relative to value.
Investment Objective:

To earn capital growth and income through value, arbitrage, and special situations investments in the continent of Africa. Portfolio investments will include equity, debt, and other interests in both listed and unlisted assets.
The below analysis of the company will give the investor understanding of how the fund's philosophy, holdings, and management plans to benefit from the growth in Africa.
Management: The Hidden Off Balance Sheet Asset
Francis Daniels runs the fund (5% ownership) alongside co-manager Robert Knapp (20% ownership). They both have a combined 25 years experience investing in Africa.
Francis Daniels is a value investor. He has attended Jim Grant of the prestigious Grants Interest Rate Observer spring conference and was also a presentator. Francis understands buying cheap, in fact investors can read his work titled "Reflections of a Value Investor in Africa" that he had written. It is an incredible read and highly recommended (linked here).
The investor really should read the biography of Mr. Francis Daniels, he is truly a driven and intelligent man.
In the 1990s he had discovered the works of Benjamin Graham and Warren Buffett, infamously known as the fathers of value investing. He wanted to combine the value investment thesis with the
under-analyzed continent of Africa to find bargain deals.
It is safe to say that he has succeeded and earned the interest of economists such as Jim Grant of Grants Interest Rate Observer and investor Chris Mayer of Agora's Crisis and Capital.
Company Philosophy and Investments: A Beautiful Thesis
The company as stated above is driven with a value investment criteria. Although management is very aware of macro-economic changes, they focus more on micro-economic fundamentals, such as understanding the business and purchasing securities cheap. The managers analyze the cash flow statements than move directly to the balance sheets, then finally their income statements. They look for companies that have a pattern of positive free cash flow complemented by high returns on assets; true value investing fashion. Although past information such as these metrics are insightful, Daniels is aware that they do not reflect future valuations.
Especially in resource extraction and development projects that could take years to begin operating, forward-looking data and assumptions is more important.
Daniels has even boldly claimed that he finds countries without a central bank safer due to their high capacity of creating astronomical levels of inflation (such as Zimbabwe). I must say, I agree.
Francis Daniels looks for trends that he knows will happen. Things that are inevitable, such as consumer demand in retail and consumer financing and resource extraction. A few of the holdings are:
The company, more or less, invests in dirt cheap- stocks. It has about a 25% position in bonds as well. The company has a wide variety of African countries that it covers and invests in, giving it the growth it needs from all over the continent.
(Source: African Opportunity Fund)

South Africa has too many analysts covering it and stocks are somewhat fairly priced. Daniels and Knapp look for deeper value and cheaper stocks in Western Africa. The three largest are Ghana, Senegal, Zambia.
The investor should look at the list below at the holdings in the Africa Opportunity Fund and decide for oneself if these are brilliant companies to benefit from the high growth, rising work population, and surging middle class economies:
(Source: Africa Opportunity Fund)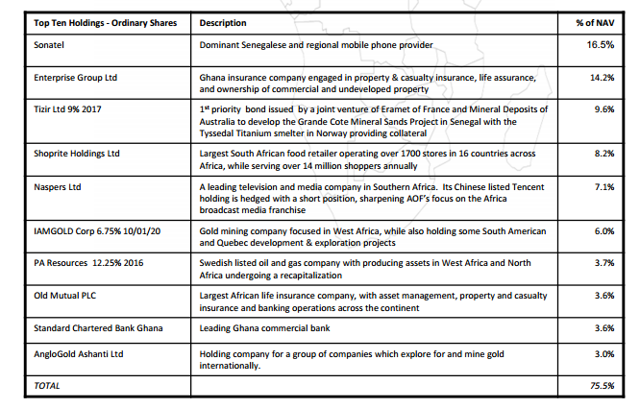 Outlook: We believe that AOF's portfolio possesses undervalued companies. Its top 10 holdings (including the Naspers paired trade) combined offer a weighted average dividend yield of 5.8%, a P/E ratio of 13.5X, a return on assets of 5.2% and a return on equity of 11.3%. We are excited by these attractive valuation metrics and remain optimistic about AOF's prospects.
The companies' thesis is self explanatory: there are people that are anatomically the exact same as the ones living in the developed world. Just because they are from Africa does not mean they do not want nice things or increased income or more leisure time. There are 1 plus billion mouths to feed in Africa and use electricity and communicate with phones to relatives or friends and much more. Africa Opportunity Fund realizes this and understands that these demands need to be supplied from somewhere.
The Fund's Investments For the Future
With investments in food retail, a brewery, a rubber plantation, leading media outlets, oil and gas, finance/banking, gold exploration and mobile telephone companies, the future demand should increase with these companies as incomes rise in Africa.
Here is an excerpt from Africa Opportunity Fund's Managers Commentary from 30 June 2014:
"Elsewhere in the portfolio our largest holding Sonatel reported pleasing H1 2014 numbers, with an EBITDA margin of 51%, return on equity of 32%, and net profit margin of 25%. Subscriber numbers rose 22% to 24 million, revenue rose 12%, year on year, and profits rose 7%. The presence of Naspers, our fifth largest holding, with its sky‐high P/E ratio of 83 demands an explanation. It is part of a paired trade in which AOF is short Tencent, its impressive Chinese internet affiliate. We established this investment when Naspers was trading at a discount to the value of its holding in Tencent, meaning that synthetically we purchased the non‐Tencent business for free. What is this business? It is the dominant African pay‐TV franchise, with 8 million subscribers, which generated $1 billion in EBITDA and $420 million in net profit in the last financial year. The fact that the South African market is assigning no value to Naspers' pay‐TV business is astonishing to us."
The above paragraph is the sort of logic and opportunities investors will get through Africa Opportunity Fund. A clear, concise, and invaluable commentary of the management's reasoning for why investments look attractive and why they do not.
Daniels is an active manager and changes his holdings appropriately to find the best deals available. It is safe to assume with confidence that with the strong inside ownership the management will do what is best through diligent research and analysis to unlock ultimate shareholder value. There are ample opportunities in arbitrage and disconnects between micro and macro situations.
Example: the fund had bought Nigerian debt and made 35% during the time which the Nigerian market fell roughly 50%.
Parting Thoughts: A Long Term Contrarian and Value Play
The long run for Africa looks, as Daniels claimed, inevitably strong. The country is rich in possibilities and has the fundamentals to provide. As world consumption demand increases and populations grow and the Eastern hemisphere's middle class comes to power, there can be a major situation: more opportunities for the intelligent and cognitive investor.
As most analysts will agree in the long term of Africa, that does not mean in the short run, due to balkanization and corruption and sickness and horrible infrastructure, that Africa will be a safe bet. As any investments, there are risks. Remember: when investing in Africa, the investor must always consider commodity prices.
The company has a tight share structure of roughly 40 million shares and trades usually below NAV and as a bonus pays a quarterly dividend through cash flows. Take advantage of buying the fund below NAV. It is most engaging how investors can buy shares below liquidating costs such as this company because there is such a lack of understanding or research within these countries.
Daniels and Knapp have thorough experience investing in Africa, have a strict and proven value investment criteria, and own about 1/4 of the fund. The investor should contact them if they have any further interest.
If the investor believes in the case for Africa and its potential and has a strong stomach for short term risk, while looking for long term growth and deep value and a very competent management, Africa Opportunity Fund deserves a spot in the portfolio.
Disclosure: The author is long AROFF, IAG. The author wrote this article themselves, and it expresses their own opinions. The author is not receiving compensation for it (other than from Seeking Alpha). The author has no business relationship with any company whose stock is mentioned in this article.
Editor's Note: This article discusses one or more securities that do not trade on a major U.S. exchange. Please be aware of the risks associated with these stocks.