Hydraulic fracturing, or "fracking", companies are overtaking drilling companies as the largest subset of the energy services sector – and research from two Canadian brokerage firms suggests that investors can expect fracking companies to continue growing strong into 2011 and beyond.
All the data points to fracking stocks being the #1 place for investors to be, in the energy patch, in 2011. I think it's the easiest (safest) money in the oilpatch for the next 12 months at least.
(Fracking is when you send water and sand down a well at ultra-high pressure, and it blows out into the surrounding rock formation, fracturing the rock into many small pieces and creating pathways for the oil and gas in the rock to get to the well.)
Trican Well Services (OTCPK:TOLWF) is the largest fracking company in Canada, and it had revenues for the first nine months greater than $1 billion – up from $541 million in 2009.*
Precision Drilling (NYSE:PDS) is Canada's largest drilling company, and it had nine month revenue of $994 million, but squeaked past Trican for highest Q3 profits – $61.8 million vs. $53.74 million*.
Drilling companies have been the biggest single subset of the energy services sector FOREVER. But the onset of horizontal drilling and multi-stage fracking has changed that. And even though the "new" fracking industry is now 5-6 years old (from the time when the size of frac jobs went sky high – from a few tonnes per well to more than a couple hundred tonnes) it is still struggling to keep up with soaring industry demand.
This is good news for investors in fracking stocks. The industry is being p-u-l-l-e-d into the limelight.
There are some obvious reasons for this trend, such as the huge increase in the number of horizontal wells over the last five years as the Global Shale Revolution intensifies – an increasing number of horizontal wells is using an increasing number of fracs per well. See this chart from securities firm Raymond James Weekly Energy Bulletin (click to enlarge):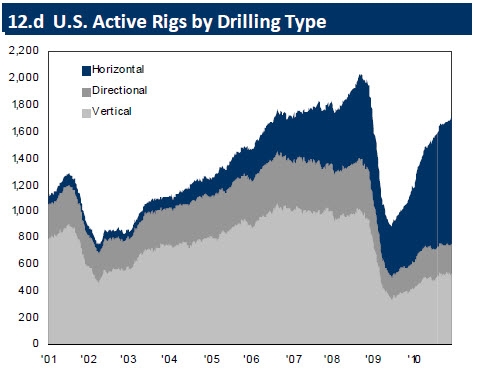 This chart shows that almost ALL the growth in drilling over the last year has been for horizontal wells, as the Global Shale Revolution intensifies. I expect the Global Shale Revolution to last 20 years – which bakes success into the cake right now for a lot of fracking companies.
But it gets better. Fracking is taking up more and more of the budget for these wells. First Energy, an oil and gas boutique brokerage firm out of Calgary, wrote in a December 13 report on energy services that "fracturing costs have come up the most among all services", and that cost inflation in the oilpatch will benefit the fracking companies the most:
"Like in 2010, we believe the majority of economic rent will go toward the completions business. As a result, we see fracturing companies grabbing a higher percentage of the pie." (Italics mine-KS)
Canada's #2 brokerage firm, BMO Nesbitt Burns, outlined six reasons in a recent report why the fracking sector will remain strong for investors:
Current Shortages: …a backlog of roughly 3,000 wells in the U.S. alone that have been drilled but not completed… more horsepower is required simply to meet current demand.
Continued Increases in Frac Intensity: …horizontal laterals getting longer and the number of frac stages in many plays continuing to increase
Longer Lead Times:…new equipment ordered over the next couple of months as part of 2011 programs will likely not be delivered as quickly as most people think…lead time is nine months to a year for new frac crews… most of the 2011 equipment capacity will not be deployed until around Q4/11
Higher Attrition Rates: With the proliferation of unconventional resource plays, fracs have increased not only in size but in pumping rates as well…some regions have gone to 24-hour operations…. that useful lives of many key components of a frac spread have been reduced by as much as 50%.
More redundancies: In an effort to combat the higher repairs and maintenance costs many pumpers have added more horsepower on location than is actually needed to complete the job. Essentially, this allows the wear-and-tear to be spread over more equipment…it requires more equipment to be deployed, thereby helping to absorb more capacity.
6) Equipment Aging: a larger than normal chunk of the equipment in the pumping industry will be ready for replacement over the 2011–2013 time period, which should help delay the effects of the large amount of horsepower currently under construction.
BMO Nesbitt Burns added that there was concern amongst their buy-side clients (the mutual/pension funds) that there would be too much capacity built in 2011, too much new horsepower (fracking companies are often ranked in size by their horsepower), but they did not consider that a concern in 2011.
Another final note for investors to understand is that the technology in this sector is still evolving, and it's not just more/better technology. Some of it is out of the box innovative technology that is leapfrogging industry expectations in terms of production and cash flow fracking can produce.
Disclosure: I have no positions in any stocks mentioned, and no plans to initiate any positions within the next 72 hours.