Fitch Ratings has joined the ranks of forecasters seeing a significant drop in the smartphone market share enjoyed by Apple (NASDAQ:AAPL) and Samsung (OTC:SSNLF) beginning this year. The respected credit rating firm sees the combined volumes of Apple and Samsung devices stagnating at about 460 million units in 2014 despite a 20% expected growth in total global unit sales to 1.2 billion. That is pretty much where I have been forecasting the smartphone market, with the mix in my view likely to be 300 to 310 million devices sold by Samsung and about 150 to 160 million sold by Apple. It is heartening to finally see a well-respected an independent observer like Fitch comment on a trend so painfully obvious it has amazed me that it has escaped the sell side on Wall Street for such a long time.
Microsoft's (NASDAQ:MSFT) recently acquired smartphone unit recently released a very low cost device - a feature phone rather than a smartphone since it will not have a data connection - at a price point of about $25. The Nokia (NYSE:NOK) 130 will not be a Windows OS phone but will use a Nokia operating system. What makes the phone interesting is that it is priced to be affordable to anyone; has an extraordinarily long battery life; and, can play music and videos. For many people, it will be all the phone they want or need. The inclusion of a 32GB SD Card capability makes it quite useful for watching a movie while taking the train where no data connection exists anyway.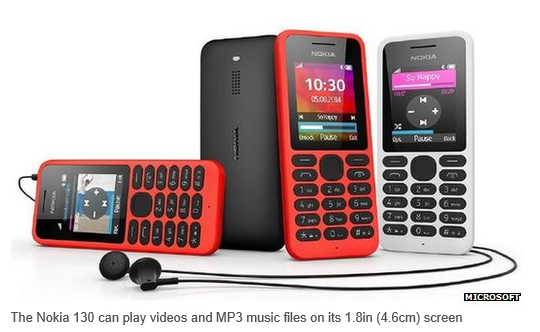 Source: BBC News
Microsoft notes that some 300 million phones are sold into the ultra-low cost segment annually, or about one in every six handsets sold worldwide. A $25 phone with music and video is likely to stem the migration of that segment to smartphones or at least slow it down somewhat, and it might expand total demand in very low income markets like Africa, India and parts of Asia.
I have always had phones for my children and the monthly bills add up. They are used mostly to send and receive text messages; listen to music; and, watch short videos. The Internet capability promises more than it delivers in most cases, since our carrier puts limits on data usage and WiFi connectivity is spotty at best. Basically, I have been paying about $600 for what is typically used as an iPod with phone capability. Microsoft now seems to offer a fairly similar capability for $25. For many families who would like to provide their children with phones, it is an easy choice to make.
Not far above the Microsoft entry, the Firefox $50 smartphone has been launched in India. There seems little doubt it will find robust demand in a country where annual wages are extremely low.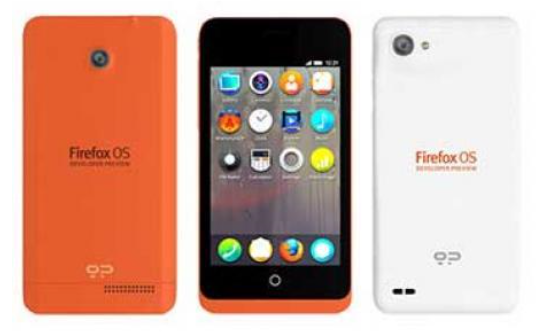 Source: Tech 2
Across the spectrum of offerings, lower priced smartphones are taking massive bites of market share. Xiaomi has emerged as the largest player in China displacing Samsung from the top spot. Xiaomi sells very well designed and functional smartphones at prices close to their cost making its money on the sale of content, a model hard for industry leaders like Samsung to emulate. Other Android based smartphone OEM's like Huawei, Wiko and Alcatel are advancing their markets shares in Asian and European markets based on well-designed but lower priced devices.
Samsung and Apple will suffer losses of market share and possibly be dethroned in their leadership in many markets as Samsung has been in China by Xiaomi. Relentless competition from lower priced alternatives will take its toll on the high end of the market as many consumers - even affluent consumers - see very useful devices at very low cost, particularly for their youngsters who seem to see a phone not only as a necessity but also as a commodity and help fill landfills with a sea of broken, damaged or lost devices.
Dell Computer was in the vanguard of firms driving the costs of personal computer down while driving the performance of those devices up during the late 1990's causing havoc for industry leaders like IBM at the time. Today's smartphone wars seem to be a replay of that competitive dynamic and the companies in the cross hairs of aggressive pricing combined with high function and user experience are Apple and Samsung.
The pressure from lower priced phones is having its effect already. IDC reports that while over 300 million smartphones were sold in Q2, a 25% rise over 2013, both Apple and Samsung lost market share in the period. Worse for both in some respects, Bloomberg reported that China Mobile (NYSE:CHL) has slashed subsidies for higher priced devices.
Samsung had already seen its profits suffer a decline as its smartphone shipments stuttered and average selling prices fell in the second quarter causing a 10% drop in revenues and a profit drop.
You don't have to be a rocket scientist to calculate what happens to Apple profits if its volumes drop 10% and its prices drop 10% in parallel. Fifteen million fewer phones at $600 is $9 billion lost revenue. One hundred and fifty million phones at $60 per unit lower selling prices is another $9 billion gone. Together, a 10% decline in prices and unit sales would take about $10 billion out of Apple's net income. Do the math.
I am short Apple.
Disclosure: The author is short AAPL. The author wrote this article themselves, and it expresses their own opinions. The author is not receiving compensation for it (other than from Seeking Alpha). The author has no business relationship with any company whose stock is mentioned in this article.