Netflix (NASDAQ:NFLX), Salesforce.com (NYSE:CRM) and F5 Networks (NASDAQ:FFIV) have all been on a tear this past year. Recently, all were up over 100% year to date, with Netflix almost tripling before pulling back these last two weeks.

Is the recent weakness seen in these stocks a sign that they have gotten ahead of themselves, or is this pull back just normal consolidation before they resume their incredible march upwards?
On December 3rd, Netflix triggered a risk alert, which is an indication that its trading was abnormal to the downside and that it is in a state of above normal risk. Despite pulling back slightly, F5 and Saleforce.com continue to trade normally and remain in a state of normal risk.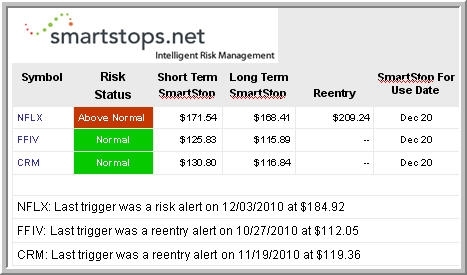 So, are these three stocks currently in a bubble or are their market caps justified based on current and future earnings potential?
Let's take a look at the numbers.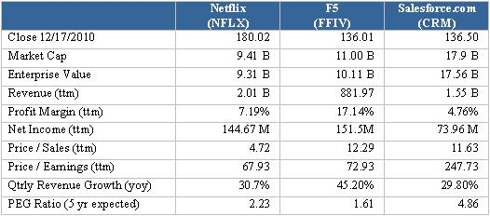 Clearly all three equities are richly priced any way you slice it. Based on current valuations, the market is expecting, through a combination of margin and revenue improvement, for earnings in these companies to more than triple earnings over the next few years. All three companies are market leaders in industries experiencing tremendous growth and transformation. The market is betting that these companies will continue to dominate their respective fields in the years to come - Netflix in streaming content, F5 in network traffic optimization, and Salesforce.com in cloud computing and SAAS.
However, in each of these industries there are deep pocketed competitors that are vying for their share of the spoils. One misstep could send these richly priced shares tumbling. Investors willing to play this high stakes game may be wise to limit their downside through the use of stop loss orders and/or hedging strategies.
Disclosure: I have no positions in any stocks mentioned, and no plans to initiate any positions within the next 72 hours.