Recent Financial News
Earlier this month, Procter & Gamble (NYSE:PG) issued their fourth quarter and full year fiscal 2014 earnings report. In the fourth quarter, the company missed analyst's projections of $20.5 billion by revealing a revenue drop of 1% to $20.2 billion. Net income for the quarter jumped 38% to $2.6 billion mainly due to productivity and cost of goods savings.
For the year, though, Procter & Gamble increased revenues 1% to $83.1 billion while net income grew just 3% to $11.6 billion.
Despite having 58 straight years of dividend increases and products that are now sold in over 180 countries, Procter & Gamble continues to underperform both its DOW peers and the S&P 500 as shown below. Even worse, Procter & Gamble's 3.2% dividend doesn't make up for further future underperformance when we take a glance of some of its biggest problems going forward.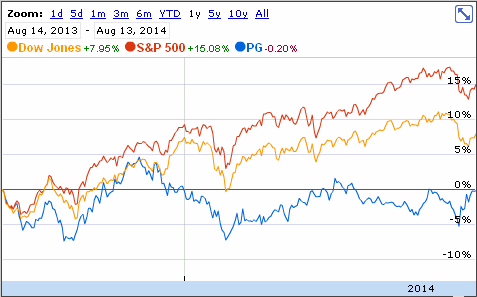 (Source: Google Finance)
Big Problems within Procter & Gamble's Long-Term Future
Taking a look back at their recent earnings report, Procter & Gamble is showing some weaknesses in their organic sales volume growth. Organic sales growth is a non-GAAP measure of sales growth which excludes the impacts of acquisitions, divestitures, and foreign exchange from year-over-year comparisons. The company believes this provides investors with a more complete understanding of underlying sales trends across their individual segments.
Across their beauty, grooming, health care, fabric & home care, and baby, feminine & family care segments, organic sales volume is either declining or flat in developed countries. In developing countries, the growth is slowing or nearly flat due to market contraction, high levels of competitive activity and pricing, and competitive promotional activity.
There are a couple of issues with these organic sales growth trends.
First, it appears that Procter & Gamble's current growth is limited to select opportunities in developing countries in business segments like fabric & home care and baby, feminine & family care segments. The other segments have already reached, or are now near, market saturation.
Second, what happens when Procter & Gamble does inevitably hit saturation points in their remaining growth segments in developing countries? Developed countries have actually started to see declines in organic sales growth. There is a good chance that this situation foreshadows what will also occur at some point in developing countries.
Finally, the fact that in their most recent quarter Procter & Gamble saw the lowest organic sales growth overall in the past five quarters may be signal an even bigger problem.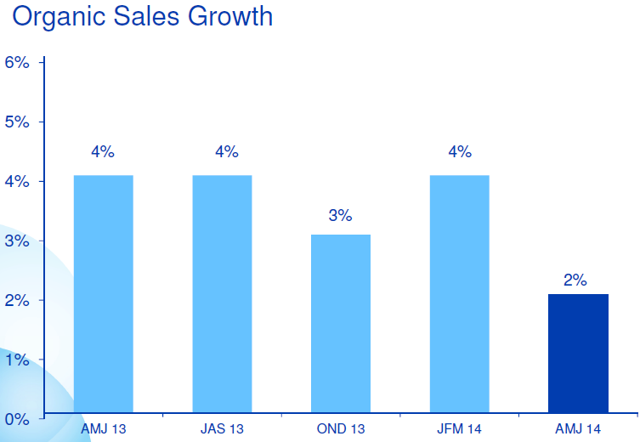 (Source: Procter & Gamble fiscal 2014 company presentation)
Recently, Procter & Gamble reported that they are slashing half of their brands. While this is a step in the right direction, the end result is not a guaranteed success for the company.
CEO Lafley expects the company to be able to focus on 70-80 of its biggest brands after the brand reduction. However, this is still a huge portfolio of mostly unrelated brands that still may not translate to the company's biggest and most profitable brands. Procter & Gamble has 23 brands putting up sales between $1 billion to $10 billion while the rest have sales under $1 billion a year.
Then there is the risk of history repeating itself like it did when the company cancelled its White Cloud toilet tissue in 1999 only to have Wal-Mart (NYSE:WMT) scoop it up seven years later for its own premium store brand.
Earlier this year, Procter & Gamble also said they were turning to adult diapers since the slowing birth rate has fallen since 2007. Over the past 15 years, the sales of incontinence products in the U.S. have nearly tripled to $1.5 billion, while global sales have hit $7 billion with expectations to grow at 8.4% annually.
Even though this sounds like a good example of Procter & Gamble staying ahead of the game, the brand may already be slowly exiting the game in the minds of money conscious consumers.
The economy has forced customers to sacrifice on name-brand personal care items in favor of saving money for eating out more often or doing other family activities. Additionally, store brands are taking over consumer preferences. Deloitte recently reported that 88% of consumers now swear by store brands because they are not only cheaper, but that they are just as good, if not sometimes better, than name-brands like Procter & Gamble.
Another big problem with Procter & Gamble's future is its relationship with Wal-Mart. While both companies are supposed to be partners, it looks like Procter & Gamble needs Wal-Mart a lot more than Wal-Mart needs Procter & Gamble. In a recent statistic, Wal-Mart provides Procter & Gamble with nearly 15% of its total revenues. However, Procter & Gamble only makes up a tiny fraction of Wal-Mart's total revenues annually. There is nothing stopping Wal-Mart from increasing their store brands of products that compete directly with Procter & Gamble's.
Procter & Gamble's price-to-earnings (P/E) ratio is also a big problem for new shareholders right now. The P/E ratio has been trending higher the past several years. In fact, in the past 5 years, the minimum P/E ratio was hit August 11, 2009 at 12.27 and the maximum P/E ratio was hit earlier this year on April 28, 2014 at 22.57. While the average P/E ratio across this time frame is 17.53, and the stock has dropped slightly in recent weeks, the current P/E ratio is still above 20. What this means for shareholders is that the margin of safety is limited - especially for a company with a decelerating growth story.

(Source: YCharts)
Finally, Procter & Gamble seems to be struggling with innovation, and as a result, are hoping that customers will "trade up." Because the company is so big and because each iteration of innovation for a particular product within any single brand often takes a larger investment to make the same impact as the previous innovation, Procter & Gamble has a shortage of new ideas. This was further highlighted when the company delivered their new razor handle called the ProGlide Flexball which seems like more of the same in the increasingly elaborate razor design game.
Conclusion
We can compare Procter & Gamble's current story to a customer going into a restaurant with an endless list of menu options, and consequently, being overwhelmed. However, in this case, Procter & Gamble is the restaurant that needs to manage all the options (brands), but its customers don't really care because they see alternatives, not up the street, but on the shelf above or below.
Procter & Gamble has a big hill to climb which includes finding new growth streams, managing an enormous portfolio of brands, keeping its products attractive in a down economy, playing consumer trends correctly, and managing expectations and investment costs when it comes to innovations.
Furthermore, its current valuation and earnings multiple shows that the market has growth expectations for a company that, in recent years, continues to show less and less of it.
Disclosure: The author has no positions in any stocks mentioned, and no plans to initiate any positions within the next 72 hours. The author wrote this article themselves, and it expresses their own opinions. The author is not receiving compensation for it (other than from Seeking Alpha). The author has no business relationship with any company whose stock is mentioned in this article.