We all know that one of the biggest growth opportunities in the recent past has been in smartphones, tablets and related applications. The question is: What is going to be next, and are we invested in the next technology boom? NXP Semiconductors (NASDAQ:NXPI) is uniquely positioned with products that provide strong long-term growth.
Near field communication, or NFC, is a short distance contactless communication between devices that can transmit and receive information. NFC is getting lot of attention as many mobile manufacturers are integrating NFC solutions in their devices, and it provides a great growth opportunity for NFC manufacturers. NFC enabled smartphones can exchange information with each other by a tap or wave. By taping or waving your mobile, you can pay for your groceries and redeem your coupons. Other applications include parking payment, ticketing, data sharing and opening car doors.
NFC was co-invented by NXP in 2002 and NXP has evolved into a market leader today. NXP is a market leader in NFC solutions. Today NXP provides NFC radio and a secured element as a mobile transaction solution that provides the security for wallet transactions. NXP's NFC solution has been adopted by Nokia (NYSE:NOK), Google (NASDAQ:GOOG), and Sony Ericsson. Today Android devices use NFC, and Apple (NASDAQ:AAPL) has yet to adopt NFC. If Apple uses NFC in iPhone 6, it will be a game changer for NFC technology and NXP might directly or indirectly benefit from it. A Morgan Stanley report predicts NXP is well-positioned to participate in Apple's mobile payment ecosystem: "We also believe the adoption of NFC by customer Apple would represent a strong catalyst for the stock in the 2H and into 2015. Our base case for this opportunity is ~$250mn in incremental sales and $0.25 in EPS."
There have been several rumors based on reports from the Wall Street Journal and other KGI securities analysts. NFC is going to be a big catalyst for NXP and is not a significant part of revenue today. Also, NFC as an emerging ID business is only 15% of the total ID business of NXP. The calculation for 2013 NFC revenue is ~$200 million.
NXP competitors for NFC include Broadcom (BRCM), Inside Secure (OTCPK:ISDCF), and Qualcomm (NASDAQ:QCOM). Samsung has switched NFC controllers from NXP to Broadcom for the Galaxy S4, but NXP was able to win back NFC controller business for Samsung Galaxy S5. NXP is well-diversified into several segments and they provide significant growth.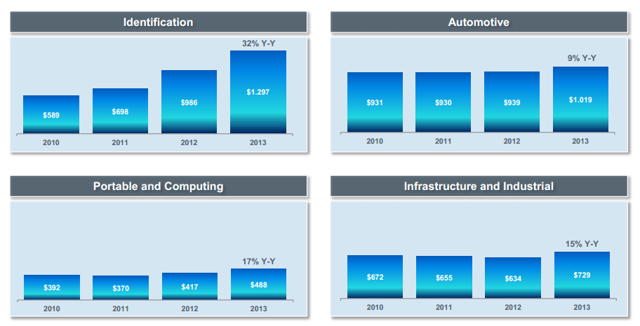 Not only does NXP provide growth, but it is also a market leader in each of its segments.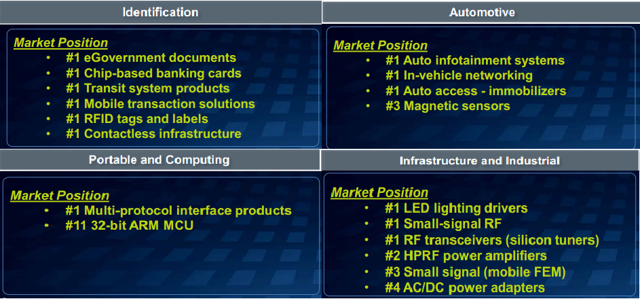 NXP's non-GAAP gross margin is one of the best in the semiconductor industry and has been consistently greater than 45%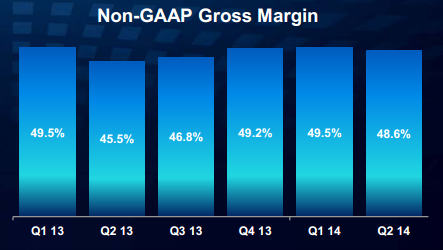 With several growth opportunities and stock buyback programs, NXP is undervalued. NXP stock has almost doubled in the last year, but shares are still cheap and have significant upside. NXP posted a non-GAAP EPS of $1.09 in Q2 2014 and gave a very strong non-GAAP guidance range between $1.25 and $1.35 in Q3 2014. NXP currently trades for just over 11 times 2015 estimated earnings. The current estimate for NXP is ~$5.32 EPS in FY 2015. If the market awards a higher multiple of 13 to 14 times forward earnings, NXP is trading at a discount today. My price target for NXP is $75 over the next six months. With a 10% pullback in the stock lately, NXP is a buy.
Disclosure: The author is long NXPI. The author wrote this article themselves, and it expresses their own opinions. The author is not receiving compensation for it (other than from Seeking Alpha). The author has no business relationship with any company whose stock is mentioned in this article.