Synchrony Financial (NYSE:SYF) - Buy Recommendation - PT $23.75
The 40 day quiet period on underwriter reports that began with the July 30 IPO of Synchrony Financial will conclude on September 8, allowing the IPO underwriters to publish analyses of the GE (NYSE:GE) consumer financial services spin-off on September 9. SYF share prices will likely rise temporarily with the release of the underwriter analyses.
Early Market Performance: Boost on the Horizon
SYF's IPO priced at the low end of its expected price range at $23 per share on an overcrowded day of IPOs and has seen little change since, closing at its IPO price on August 12. August 13, however, saw a jump to $23.18.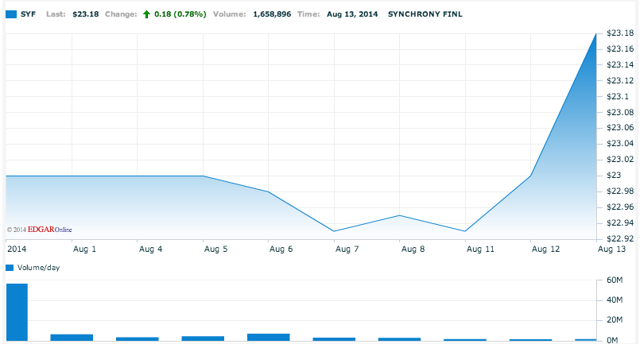 (Nasdaq.com)
Impressive Underwriting Roster
SYF's sizable roster of IPO underwriters will attempt to inject life into the stock through the release of positive analyses with the conclusion of the quiet period.
The IPO underwriters include Citigroup Global Markets Inc; Goldman, Sachs & Co; Morgan Stanley & Co. LLC; J.P. Morgan Securities LLC; Banca IMI SpA; Blaylock Beal Van, LLC; Barclays Capital Inc; BNP Paribas Securities Corp.; Castle Oak Securities, LP; BofA Merrill Lynch; Commerz Markets LLC; Credit Suisse Securities LLC; Credit Agricole Securities Inc.; Deutsche Bank Securities Inc; Guggenheim Securities, LLC; Fifth Third Securities, Inc; HSBC Securities Inc.; Keefe, Bruyette & Woods, Inc; ING Financial Markets LLC; Lebenthal & Co., LLC; Mischler Financial Group, Inc; Loop Capital Markets, LLC; Mitsubishi UFJ Securities, Inc.; RBC Capital Markets, LLC; Mizuho Securities USA Inc; RBS Securities Inc; Santander Securities Corp; Samuel A. Ramirez & Company, Inc.; SMBC Nikko Securities America, Inc; SG Americas Securities, LLC; and The Williams Capital Group, L.P.
Underwriters, Quiet Period Expirations, and Buying Opportunities: Academic Studies
The Journal of Finance (VOL. LVIII, NO. 1; 2003) explains how share prices generally increase in advance of the quiet period expiration, as investors foresee the IPO underwriters' positive analyses and purchase shares in advance in order to take advantage.
Dan Bradley, PhD, CFA, affiliated with the University of South Florida, and his colleagues note that analysts initiate coverage for 76% of firms immediately at the expiration of the quiet period, nearly always with a rating of 'Buy' or 'Strong Buy.' For the two days before and the two days after the date of coverage initiation, firms enjoy abnormal positive returns of 4.1%. When more than one analyst initiates coverage, returns have been found to increase further-to 6.4%.
Carter, Piwowar, and Strader (2001) support Dr. Bradley's findings, stating that the mean analyst rating at the conclusion of the quiet period is a "Buy," and that higher ratings correlate to higher returns. Lach and Highfield (2009) find that analyst initiations have not been as positively biased since the NASD and NYSE rules and the Global Settlement, but Highfield, Lach and White (2008) find that the five-day cumulative adjusted returns remain statistically significant at approximately 2%.
Bradley et al also note a significant correlation between the quantity and visibility of IPO underwriters and increasing share prices near the quiet period expiration.
Our own research, performed on a sample of 2014 IPOs, finds above-market returns of 2.3% within an 8 day (-5, +2) period (day 0 being expiration). Our data are statistically significant at the 90% level. Excluding REIT and bank IPOs from our data set, returns increase further and remain within the 90% significance level. We also find that a greater number of underwriters can lead to reduced return volatility in the quiet period. We observed no significant linear relationship between market capitalization and returns or volatility of returns in the same period. We also observed no significant linear relationship between the percentage of the company floated at the time of IPO and returns or volatility of returns.
In all cases, investors' early share purchases can cause a perception of increased demand, leading to an increase in share prices in advance of the quiet period expiration and creating a short-term buying opportunity.
Business: One of the largest consumer financial services firms in the U.S.
SYF ranks among the largest consumer financial services firms in the United States, having financed approximately $93.9 billion in purchase volume for 2013.
The firm offers various credit products in partnership with retailers, manufacturers, industry associations and other partners, reaching consumers through partners' websites, mobile apps, and approximately 329,000 locations in the U.S. and Canada. Major partners include the likes of Walmart (NYSE:WMT), Ethan Allen (NYSE:ETH), Amazon (NASDAQ:AMZN), and Lowe's (NYSE:LOW).
SYF is the result of GE's efforts to reduce its risk profile by spinning off its consumer financial services branch. As of the completion of SYF's IPO, GE held approximately 85% of SYF shares, though it intends to distribute these shares to GE shareholders in exchange for GE shares.
SYF offers credit products through a trio of platforms: Retail Card, Payment Solutions, and Care Credit. The Retail Card Platform, which accounted for 69% of total platform revenue for the three months ended March 31, 2014, offers private label credit cards, Dual Cards and small and medium-sized business credit products via 19 regional and national retailers with a total of approximately 34,000 retail locations. SYF's private label cards are specifically for making purchases from a given partner, while its Dual Cards function both as private label cards for purchases made from SYF partners and as ordinary credit cards for other transactions.
The firm's Payment Solutions Platform provides promotional financing for consumer purchases, primarily through installment loans and private label cards. The platform's 264 programs offer deferred interest, no interest, and reduced interest products through some 62,000 partners; these partners include retailers, buying groups, manufacturers, and many others. Payment Solutions accounted for 15.1% of total platform revenue for the three months ended March 31, 2014.
Finally, the CareCredit platform provides promotional financing for elective healthcare procedures through 152,000 healthcare partners with some 177,000 locations. SYF provides customers with a private label credit card that can be used at any CareCredit provider, and partners typically compensate SYF for a portion of the cost of providing promotional financing to customers. CareCredit accounted for 15.9% of total platform revenue for the three months ended March 31, 2014.
For additional details, see our previous article.
Stiff Competition in the Consumer Credit Sector
SYF faces competition from other providers of consumer credit products, including Chase, Capital One (NYSE:COF), American Express (NYSE:AXP), Alliance Data (NYSE:ADS), Wells Fargo (NYSE:WFC), Visa (NYSE:V) and MasterCard (NYSE:MA), along with numerous others. Some of these competitors are financial monoliths with significantly greater resources than SYF.
Experienced Leadership
Margaret M. Keane has served as SYF's President and CEO since February 2014 and as President and CEO of GE's North American retail finance business since April 2011.
She previously served as President and CEO of the Retail Card platform of GE's North American retail finance business and as Senior Vice President of Operations of the Retail Card platform of GE's North American retail finance business.
Ms. Keane holds a B.A. in Government and Politics and an M.B.A. from St. John's University.
Conclusion: Buying Opportunity Ahead
Though SYF got off to a rocky start on a rough day for IPOs in general, we remain optimistic on this firm moving forward.
SYF's profits speak for themselves, and the firm has more than proven its ability to establish relationships with leading retailers and other partners.
Buying into the firm is admittedly something of a gamble on continued economic recovery in the United States; as consumers recover their financial positions and become more willing to spend, demand for consumer credit products should rise commensurately.
SYF does face intense competition in the consumer credit market, but we believe that the stock remains a worthy consideration for investors; the upcoming quiet period expiration may help to galvanize potential investors and present a strong buying opportunity.
We encourage readers wishing to join the discussion on IPO quiet period expirations to click +FOLLOW above the title of this article - and those wishing for the latest updates to click +Get real time alerts.
Disclosure: The author is long SYF. The author wrote this article themselves, and it expresses their own opinions. The author is not receiving compensation for it (other than from Seeking Alpha). The author has no business relationship with any company whose stock is mentioned in this article.