Over the last few months, I've been closely following the marijuana industry. Anywhere from accessories to actual growing operations, this market has been a hotbed for analysis and speculation. Of course as with many developing sectors, marijuana has a long way to go before we start hearing about FDA approvals and big business taking a stand. What we have seen thus far, however, is the emergence of brand new companies mostly trading on the OTC who are becoming the mavericks of the MJ marketplace and possibly leading the way for big business and more importantly, Big Pharma to follow.
GrowBLOX (OTCQB:GBLX) Sciences has been a focus of mine, first based on the company's expansion model through partnerships in several marijuana friendly states, as well as the actual technology that GBLX has created. The GrowBLOX cultivation chamber is specifically designed to produce optimal environmental growing conditions for medical cannabis cultivation, and is the first chamber of its kind with the ability to monitor and control the growth process in order to produce high-grade medicinal marijuana. Up until this point, investors and on-lookers have only been able to view this through computer renderings and images of an empty box, which has lead to much speculation as to the actual operation of the technology and, in turn, the company.
Since early July, the stock has pulled back to prices as low as $1 (a price it hasn't seen since May) based on what I feel are concerns over the company's actual operations. It is pre-revenue and to this point, has been kept afloat through financing activities. Though partnerships have been in place and the company has hit several milestones especially in Nevada, I can say that based on responses to my own articles on the company, investors are looking for something more tangible.
On August 11 GB Sciences officially announced that the first GrowBLOX cultivation chamber had arrived in Las Vegas, NV. Furthermore, the company had stated that it will be posting images of the GrowBLOX™ along with a webcam feed of the growth process inside the cultivation chamber on their corporate website.
"Having our cutting-edge GrowBLOX™ chamber here is very exciting because it represents one important step towards completing our vision of a complete, proprietary GrowBLOX™ Cultivation Solution…Our GrowBLOX™ Cultivation Solutions will allow us to consistently grow toxin-free medical marijuana of the highest efficacy from harvest to harvest."

-Chief Science Officer Andrea Small-Howard, PhD, MBA-
So far GBLX has embedded itself in several key markets with the first being Nevada followed by Florida and the latest state to open its doors, Illinois. With the quick expansion of the company's footprint, the time has come for GBLX to see the rubber meet the road so to speak.
Since announcing this latest company development, GBLX stock has traded sideways and consistently in a price channel between $1.16-$1.22 in a relatively liquid market. This brings rise to what would appear to be a new lower support level for GBLX given that there's been so much accumulation in this current channel. This may also be something to look into more closely being that the chamber arrival is only one of what should be more over the coming months. Once medical sales begin, GB Sciences could be posting good revenue numbers given the market opportunity.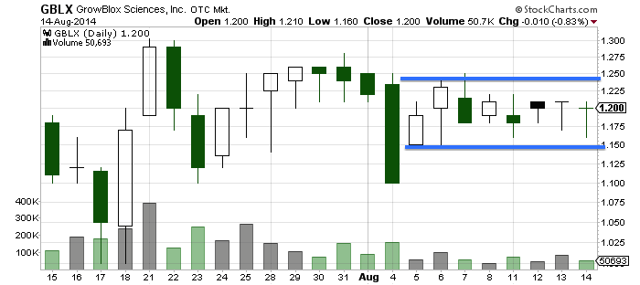 Take Nevada for instance. GrowBLOX was 1 of only 18 companies that were approved for special licensing and more importantly, the company's Fort Apache location is the only dispensary to service the needs of patients in that area, making the special use permit license all the more important for Clark County and for GBLX. In looking at the overall market within Nevada, it appears that medical operators have the potential to make a lot more on the sale of marijuana as compared to other states based on the taxes imposed; Nevada is at a mere 2%.
There've been many comments both positive and negative regarding the actual operation of the company and after the announcement on the arrival of the cultivation chamber, this gives rise to the company's ability to start growing proprietary strains to distribute to its dispensaries and partner dispensaries. For GBLX and the industry as a whole, the arrival of this first GrowBLOX chamber signals a new way for cannabis cultivation consistency.
In a recent video of GrowBLOX CFO, Steven Weldon, he's of the thought that through this new way of consistent medical marijuana cultivation, there will be a new standard set that could ultimately compete with Big Pharma. Mr. Weldon states that marijuana is not based so much on "getting high" but is based more on quality of life and making a medical product.
Comparatively speaking, look at a company like GW Pharmaceuticals (NASDAQ:GWPH), which has a product portfolio of cannabinoid prescription medicines to meet patient needs "in a wide range of therapeutic indications". GW trades on the Nasdaq and IPO'd at $8.90 in May 2013. The company states that it's focused on the Life Science space instead of the class of 'Medical Marijuana'. GW has entered into five separate licensing agreements for its Sativex product with Bayer HealthCare (a subsidiary of Bayer AG) in the UK and Canada; Almirall (ALM.ES) in Europe (excluding the UK) and Mexico; Otsuka Pharmaceutical Co. Ltd in the United States; Novartis AG (NYSE:NVS) in the Middle East (excluding Israel), Africa, and Asia (excluding China and Japan); and with Neopharm in Israel.
In its Q3 filing, GW realized an increase in revenue to $13million, up 4% from the previous quarter. In addition to this, the company openly states that its shown a net loss on the books due to increased R&D. However, this R&D has lead to both phase 2 and phase 3 testing of the company's proprietary products for treatment of anything from cancer pain to epilepsy. Furthermore, over the course of the last 3 months, GWPH has increased in share price from lows of $63 in May to as high as $111.46 during the first week of July. Currently the stock sits around $93 a share following the turnover from the late June- early July rally.
When considering medical marijuana as more of a life science as opposed to a drug, there's obvious potential in the marketplace especially abroad as indicated by GW's progress with licensing to pharmaceutical companies outside of the US. While the nation continues to litigate the rollout of an effective policy for this new industry, companies like GrowBLOX and GW Pharma have identified a more viable approach to growth within the space. By being able to provide pharmaceutical grade products, the opportunity for licensing and partnerships becomes more evident as the much larger GWPH suggests. I would imagine that if there was a way to mass-produce strains of marijuana like Johnson and Johnson produces Tylenol and Bayer Produces aspirin, the industry as a whole could be in for a big change with the benefits being realized by patients in need.
It will be an interesting third quarter moving forward for GBLX because not only will the company be actively growing its proprietary strains but also other states will have an opportunity to vote on and potentially implement medical and recreational programs. I think for both GW Pharma and GB Sciences, the real opportunity will be the ability to produce a consistent, medical grade product that big pharma companies can either license or simply purchase at wholesale. If GWPH is any example of what an emerging company like GBLX can become, the future should be brighter as GrowBLOX continues to implement more R & D for medical-grade marijuana cultivation as well as proprietary cannabinoid extraction methodologies. Currently, under the scientific direction of Dr. Andrea Small-Howard, PhD, MBA, the company will be pursuing a "biphasic product pipeline strategy" involving a near-term accelerated development plan; as well as a longer-term commitment to build a traditional product development pipeline.
According to GB Sciences, the company will utilize its patent-pending cultivation technology and a simultaneous two-phase approach to create a cannabinoid product development pipeline. Once initiated, GBLX states that it will be able to provide FDA-approved cannabis-therapy options to patients in a shorter time frame, which will also accelerate the time to a return on the company's investment. In the most recent quarterly filing GB states, "Our initial phase will be the accelerated "virtual pharma" and will include obtaining license patents on promising projects, testing and FDA approval, and co-developing the resulting product for marketing and sale. The next phase will involve setting up a traditional biopharmaceutical research method to allow out company to begin the R&D process in-house and fully own resulting patents and products."
In comparison to GW Pharma and what GB Sciences could become, the upside does not come without risk especially during the early stages that the company is in right now. Even though they have over $3million in cash, all of the company's operations have been backed by heavy financing activities and up until this point, there are zero revenues to report. In addition to this, GB also states in their Q that the company will require even more operating cash through 2015 to the tune of more than $4million.
Potential investment risks also include the overall market risk which is quite obvious when thinking about dilution. Despite the positive sentiment driven by outside institutional investors like Lazarus Partners, building a position from stock purchases directly through the market, I think investors should err on the side of caution when making their own investment decisions. Know that unlike GW Pharma, GBLX is in its development stage and even with the established partnerships in Nevada, Illinois, and Florida the company still needs to produce an actual product. Notwithstanding these risks, I think that the arrival of the actual chamber should be the first stepping stone to moving forward in producing revenues.
Finally, with the size of the marijuana industry set to grow by billions of dollars over the next 5 years, I'm sure that once there is an established market at the national level, we should start to see some of the smaller companies take an increased market share by the time industries like Big Pharma begin to actually enter the space.
Disclosure: The author has no positions in any stocks mentioned, and no plans to initiate any positions within the next 72 hours. The author wrote this article themselves, and it expresses their own opinions. The author is not receiving compensation for it. The author has no business relationship with any company whose stock is mentioned in this article.
Editor's Note: This article covers one or more stocks trading at less than $1 per share and/or with less than a $100 million market cap. Please be aware of the risks associated with these stocks.