We featured Phoenix New Media (NYSE:FENG) earlier in a brief article but after the Q2 figure sell-off we think a revisit is warranted.
A brief introduction, the company split off from well-recognized brand Phoenix TV (45% owned by Murdoch's Star TV) in 2007 in order to focus on new technologies and media like the internet. There are four main offerings:
The web portal Ifeng.com, containing more than 40 sites and mainly ad driven
Online games
Online video
Mobile services (mostly ads).
Ad income is providing the largest (and growing) slice of revenues, this quarter it was RMB291M ($46.9M) or almost 71% of total revenues (RMB410.9M or $66.2M). The ad income grew by a very brisk 38.9%.
Parent Phoenix TV is a very well established quality brand in China and some of that rubs off on Phoenix New Media as well. Not only that, they are cooperating in fields like:
Two of these original productions were co-broadcasted with our parent company, Phoenix TV, demonstrating tangible progress on the convergence of the Phoenix Group's media resources. [Earnings PR]
What's more, CEO Shuang Liu assumed the CEO position of Phoenix TV half a year ago and this will only accelerate the cooperation and Ifeng's involvement in PTV's content production, for instance by co-producing and co-broadcasting the content on both TV and internet platforms (per the CC)
PTV is:
in the process of revamping its major programs. We are aiming to import more internet creative ideas into TV programs to enhance the interactive functionality of the new programs and further expand PTVs different age demographic in mainland China. [Q2CC]
And there is also scope for technological integration and co-marketing:
we continue to progress in terms of technical integration across the Company platforms in order to further improve content management efficiency... we tend to hold a series of co-marketing events together with PTV in the second half of this year. Such events include the Phoenix financial forum and economic leader award to be held in Q4 2014. These significant developments demonstrate the tangible progress that has been made on the convergence of the Phoenix Group's media resources.
FENG did fairly well in the quarter (see PR) with respect to earnings, beating consensus earnings by a cent (RMB1.19 versus RMB1.18). That's $0.19 per ADS, to provide you with some orientation. However, revenues came in a little soft at RMB410.9M. This is a 12.8% increase Y/Y, but it misses by RMB5.6M. There is some confusion over this revenue miss as the PR itself argues:
We are very pleased to complete the first half of 2014 with strong financial performance for both total revenues and net income exceeding Bloomberg consensus estimates
Whatever revenues did in relation to exactly whose expectations, the shares sold off pretty hard on the news anyway and remain locked into a $9-$13 trading range without seeming to be able to break out.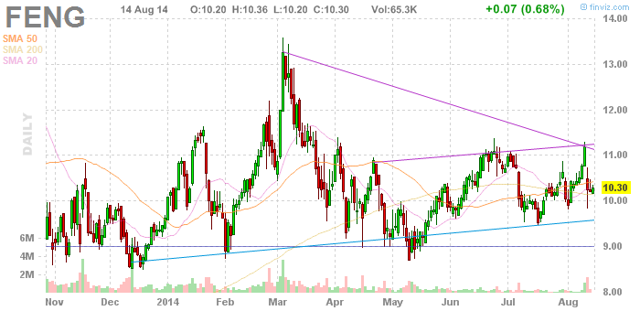 So after the mini sell-off the shares are hovering around $10. If we look at what is expected for earnings this year and the next:
There were some (minor) disappointments:
While ARPU was up Y/Y it was actually down 5% from Q1, but this was due to contracting new advertisers. For existing clients, ARPU did still grow.

There was a delay in de launch of mobile games, but every downside seems to have an upside, sales and marketing expenses were postponed as well.
The shares trade at a fairly low multiple. If one deducts the really considerable cash position from the market cap these multiples become lower still. At the end of the quarter, the company had RMB1.4B (or $224.8M) in cash, cash equivalents, term deposits and short-term investments (and no debt). That's almost a third of the market cap ($788M)!
So the valuation is actually somewhat amazing as media shares are usually valued at considerably higher multiples and Phoenix really is a quality brand name in the second biggest economy (and one of the fastest growing) in the world.
Nothing of the excitement of new media shares seem to have rubbed off on Phoenix New Media. While EPS growth this quarter was a fairly modest 10.3% (Y/Y). However, EPS is expected to be RMB4.17 this year rising to RMB5.27 the next, a healthy 26% while revenues are expected to rise from RMB1.67B to RMB2.04B or a 22% increase. This is really brisk growth for a media company.
They even have a share buyback program, which repurchased 109,563 ADS (at $1.2M) in the open market at the end of the quarter.
What's more, original and good quality content remains king, and we even see disintermediators like Netflix moving into content production.
While good content isn't, one could argue that ad revenues are vulnerable to economic downturns and since most of their income comes from ads, this could be seen as a vulnerability. Indeed, an original, and still highly recommended SA article by Toro Investment Partners from more than a year ago cited fears of an ad slowdown as a reason for the cheap valuation.
Well, with a nearly 40% growth (and a 23.8%, growth in ARPU, average revenue per advertiser), we think these fears can be reasonably put to bed (although some sectors, like autos and real estate were a little softer, but this was obviously compensated by others and by market share gains).
The company is guiding ad revenue to climb 37%-42% for Q3, so there seems to be little in the way of any immediate slowdown. In fact, the most promising is the growth in revenues from mobile ads, which was 138% and the contribution rose from 8% to 13% Y/Y.
Overall revenues aren't growing as fast, but this is due to their shrinking legacy business pre-dating the smartphone era and that should pretty soon shrink where it won't affect company numbers much.
More tail-wind could easily come from mobile gaming and advertising income and e-commerce. With the IPO of giant Alibaba there could very well be a notable uptick in online ad spending, according to President Ya Li during the Q2CC.
All in all we think this was a solid quarter and the sell-off was unwarranted. We have to admit we don't understand why the shares aren't trading at a higher multiple, but this has been the case for some time already.
Conclusion
They have made the transition from old to new tech (mobile ads is their fastest growing business), they have a quality brand name, they're a new media company with close ties to one of the best media brands in a big and fast growing economy, worries about an ad market slowdown have proven unfounded, they're producing solid revenue and earnings growth with ample opportunity to continue this, they have a very healthy balance sheet with cash and cash equivalents totaling a third of their market cap and no debt, they're trading at cheap multiples. What's not to like?
Disclosure: The author is long FENG. The author wrote this article themselves, and it expresses their own opinions. The author is not receiving compensation for it (other than from Seeking Alpha). The author has no business relationship with any company whose stock is mentioned in this article.