Coca-Cola Enterprises Inc.'s (NYSE:CCE) outlook for fiscal 2010 and 2011 remains strong.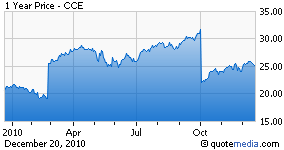 After buying the bottling operation in Norway and Sweden from the giant Coca Cola (NYSE:KO), Coca-Cola Enterprises looks forward to capture revenues and profits in the hottest markets and consistently deliver double-digit growth. After judging by the bottling company's growth outlook and the proven record of good performance in the European market, we believe that the company's marketing and operating strategy is beginning to pay off.
2010 Outlook
Coca-Cola Enterprises's outlook, for fiscal 2010, makes good reading. The company sees revenue at $7.4 billion, with expectation to deliver mid single-digit revenue growth in Europe on comparable and currency neutral basis. The revenue falls in line with the Zacks Consensus Estimate.
Coca-Cola Enterprises views operating profit for the year just over $900 million and expects to earn earnings in the range of $1.74 to $1.78 per share, which is in sync with the Zacks Consensus Estimate. The beverage company also plans to burn up $375 million in capital expenditure.
2011 Outlook
For fiscal 2011, the guidance implies a revenue growth range of mid single digit. The company expects to grow its earnings for the year in the range of 10% to 12%.
Coca-Cola Enterprises expects to generate free cash flow of $425 million and spend $400 million in capital expenditure.
Share Repurchase
Coca-Cola Enterprises expects to buy back some $200 million of its shares by the end of this fiscal year, a part of its goal to repurchase some $1 billion by the end of fiscal 2012's first quarter.
Long-term Outlook
In this context we would like to draw attention to Coca-Cola Enterprises'anticipated top-line revenue growth of 4% to 6% and earnings growth of high single digit over the long run. In fact, the company's guidance for fiscal 2010 and 2011 more or less meets or even exceeds the company-targeted range. Indeed, the company's earnings per share guidance for fiscal 2011 comes in higher than the anticipated long-term target range attributable to the positive impact from the company's intended share repurchase program.
So far this year the company has achieved earnings of $1.55 a share, on operating revenue of $4.92 billion.
Coca-Cola Enterprises' shares maintain a Zacks #3 Rank, which translates into a short-term 'Neutral' rating. Our long-term recommendation on the stock remains 'Hold'.