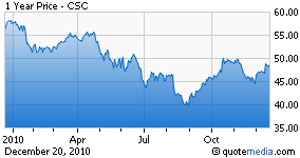 Virginia-based Computer Sciences Corp. (CSC) announced that it has inked a multi-year licensing agreement with a leading US insurance carrier. The insurance carrier is nationally ranked by A.M. Best Company, a credit rating firm focused on the banking and insurance sectors. Financial terms were not disclosed.
As per the agreement, Computer Sciences will license its Wealth Management Accelerator software, which will enable the insurance carrier to streamline its information technology systems and improve its overall operational efficiency.
Insurance plays a crucial role in providing a sense of security to the society. With the economic recovery underway, people are again looking tor ways to invest their money in innovative life and annuity products to improve their chances of financial security. It is this demand that insurance carriers are scrambling to meet with their new life and annuity policies.
Computer Sciences' Wealth Management Accelerator helps insurance companies to rapidly launch new products and enable policy owners to manage both asset accumulation and asset disbursement after maturity, on a single platform. This in turn helps insurance companies improve customer service, simplify workflow, reduce risk and facilitate the maintenance of records.
In February, Ohio National Financial Services of Cincinnati, Ohio, signed a 10-year contract to license Computer Sciences' Wealth Management Accelerator for its life insurance and annuity administration businesses. In September, Computer Sciences won a licensing and maintenance deal with a developing insurance company, to license its New Business Accelerator (nbAccelerator) and Insurance Optics Business Analytics solutions. In November, Computer Sciences licensed its Exceed Billing Software to Missouri-based Shelter Mutual Insurance Company, to make the billing process faster, more cost effective and the settlement of claims easier.
We remain encouraged by Computer Sciences' insurance deals as they indicate the efficacy of its products. We look forward to similar deals, going forward. We also remain optimistic about the company's earnings outlook for fiscal 2011, based on its strong new business bookings, enhanced product portfolio, growing customer base and the macroeconomic recovery.
However, contract delays will likely constrain revenue growth in fiscal year 2011. Moreover, intense competition in the IT and cloud computing space from players such as Accenture plc (NYSE:ACN) and Hewlett-Packard Company (NYSE:HPQ) is also a reason for concern.
Currently, Computer Sciences has a short-term Hold recommendation, as indicated by the Zacks #3 Rank.
Disclosure: No position