Networking giant Cisco Systems (NASDAQ:CSCO) is kicking off another fiscal year with further rounds of job cuts, hoping to reallocate resources from weak emerging markets, to more profitable regions. The company expects to cut 6,000 positions or close to 8% of its global workforce, compared with cuts of about 4,000 positions a year ago. Chief Executive Officer John Chambers made it very clear, however, that the job cuts were not aimed at reducing costs, but to free up resources to invest in other, potentially more fruitful areas of its business.
"The market doesn't wait for anyone. We are going to lead it, period," Chambers told analysts on a conference call. "The ability to do that requires some tough decisions. We will manage our costs aggressively and drive efficiencies."
Cisco has experienced sluggish sales and increased competition in emerging markets recently, leading to a collective sales decline of 9% last quarter in emerging regions. China product orders fell 23% from last quarter, while Brazil saw 13% declines. "Unfortunately, as we look out, we don't see emerging markets growth returning for several quarters and believe it could get worse," said Chambers. "As the market transitions, your staff has to transition. I see a lot of what they are doing as a reallocation and I think it is the right thing for the company."
Chambers didn't specify where the cuts will come from during the company's earnings call, but implied that a lot of it could happen in emerging markets. "Some of our markets are slowing down, and unfortunately, you can't move sales reps from one country to another with different language characteristics," Chambers said during the call.
The chart below highlights the issues Cisco has experienced over the past two decades. Since the mid-1990s, Cisco has had trouble surpassing the $700,000 revenue per employee mark. This resistance of growth has led investors to label the network company "tired," "old," and "slow growth."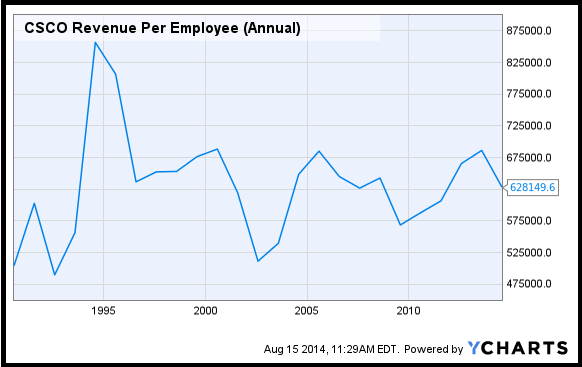 Like other high-tech giants, Cisco is scrambling to offset slowing growth in its older business lines with newer technologies. The company said on its earnings call that its new Nexus 9000 switch, designed for data centers, saw orders triple during its fiscal fourth quarter, setting up potentially stronger sales in the future. Overall revenues, however, fell by 4% in the fiscal fourth quarter, meaning newer products aren't yet fully offsetting older ones.
Reflecting falling revenue growth and weakness in emerging markets, the stock trades at an undemanding multiple of about 12.45 times forward earnings. Meanwhile, its $52 billion cash hoard provides ample room for acquisitions and a potential boost to its dividend. Having just reported its first annual revenue decline in five years, the pressure is on Cisco to navigate new markets more efficiently, otherwise, investors may rightly feel it is time to sell.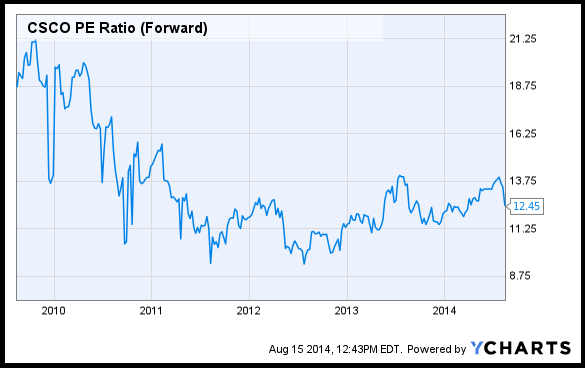 Disclosure: The author has no positions in any stocks mentioned, and no plans to initiate any positions within the next 72 hours. The author wrote this article themselves, and it expresses their own opinions. The author is not receiving compensation for it (other than from Seeking Alpha). The author has no business relationship with any company whose stock is mentioned in this article.