Professional Diversity Network (NASDAQ:IPDN) operates online professional networking communities for minorities in the United States. They had their earnings call on August 14, with their sixth consecutive quarter of an operating loss. There is an inherent flaw in the company's service: a career resource catered to minorities isn't a high demand in today's workforce.
Some may disagree with my assessment on the company, but the proof is in the pudding. IPDN has not been able to keep major partnerships or retain many customers. It's losing views on its ihispanic.com and blackcareernetwork.com (or amightyriver.com) sites, and engages in hard-selling tactics to get women to become a member of the National Association of Professional Women (NAPW).
Currently, IPDN's only meaningful revenue source is the NAPW, which it just acquired in July 2014. The NAPW is an unscalable business that generates the majority of its revenue by hard-selling to unemployed women over the phone.
From reading the bad reviews on Yelp, the way the NAPW gets prospective members is consistent. Job hunting women see an ad on LinkedIn (NYSE:LNKD) for a "free membership" to the NAPW. They enter their contact info and then receive a call from a NAPW saleswoman. Here is the most recent Yelp review which summarizes the process. It is one of the less critical reviews:
From Rebecca M. on 8/8/14, 1 star:
Just had my experience today with the "Free" NAPW membership offer -- I wish I had something new to say, but in reading through the other one-star ratings reviews, I find that I experienced the same song and dance -- obviously a scripted interview process, and then the sales pitch starting with the $989 offer and working all the way down to the $99 membership when I balked. It's unfortunate that LinkedIn allows this unscrupulous and clearly false advertising on their website... Luckily I paid attention to the red flags and escaped with my finances intact!
A company that doesn't get members from word of mouth, and must hard sell for people to join, isn't going to have a stable membership. With these recruiting tactics, what the NAPW is, is a group of people in different professions who only have the following in common:
They are women.
They are looking for work, or have their own business.
They succumbed to a hard sale over the phone.
A more successful membership would be one where the members have more in common.
IPDN's Recent History
IPDN started in 2003 as a career resource and networking company for minorities.
IPDN partnered with Monster in 2012, but it got dumped by Monster on December 31, 2012 when Monster realized that IPDN didn't add any value.
In order to replace Monster, IPDN signed a deal with LinkedIn in the beginning of 2013, but then LinkedIn dumped it for the same reason as Monster and that relationship ended on March 29, 2014.
The fact that the company got dumped by both Monster and LinkedIn shows the lack of appeal its online services have.
IPDN's Minority Sites Are Losing Users
IPDN's sites iHispano.com, its Latino professional network, and blackcareernetwork.com, generate very little revenues per month, in the $50k-$100k range. Not enough revenues to support a $10M+ market cap. These sites' user base is declining. The following is the monthly traffic on those sites tracked by SimilarWeb Traffic Analysis:
For ihispanic.com: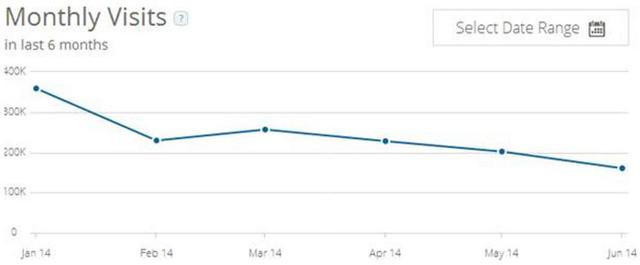 For blackcareernetwork.com: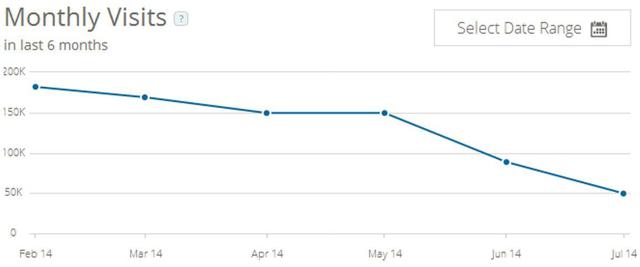 IPDN also receives a fixed monthly fee of $117K/mo from the University of Phoenix to host career services for alumni and students. These revenue streams are minor, so to get a major revenue source and halt its downward trajectory, IPDN acquired the NAPW.
A Merger Out Of Necessity
This merger of IPDN and NAPW was done out of necessity from both parties. Necessity from IPDN because it needed a new large revenue source. Necessity from the owner of NAPW because his business has trouble with profitability and retaining clients. The street has overvalued this merger.
Since the NAPW was a private company, we don't know its financials. In the announcement of the merger, the only details that are given on NAPW was:
Cash flow positive in 2013
2013 revenues of $19 million
2012 revenues of $15 million
It makes sense that NAPW increased its revenues in 2013. The vast majority of its prospective members are recruited from LinkedIn. LinkedIn's use grew massively from 2012 to 2013, from $1B in revenues in 2012 to $1.5B in revenues in 2013. LinkedIn grew revenues by 50% year on year, and NAPW grew by only 26.67%. NAPW likely had negative income in 2013 since it says that it was only cash flow positive, not that it had positive income.
The amount IPDN paid for NAPW:
As consideration for the merger, PDN will issue 6,309,845 shares of its common stock for all of the outstanding shares of NAPW stock, will pay to the sole shareholder of NAPW, in cash, $3,450,000, and will issue to the sole shareholder of NAPW a promissory note in the principal amount of $550,000, subject to certain performance milestones.
Before the merger, IPDN had 6.32M shares. It is doubling its share count for this merger to 12.62M shares. At the time of the merger, on July 11th, the stock was trading at $4.23. Discounting the buyout price by 30%, that is the standard discount often made from a M&A deal. If you disagree with this premium, then you can change it to what you think is appropriate, higher or lower. But with this 30% premium, the combined value of IPDN and NAPW comes out to $3.51 per share. That's assuming one is optimistic about the merger. The following calculations show how I came upon $3.51 per share: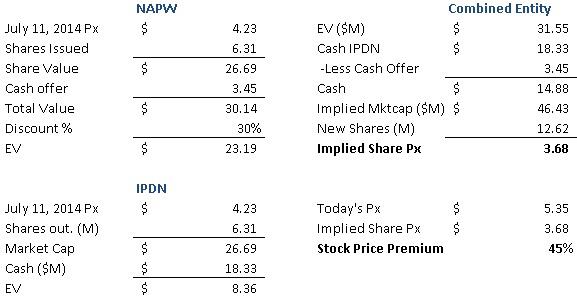 What Is IPDN Really Worth?
Figuring out IPDN's value depends on your outlook for the company. If you think the merger was a fair deal, then the rightful value would be $3.51. It's hard to value it more than that because there are limited synergies with the merger. However, the market got excited over this merger, and bid the stock up quite a bit. IPDN was primarily an internet company. Now it is a company that employs hard-nosed sales tactics, and needs an extensive sales force. That's more of a "brick and mortar" company, which is more expensive to maintain. I don't think the company provides enough value to generate the revenues it needs. I don't value it very much above its $14M cash balance, at around $2-$3 per share.
Note: This stock trades at very low volume. Therefore, heavy trading can move the stock dramatically, up or down.
Disclosure: The author is short IPDN. The author wrote this article themselves, and it expresses their own opinions. The author is not receiving compensation for it (other than from Seeking Alpha). The author has no business relationship with any company whose stock is mentioned in this article.
Editor's Note: This article covers one or more stocks trading at less than $1 per share and/or with less than a $100 million market cap. Please be aware of the risks associated with these stocks.