With the completion of the Paragon Offshore spin-off, Noble Corp. (NYSE:NE) has emerged as a premium offshore driller with one of the newest and most advanced fleets in the industry. The 35 rigs consist of 20 semi-submersibles and 15 jack-ups, which focus on ultra-deepwater and high-specification jack-up drilling opportunities in many of the world's established and emerging regions. Noble effectively shed its undesirable assets in the spin-off, with Paragon Offshore assuming control of the standard specification drillers, including 34 jack-ups and 8 floaters. Noble cut its fleet age in half with the spin-off and now has an average fleet age of 13 years, down from 25 in 2013.
3 months ended June 30,

($ millions)

2014

2013

Y/Y % change

Revenue

1240.3

1017.4

22%

Operating Costs

893.7

763.5

17%

Operating Income

346.5

253.8

37%

Net Income

234.5

176.6

33%

EPS

0.91

0.69

32%
Noble continues to increase revenue and improve upon revenue. 2Q14 revenue beat the street consensus by $20 million and EPS beat by $0.26. This has been par for the course in 2014, as the company beat 1Q14 EPS by $0.24. Despite these impressive numbers and proven profitability, Noble Corp has been hammered, dropping over 20% over the past 12 months. However, with the spin-off, Noble's premium fleet will avoid much of the market weakness in the standard floater and jack-up market.
Noble has managed to obtain attractive contracts for its newbuilds beginning operations in 2014. The company's 2 newest ultra-deepwater drillships, Noble Sam Craft and Noble Bob Douglas, which began initial operations in July and May, respectively, have the highest dayrates in the fleet. At $639,000/day, the Noble Bob Douglas will add over $57 million to 3Q14 revenue and the Noble Sam Craft, at $632,000/day, will add nearly $40 million during 3Q14. For 2015, these 2 rigs alone should add combined revenue of over $415 million. This assumes an extremely conservative 90% operational efficiency. The Noble Tom Madden, with an expected delivery of February 2015, should add over $200 million. In total, these 3 new ultra-deepwater drillships alone will add an estimated $615 million, which should increase revenue by roughly 10%.
While the newest fleet status report, released on 8/14/14, had no major updates, it underscored the potential revenue growth Noble will begin to see from its successful newbuild program. As the newbuild program winds down, capital expenses will begin to decrease in 2015. At the same time the company should begin to realize revenue growth from the newbuild program, which will result in improved margins.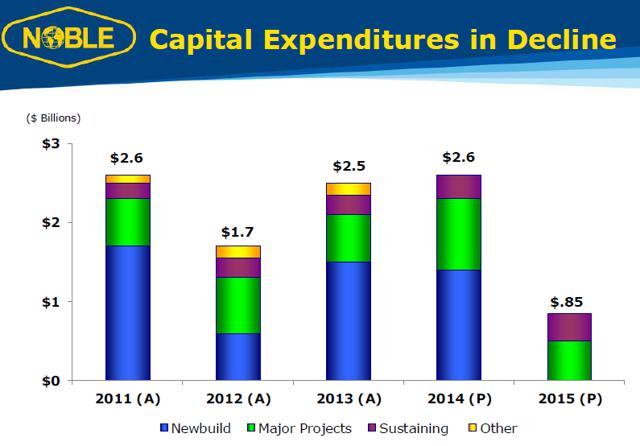 Source: GHS 100 Energy Conference Presentation
2015 will be a breakout year for Noble Corp. Newbuild expenditures will stop and capital expenses are expected to drop by nearly $2 billion. This will free up massive amounts of free cash flow that can be used to increase dividends, pay down debt and buyback stock. CEO and President, David Williams, has already stated the company could increase cash dividends or if the stock price remains reduced, the company could repurchase shares. Proceeds from the spin-off are expected to be used to pay-off short-term debt.
Dividend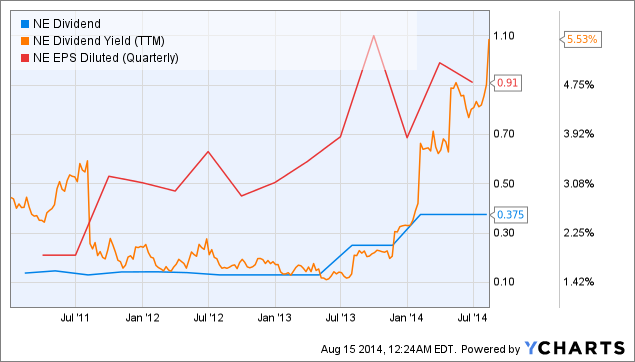 NE Dividend data by YCharts
Noble Corp already has a healthy annual dividend at $1.50/share and a current yield of 5.5%. The current dividend is easily sustainable with a payout ratio around 30%-40%. Any potential dividend hikes at the current price level could send yields through the roof. The company has 254 million outstanding shares, so even an extra $250 million allocated to dividends would send the yield over 9%. Considering the capital expense savings in 2015 and the additional revenue from the newbuild program, an extra $250 million allocated to dividends isn't an unreasonable projection.
Conclusion
Noble Corp. remains a deep value play that is positioned for an extremely strong 2015. The spin-off allows the company to focus on high-margin premium assets that remain in high demand. Currently uncertainty in the offshore drilling industry is weighing on Noble. This has given investors an opportunity to establish a position near 52-week lows, while receiving a 5.5% yield. Even better, the 5.5% yield is easily sustainable and highly likely to increase within the next 6-12 months. Investors looking for downside protection while receiving steady income can benefit from industry weakness driving down the price of Noble Corp.
Disclosure: The author has no positions in any stocks mentioned, and no plans to initiate any positions within the next 72 hours. The author wrote this article themselves, and it expresses their own opinions. The author is not receiving compensation for it (other than from Seeking Alpha). The author has no business relationship with any company whose stock is mentioned in this article.