After I recently wrote about Independent Tankers corp. (see part 1 and part 2), I thought it might be a good idea to give a general overview of the holdings of billionaire John Fredriksen.
According to Forbes magazine, John Fredriksen is among the 100 richest people on the planet, with an estimated fortune of $7.7bn.
His fortune was initially made in shipping, a field the Norwegians have traditionally been dominating since the Vikings. Starting from nothing, he has built up one of the largest shipping fleets in the world. Mr. Fredriksen later branched out into other businesses, but has always reaped big sums for himself and the shareholders of the companies he was involved with.
Shareholders in Mr. Fredriksen's holdings have traditionally seen large dividend payouts (mostly paid out by entities domiciled in tax havens with no withholding tax), as well as spin-offs of subsidiaries that have been value-creating.
Mr. Fredriksen's shipping companies Frontline (NYSE:FRO) and Ship Finance International (NYSE:SFL) are probably well known to many US investors. In this article I will try to give an overview of some of Mr. Fredriksen's less-known, but absolutely not less interesting holdings. It might also surprise you that more than half of Mr. Fredriksen's shareholdings are actually in offshore drilling, and only one-third in shipping stocks.
The following graph gives an overview of John Fredriksen's portfolio of listed stocks, based on public filings of insider trades and transparency declarations of large stakes in companies. This information is only a snapshot and might not be complete. Mr. Fredriksen is known to act swiftly when he sees an interesting market opportunity and might exit stakes at any time.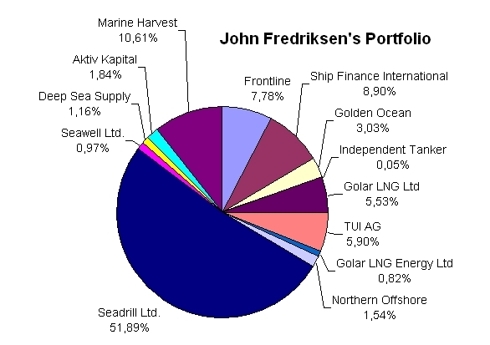 Mr. Fredriksen and his family hold the stakes in these companies via a string of offshore companies with diverse names such as Hemen Holding, Monteray Enterprises, Farahead Investments or World Shipholding. To calculate the total value of the stakes in the various companies, I used the last quoted share prices on December 17, 2010. Mr. Fredriksen and his companies often use total return swaps (TRS) in addition to shares to manage their stakes (mostly to avoid crossing thresholds that might trigger the obligation for a mandatory bid for all shares in the company). I have included these TRS agreements (to the extent they are known) in the total ownership calculations.
While some of Mr. Fredriksen's companies are traded in the US, most of them are traded in Norway on the Oslo bourse (in which Nasdaq OMX (NASDAQ:NDAQ) owns a 10% stake). For the sake of consistency, I have converted all values (share prices, market capitalization, value of stakes) from the Norwegian krona (NOK) values to U.S. Dollars (USD,$). I used the USD/NOK exchange rate of 5.986 from 17.12.2010. I also used the EUR/USD exchange rate of 1.318 to convert the values of TUI AG and Hapag-Lloyd into U.S. Dollars.
Below is the table which gives the detailed overview of the companies, including their share prices, market capitalization, ownership stakes and weighting in Mr. Fredriksen's portfolio. For completeness, I also included listed companies in which Mr. Fredriksen does not hold a direct stake, but one of his companies does hold a large stake (such as Knightsbridge Tankers (VLCCF) or Overseas Shipholding (NYSE:OSG)).
I have split the table into three main sectors: shipping companies, offshore drilling and energy services, and "other".
Share

M.CAP.

OWNER

STAKE

VALUE

portfolio

Price ($)

($m)

(%)

($m)

SHIPPING

Frontline

25.03

1,949

Fredriksen

33.78%

658

7.78%

Ship Finance Intl.

22.06

1,745

Fredriksen

43.16%

753

8.90%

Overseas Shipholding

35.48

1,079

Frontline

4.63%

50

Golden Ocean

1.38

627

Fredriksen

40.73%

256

3.03%

Knightsbridge Tankers

21.29

395

G. Ocean

10.00%

40

Independent Tanker

0.67

50

Frontline

82.47%

41

Fredriksen

7.38%

4

0.05%

Golar LNG Ltd

14.90

1,007

Fredriksen

46.47%

468

5.53%

TUI AG

13.23

3,330

Fredriksen

14.99%

499

5.90%

Hapag-Lloyd

unlisted

3,610

TUI AG

43.33%

1,564

TOTAL SHIPPING COMPANIES

2,638

31.18%

DRILLING AND ENERGY SERVICES

Golar LNG Energy Ltd

2.05

467

Golar LNG

67.85%

317

Fredriksen

14.73%

69

0.82%

Northern Offshore

2.47

387

Fredriksen

33.47%

130

1.54%

Seadrill Ltd.

32.04

13,221

Fredriksen

33.20%

4,390

51.89%

Seawell Ltd.

5.51

1,243

Seadrill

73.80%

917

Fredriksen

6.60%

82

0.97%

Pride International
30.95
5,466
Seadrill
9.40%
511
Seahawk Drilling
8.19
97
Seadrill
9.30%
9

Deep Sea Supply

1.83

232

Fredriksen

42.16%

98

1.16%

TOTAL DRILLING AND ENERGY SERVICES

4,769

56.36%

OTHER

Aktiv Kapital

8.27

390

Fredriksen

39.98%

156

1.84%

Marine Harvest

1.00

3,568

Fredriksen

25.17%

898

10.61%

Aker Seafoods

1.39

117

M. Harvest

11.93%

14

TOTAL OTHER

1,054

12.46%

TOTAL WORTH OF FREDRIKSEN'S EQUITY STAKES

8,461

100.00%
The total value of Mr. Fredriksen's equity holdings turns out to be $8.5bn at 17.12.2010. We don't know to what extent some of these stakes are financed with debt, but the number is more or less consistent with the Forbes estimate of a $7.7bn net worth.
SHIPPING COMPANIES
Mr. Fredriksen's shipping interests are split rather evenly among five companies:
Frontline Ltd. (FRO) – the world's largest oil tanker operator. Mr. Fredriksen used Frontline to consolidate a large part of the oil transportation industry and built it into an empire. Within the last years, Frontline has progressively shed stakes in its very diverse holdings. Frontline spun-off all of its shares in Ship Finance International (SFL) to its shareholders, and entered into sale-and-leaseback transactions with SFL for a large part of its fleet. Golden Ocean Group (OTCPK:GDOCF) also used to be part of Frontline, as well as Knightsbridge Tankers (VLCCF). Frontline still retains a dominant stake in Independent Tankers (OTC:ITKSF) and has acquired a 5% stake in tanker operator Overseas Shipholding Group (OSG). It recently sold its stake in tanker operator Navig8. Frontline has also shed Sea Production (OTC:SEAPF), a venture that used some VLCC crude carriers converted into FPSO vessels for oil services. After merging its Sealift heavy transportation unit with Dockwise (OTC:DOCKF) (known for its "mighty servant" ships), Frontline also exited the capital of Dockwise. It further sold its 15% stake in maritime exchange Imarex to the NYMEX (now part of CME group (NASDAQ:CME))
Ship Finance International (SFL) was initially part of Frontline and was spun off progressively to FRO shareholders. Ship Finance is a shipowning company that was first used as a way for Frontline to concentrate on the operation of oil tankers, while Ship Finance would retain the ownership. Ship Finance conducted several sale-and-leaseback transactions with Frontline, for a large part of its VLCC fleet. Ship Finance has grown into a major force in the leasing of vessels and now owns a large fleet of diverse vessels and platforms leased to many different companies (including Golden Ocean (OTCPK:GDOCF), Horizon Lines (HRZ), Western Bulk, CMA-CGM, Heung, Seadrill (NYSE:SDRL), Deep Sea Supply (OTCPK:DSSPF) and Sinochem).
Golden Ocean Group (OTCPK:GDOCF) is a dry bulk shipping company. It was also spun out of Frontline and has remained under Mr. Fredriksen's wings. It recently conducted transactions with Knightsbridge Tankers (VLCCF) that secured it a 10% stake in the tanker operator.
Independent Tanker Corp. Ltd. (OTC:ITKSF). After spinning off 20% of its stake in ITCL, Frontline has not distributed further shares. ITCL is an illiquid stock but with interesting prospects. Mr. Fredriksen has been upping his stake over the past year, buying up some 300,000 shares in a very illiquid market and taking his direct stake to 7.38%. For more on ITCL, read here and here.
Golar LNG Ltd. (NASDAQ:GLNG) is a company engaged in the liquefied natural gas (LNG) market. It owns LNG carriers fixed on long-term charters. It has recently concluded a restructuring that involved the listing on the Oslo stock exchange of its subsidiary Golar LNG energy (OTC:GOLAF), a company Mr. Fredriksen is very excited about. While GLNG retains the shipping business on fixed long-term charters (enabling it to pay a very good dividend), Golar LNG energy is engaged in businesses all along the LNG value chain and has recently ventured into LNG trading.
TUI AG (OTCPK:TUIFF). TUI is a struggling German shipping and tourism conglomerate which has had a large number of issues. Mr. Fredriksen took an activist stake in the company and tried to force a restructuring. His attempts at gaining seats on the board of directors have so far been thwarted by Spanish and Russian tourism interests which conduct business with TUI. TUI's crown jewel is a stake in the container shipping company Hapag-Lloyd which TUI has been forced to partly sell in the financial crisis of 2008-2009. TUI retains an ownership of 43% which is valued at $1.5bn on TUI's books.
DRILLING AND ENERGY SERVICES
In the recent years, Mr. Fredriksen has become a leading force in the offshore oil and gas drilling market. Seadrill Ltd. (SDRL) has become an incredible force, profiting enormously from nosebleed dayrates for drilling rigs because of the oil boom. Seadrill has become Mr. Fredriksen's largest holding, accounting for over half of his equity portfolio. Seadrill expanded aggressively over the last years, acquiring Smedvig, Odfjell Invest Ltd, Apexindo, Mosvold Drilling and Scorpion Offshore. Seadrill also owns a 9.4% stake in Pride International (NYSE:PDE) and its spin-off Seahawk Drilling (NASDAQ:HAWK).
In 2007, Seadrill established Seawell Ltd. (SEAW) to consolidate its well service operations and listed a part of its share capital on the Oslo stock exchange. Seadrill still retains a 73.8% stake in Seawell, and Mr. Fredriksen directly owns a further 6.6% stake. Seawell has recently acquired Gray Wireline, Rig Inspection Services and has submitted an $890m bid for Allis-Chalmers Energy (ALY) in August.
Next to the $13bn behemoth that is Seadrill (playing in the same league as $22bn-Transocean (NYSE:RIG) and $9bn-Diamond (NYSE:DO)), Mr. Fredriksen holds a 33% stake in $400m Northern Offshore - NOF (OTCPK:NFSHF), which currently operates five drilling units in Asia and Europe and one floating production unit currently based in the U.K. North Sea. The company also provides technical support services for two offshore drilling facilities in the Caspian Sea.
Mr. Fredriksen also holds a 42% stake in offshore supply company Deep Sea Supply plc (OTCPK:DSSPF). The Company is a shipowner and operator of 15 Anchor Handling Tug Supply vessels ("AHTS vessels") and 8 Platform Supply Vessel ("PSV").
OTHER COMPANIES
Next to his manifold and diverse interests in the oil & gas drilling and shipping business, John Fredriksen also holds stakes in other industries.
His consolidation of the salmon farming industry was another stroke of genius. Mr. Fredriksen consolidated the Norwegian salmon farming companies Pan Fish ASA and Fjord Seafood ASA and merged them with the Marine Harvest division of dutch animal nutrition giant Nutreco (OTC:NUTCF). In the process, he acquired a 30% stake in what was now the world's largest salmon farming company. Due to competition issues, Marine Harvest had to divest its Scottish operations and spun off its shareholding in Lighthouse Caledonia ASA, which became a struggling entity. It was rescued from bankruptcy by other parties and is now known under the name Scottish Salmon Company. Marine Harvest had a huge problem with sea lice in Chile, which killed a huge part of its salmon. However, surging prices for salmon and a successful turnaround in its Chile operation have brought Marine Harvest back to success and enabled it to pay out huge dividends. Marine Harvest also maintains a 10% stake in the fishing company Aker Seafoods. Mr. Fredriksen has recently reduced its stake in Marine Harvest to around 25%.
Mr. Fredriksen also holds a 40% stake in the debt collection outfit Aktiv Kapital (OTC:AKKAF) which is one of the leading players in the non-performing consumer loans and collections industry.
This concludes my overview of listed companies which have John Fredriksen as a main shareholder. The combined market value of these companies amounts to nearly $30bn. It is meant as a first introduction to these companies (or a reminder, if you forgot about them) and might be the starting point of interesting research and fruitful investments alongside "Big John".
Disclosure: I am long FRO, SFL, GLNG.
Additional disclosure: I own shares in Independent Tanker corp., Golar LNG energy Ltd. and Marine Harvest ASA listed on the Oslo exchange in Norway.