David Fish has kindly given his blessing for me to slice and dice his Dividend Champions in various ways for further insight into dividend growth investing. The Dividend Champions are 98 stocks that have increased their dividend payout for 25 consecutive years or more. Actually, including Challengers and Contenders, the full document now includes stocks all the way down to those with 5-year streaks. This is a fabulous research tool for dividend-growth investors.
Previous articles in this informal series are:
David himself also writes frequently about the Dividend Champions, including his informative and entertaining Smackdown series of articles.
Today's idea is to create a "periodic table" of the Champions. We were all exposed to Dmitri Mendeleev's periodic table of the chemical elements in high school. Mendeleev's intent was to illustrate recurring ("periodic") trends in the properties of the elements.
The idea of this Periodic Table of Dividend Champions is to organize the Dividend Champions by their current yields and 5-year dividend growth rates.
images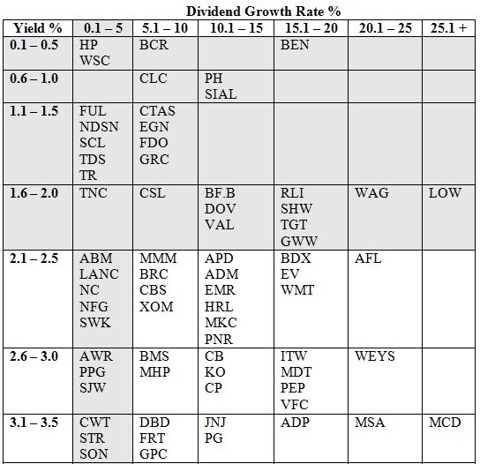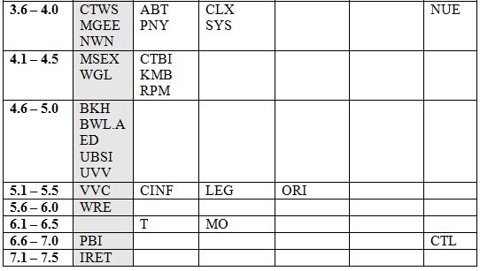 In dividend-growth investing, one necessity is to select the right stocks to fit the strategy. For example, one might decide that s/he is not interested in stocks with a yield of 2% or less, or in stocks that haven't managed to grow their dividend by more than 5% per year over the last 5 years. I have shaded those portions of the table. Remarkably, those two simple requirements eliminate more than half the stocks from consideration. Of course, they also eliminate Sherwin-Williams, Target, Walgreens, and Lowes, stocks that many would argue are just great for a dividend-growth portfolio.
Complete due diligence would take many more factors into account, of course. Considerations such as the 2010 increase falling way below the 5-year average, or scary valuation metrics, need to be considered. Many dividend investors look hard at the payout ratio and will reject a stock whose ratio is too high. So don't just look down and to the right in the table to find the "best" picks for you. Stick to your strategy and your requirements.
Again, thanks to David Fish for the remarkable research tool that he has created and makes freely available to all of us, and for letting me stand on his shoulders to create these little snapshots. Any errors in the table are mine. Remember, don't invest in anything without performing your own due diligence.