Note: All the facts, figures and charts in this article were taken from Patriot Transportation's investor relations website and the company's related SEC filings.
Patriot Transportation (PATR) is a transportation company that also owns some real estate and collects mining royalties. The company is currently in the process of a tax-free spin-off to separate its two business segments and unlock value for shareholders. Once the spin-off is completed early next year, Patriot Transportation may become an acquisition target. This article will discuss the implications of this development on the company's suitability as an acquisition target.
Overview of Patriot Transportation
Patriot Transportation is currently a combination of three companies: Florida Rock & Tank Lines, of FRP Development Corp. and Florida Rock Properties, Inc. Florida & Tank Lines is a transportation company that hauls petroleum products and related liquids as well as dry bulk commodities. The other two companies are busy with acquiring, leasing, operating or managing land, in addition to constructing buildings on company-owned land. Some of the lands owned by these two companies also generate regular mining royalties, and this provides the company with healthy cash-flows. All in all, the company generates most of its revenues from energy and mining sectors in the southeast of the US. Apart from this, it also invests in developed buildings in Mid-Atlantic region to generate rental income. In real estate, 80% of the company's revenues come from leases and 20% of the revenues come from mining royalties.
The company's transportation business utilizes terminals in Florida, Georgia, Tennessee, Alabama, North Carolina and South Carolina, and it transports petroleum and related materials between these locations. Patriot's biggest customer is Murphy Oil, and this company accounts for 20% of Patriot's transportation revenues.
As the US energy industry continues to grow at an impressive rate, Patriot's transportation business is experiencing a healthy dose of growth. In the last 3 years, the company added more than 200 new tractors and more than 80 trailers to its portfolio and it will be adding another 90 tractors and 30 trailers throughout this year. Some of these new trucks will be replacing older trucks and others will increase the company's truck count. It is hoped that the new trucks will do a better job of complying EPA regulations, attracting better drivers and having lower fuel and maintenance costs.
The biggest client/partner of Patriot's mining royalty business is Vulcan Materials Company. These two companies have a long-term contract that binds them to work together for many years, while ensuring predictability and stability in Patriot's mining royalty income for years to come. As a matter of fact, the two companies have a working-relationship going back to 1980s. In addition to sharing mining revenues, the two companies also conduct other businesses together. For example, Patriot is contracted to haul diesel fuel and cement for Vulcan's projects and the two companies have a joint venture in a development property in Florida. Roughly 9% of Patriot's revenues come from Vulcan.
The company's real estate segment also owns many business parks in and around Washington D.C. These locations generate solid income for the company and the average occupancy rate is 90%, with several locations actually having full occupancy.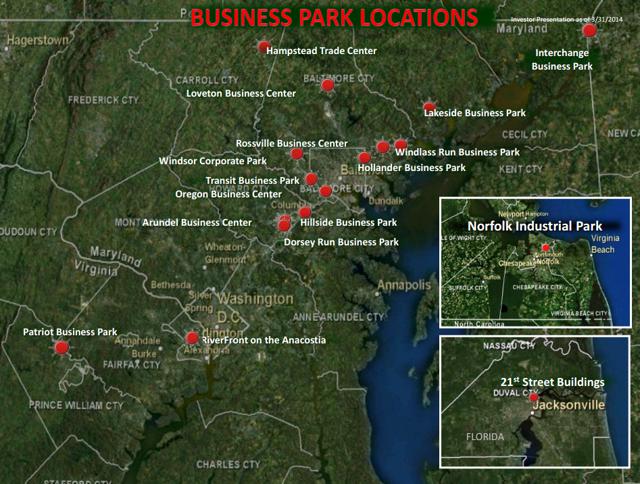 As you can see, a pattern is emerging here. Even though Patriot's business is healthy and growing, it is too dependent on a geographical region, and in many cases, it is too dependent on certain companies for revenues. For the sake of diversity and economies of scale, the company would definitely benefit from being part of a larger company. This will be discussed in more detail throughout the article.
Patriot currently employs nearly 900 people and a great majority of these people are employed by the company's transportation business. Excluding the transportation business, the company employs less than 20 people in its real estate business and a little more than 10 people in its corporate office. These numbers show that the company's real estate business has much lower operating costs than its transportation business. It is also clear that the two businesses are very distinct from each other.
Patriot's financial performance
The company is in a good financial health and it is experiencing a decent amount of growth. The tables below display the transportation segment's fiscal performance in the last few years. From 2010 to 2013, revenues rose from $89.64 million to $112.12 million, and the company generated $63.49 million in the first half of the year. Operating profit grew from $8.24 million to $9.35 million during the same period. While growing its revenues and profits, the company also reduced the average age of its fleet. About 2 years ago, the average age of the fleet was 3.91, and this figure looked closer to 3.31 as of earlier this year. Every single year, Patriot Transportation was able to increase its number of drivers and number of tractors compared to the corresponding previous year.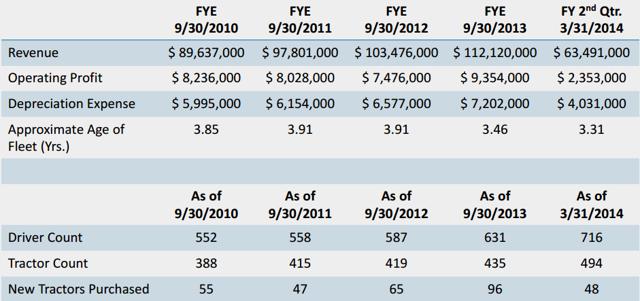 Over the years, the company's royalty income fluctuated between $3.5 million and $5.3 million. For the most part, the company made about $4 million in royalties in a decent year. The royalty contracts have minimum guaranteed payments unless a pre-determined threshold is passed. If the threshold is passed, the royalty payments become a percentage of mining revenues. This is why there are some fluctuations from year to year while these figures will never fall below the minimum guaranteed payment amounts.

Most of the company's revenues come from its transportation business, even though royalty and real estate businesses tend to have higher margins due to having lower headcounts and lower operating expenses. All in all, half of the company's profits come from the transportation business even though 80% of the revenues come from there.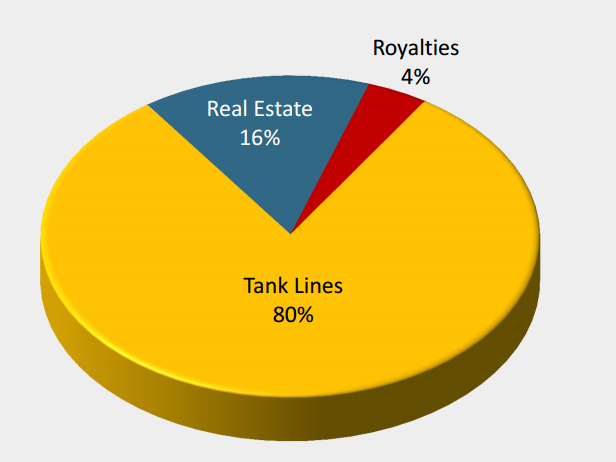 Over the last 10 years, the company grew its revenues at an average annual compounded growth rate of 4.8%. As can be seen from the chart below, Patriot Transportation's revenues were on a sharp rise between 2005 and 2008, and it got hit hard during the recession. Starting 2011, the company's revenues started to grow again. This chart makes two points very obvious: 1) if it wasn't for the recession, the company's growth would have been stronger, 2) since most of the company's operations are located in one geographical region, it is not well-protected from an economic slowdown. If the company were to be acquired by a larger company that has a more diverse business, its growth prospects would be safer.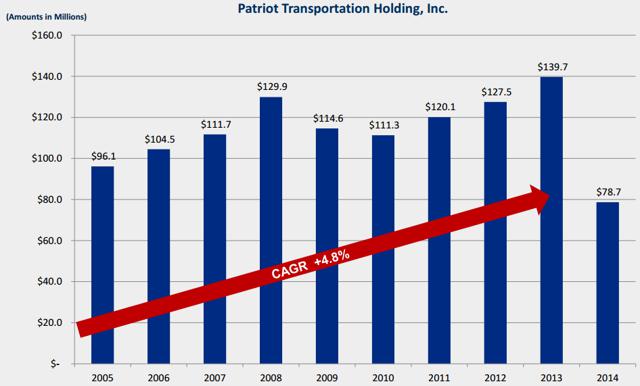 In the transportation business, trucks are one of the biggest assets and they tend to see a lot of depreciation of value, as with all vehicles. As a result of this fact, transportation companies usually book a large portion of their revenues to depreciation, and this hurt their margins. This is one reason I like looking at cash-flow of these companies rather than net profits. You may also argue that since trucks may have to be replaced with new ones every few years, their depreciation rate should have the same effect on the company's cash flow statements, and this is also a fair argument. The chart below separates Patriot's operating cash flows by free cash flow (the amount the company gets to keep) and replacement CapEx (the amount the company has to spend on maintaining and replacing its existing assets). Over the years, Patriot Transportation has always been cash-flow positive and the company typically generates anywhere between $15 and $20 million in operating cash-flows.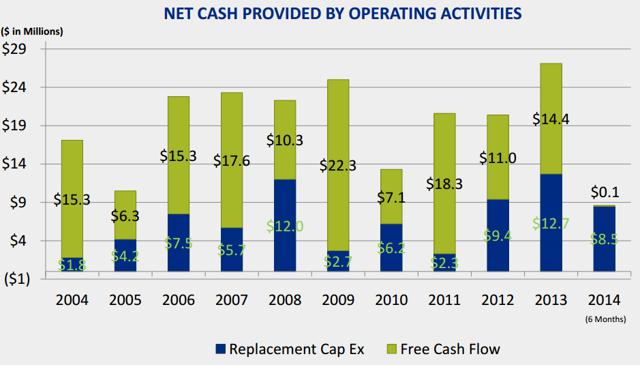 The company's balance sheet carries $59.6 million of debt, giving it debt-to-equity ratio of 30%. The company's liquid and non-liquid assets yield a book value of $20.63 per share compared to the company's share price of $37.
Why the spin-off makes sense
The spin-off makes sense for more than one reason. When the spin-off happens, the two companies will have two separate management teams and each management team will have to focus on only one thing. Instead of having one management team that divides its attention and focus on two industries that are marginally related, there will be two management teams that will be able to manage one side of the business. This should allow both of the companies to maximize value for the shareholders.
Currently, resources of the company are being allocated to both segments and it sometimes becomes difficult to determine how much resource should be allocated to each segment. Separating these companies will solve this problem, as each company will use its own resources and this will motivate each company to maximize their cash-flow in order to have more resources to spend. Speaking of motivation, stock-based payments will become more important since none of the segments will be subsidizing the other. If employees in a segment want to see stock-based rewards, they will have to ensure that their segment is actually successful by working hard.
More importantly, the spin-off will open each company to the possibility of an acquisition. When the two companies are combined, the number of suitors will be limited because not many companies will be interested in buying a hybrid between a transportation company and a real estate company. When these companies become separate entities, we may see acquirers from real estate, mining or transportation industry that might show interest in one of these entities.
Why an acquisition makes sense
The map below marks the locations where the company's transportation segment operates. As mentioned above, there are ongoing operations in Florida, Georgia, Alabama, Tennessee, North Carolina and South Carolina. Patriot Transportation owns one of the biggest tank truck fleets in the country excluding some of the largest nationwide-companies. A large transportation company could enter or increase its stake in the energy industry of Southeast US by acquiring Patriot Transportation. Similarly, Patriot Transportation could benefit immensely by becoming a part of a larger organization, since this would reduce the company's dependence on one industry in one region.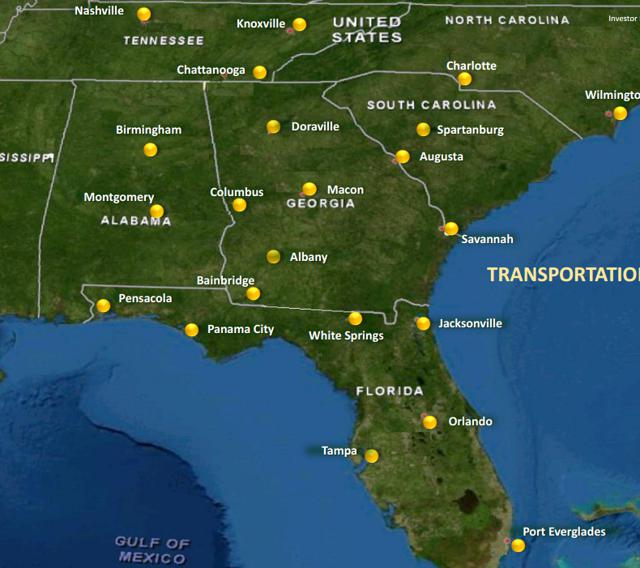 Currently, the transportation segment's operating costs are very large. Part of these costs are expected; however, a significant portion of them come from the fact that this is a small company and it can't benefit from economies of scale unless it gets considerably bigger, or gets bought by a company that already has size advantage. Currently, Patriot Transportation's operating margin is as low as 8%, and even if the company were to achieve a cost-synergy of as little as 5% by becoming a part of a larger company, its operating profits would jump by as much as 62%. This would unlock so much value for the investors.
In transportation industry, there is a huge need for skilled-drivers. Last month, Swift, one of the largest truck operators in the country, saw its share price plunge by nearly 20% after the company announced that its growth was hindered by lack of drivers. The demand for truck drivers in the country increased greatly with the ongoing energy boom, and this made it harder for truck companies to meet the growing demand. Truck companies also see a lot of cross-border activity between Mexico, the US and Canada, and this increases the demand even more. Considering how truck companies are willing to pay up to $10,000 sign-up bonuses for newly-hired truck drivers with experience, the company's existing 700 drivers alone might be worth as much as $7 million in sign-up bonuses only. Also, it is important to note that drivers of tank trucks tend to have higher skills than regular truck drivers because most of them have to obtain hazmat (hazardous material) licenses in addition to CDL.
Typically, transportation companies dread high fuel prices because fuel is one of the biggest cost items for these companies. Patriot Transportation is quite the opposite because the company transports fuel and its revenues are dependent on the health of the energy industry. When oil prices go higher, the production increases and margins get better for Patriot Transportation. This makes it possible for a trucking company to purchase Patriot Transportation and use it as a hedge against rising fuel prices.
Also, it is important to note that three of Patriot's directors (Edward Baker, John Baker and Thompson Baker) and their families own about 33% of the company's existing shares. These people have a significant voting power and they are motivated to maximize value for shareholders since they happen to be the biggest shareholders of the company. If a larger company were to approach Patriot Transportation for an acquisition, these individuals would be looking for the best interests of shareholders. Some of the board members and other decision-making people also own large amounts of shares and this should facilitate a possible acquisition as long as it carries value for shareholders.
Closing thoughts
Just because a company has the potential to become an acquisition target does not guarantee that the company will get acquired. There are many high-quality companies that might have been good acquisition targets but do not get acquired and there are many other companies that surprise everyone by getting acquired. Patriot Transportation is currently in the midst of a spin-off and it will become a valuable and desirable asset once the real estate and mining businesses are separated. Furthermore, the company could also benefit greatly from getting acquired, as it would be able to diversify its businesses to different geographical regions and get exposure to different markets. Not only would this reduce the risk for the company's operations, but also it would result in some cost-synergies and economies of a scale.
Putting the idea of acquisition aside, the company will be able to focus on its core assets and strengths, and it will be able to perform at a level closer to its full potential as a result of this spin-off. Currently, the US is in the middle of an energy boom and there is so much demand to transport petroleum and other related materials (for example water and sand that is used in the process of fracking). Last year, Patriot Transportation acquired certain assets of Pipeline Transportation and the company is not completely foreign to the idea of mergers and acquisitions. Transportation industry had strong revenue growth but the industry also suffers from heavy costs, so I expect the larger companies in the industry to start consolidating with smaller companies in order to cut costs and benefit from economies of a scale.
Once the spin-off occurs, shareholders of Patriot Transportation will receive stocks of both companies (the transportation company and the real estate company). Then, the investors will be free to keep or sell any of the two companies they see most potential for. It appears to me that the transportation company might warrant buying/holding even though the real estate business enjoys better margins because it has a much higher potential for a buyout. A buyout would benefit both Patriot and the buyer tremendously for the reasons described above.
Disclosure: The author has no positions in any stocks mentioned, and no plans to initiate any positions within the next 72 hours. The author wrote this article themselves, and it expresses their own opinions. The author is not receiving compensation for it (other than from Seeking Alpha). The author has no business relationship with any company whose stock is mentioned in this article.