What would an early Saturday morning and coffee be without putting down my thoughts on the recent Herbalife developments that have taken place this week?
For those of you that missed it, Bill Ackman released his letter to shareholders earlier last week. As usual, Michelle Celarier was the first to summarize the important parts in her NY Post piece that was out Wednesday of this past week:
Ackman, who has called Herbalife a pyramid scheme, said he is prepared to extend his $1 billion short bet against the nutritional products company - in the form of put options that expire next year - if necessary.

The activist argued that not only is Herbalife's business "deteriorating," but there is "much greater risk of regulatory shutdown or reform along with further stock price declines," according to the letter.

Ackman also acknowledged his recent Herbalife presentation flop, saying "in light of the hype, investors and the media came to the event perhaps expecting recordings of the CEO acknowledging that he had been running a pyramid scheme."

In a bid to put a positive spin on it, Ackman now claims the dense, three-hour presentation was "designed for regulators," and went on to remake his case against Herbalife's nutrition clubs.

"As a result of our investigation, we are now able to explain and document to regulators that what Herbalife management has deemed 'daily consumption' at nutrition clubs, is in fact a low- income, pyramid scheme concealed within the larger pyramid scheme," he wrote.
In addition to that, and earlier in the week, Herbalife (NYSE:HLF) bull Bob Chapman released a letter to regulators entitled "Bill Ackman's Attempt to Goad Regulators Into a Baseless, Unnecessary Legal Battle". It's got a nice ring to it, doesn't it?
In this letter - which QTR can only really describe as absurd and dripping with emotion - Mr. Chapman makes a couple of ridiculous assertions, like:
Mr. Ackman "did the wrong thing" by playing a tape of John Hempton calling company executives "scumbags" on CNBC live national television.
If you haven't seen the full video of Mr. Hempton defending Herbalife, you can watch it here. Try not to watch it within 3 hours of eating a meal.
I've since unblocked Mr. Hempton on Twitter, as I'd like to have a beer with the man some day after this is all said and done. I'm extending an olive garden to him, some will say. That's how the expression goes, right? Unlimited soup, salad, and breadsticks?
"Bueller...Bueller...Bueller?"
Whatever. I still contend Hempton has this trade all sorts of wrong.
Remember kids, John Hempton was buying the stock "even though he agrees with Ackman", Herb Greenberg says to start this CNBC interview. So, he was either pushing his moral compass to the side or he was part and parcel with a group that was trying to orchestrate a short squeeze.
Regardless, I'd argue Hempton knows exactly what kind of company this is and his "unreserved apology" for his statements he made on air is a product of either doubling down on a shaky case or simply throwing his moral compass to the wind and looking at Herbalife's cash flow and financials the same way that Huckleberry Hound used to look at a steak.
- image source)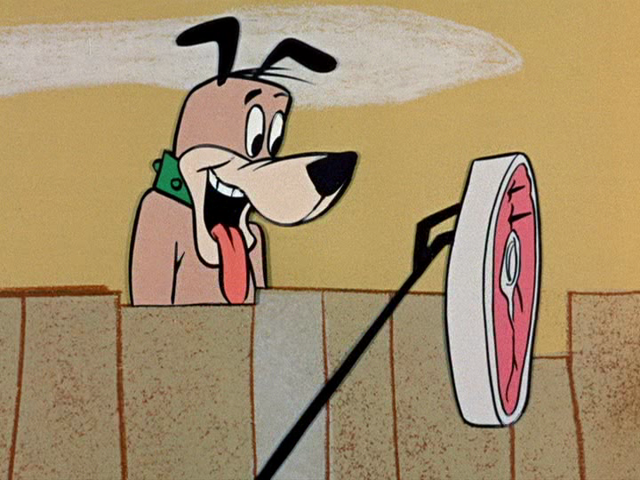 I love the label CNBC puts up: Hempton agrees with Ackman, except on facts. No kidding.
- image source CNBC)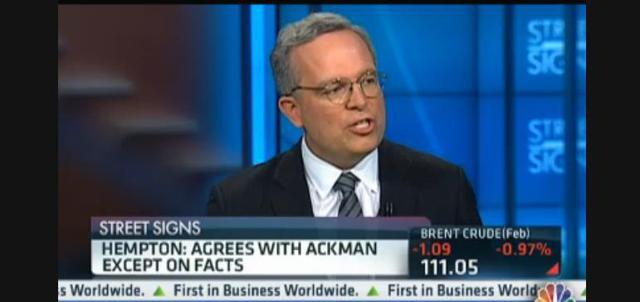 Hempton's rock solid defense in 2013, well before there was a massive regulatory presence on the scene, was made up of the following verbatim statements, all included in the above link:
I short scumbags, I'm pretty familiar with scumbags. Multi-level marketing schemes are scumbags. This one's got 2.5 million people in their chain and Bill Ackman's case is that they rip them off. Well, you know, look at smoking companies. Tobacco companies kill 5 million people a year - twice as many people a year globally as Herbalife has in its network.
They're scumbags, but they've returned cash to shareholders for decades and if you've shorted them you've been run over.
It buys back stock regularly, it has a fairly hefty dividend - they're scumbags , but they're the stock market's scumbags.
All Herbalife needs to do is find somebody who was fat and is less fat because of Herbalife and somewhere in their 2.5 million distributors there'll be a few of those. And all they do is wheel them out in front of [the FTC].
A thesis that says I have to wait for the government is a bad thesis.
"Nailed it," Hempton likely thought to himself after this interview.
But I'm calling nonsense here.
When you say things like this on live national television, that's pretty much the international queue for asking for people to continue to disseminate it.
Isn't that the whole point of going on TV to make your point? Thus, I'd suggest Mr. Chapman have words with Mr. Hempton about his statement, and not attack Mr. Ackman for replaying it. Mr. Ackman was simply dipping into the vault of media out there on Herbalife and it just so happened Mr. Hempton said something he likely regrets now. Next time, perhaps Mr. Hempton will be a bit more calculated with his words.
I can only imagine the phone calls Mr. Hempton got from fellow longs after they saw this interview on CNBC.
In contradictory fashion, later in his letter, Bob Chapman goes on to defend Hempton's harsh words:
Even John Hempton's careless choice of words in 2012 [sic] was intended to convey his view that the MLM industry has participants, including some distributers [sic] of Herbalife products, who are overly aggressive and opportunistic. Moreover, that singular statement, no matter how taken out of context by Bill Ackman, did not represent anyone but John Hempton's apparent view at that particular time.
Taken out of context? He was calling the C-Level suite at the company "scumbags". There's nothing really to take out of context. Dry the "taken out of context" excuse out and you can fertilize the lawn of Michael O. Johnson's Malibu home.
Bob Chapman's next complaint is as follows:
He incorrectly asserts that Seeking Alpha "articles" (he puts this in quotes like I'm writing instruction manuals on how to eat frozen yogurt) are trying to shame the regulators into acting. He also asserts that shorts are trying to goad regulators into acting and infers that this is an "order sent down from Pershing Square."
With regard to this - who cares if people are trying to goad the regulators into acting? Of course they are. This company is a fraudulent enterprise at its most intrinsic levels. If people were trying to goad regulators into acting on Madoff, do you think history would be kind to them?
Personally, I'm not trying this strategy - I already have what I want, and that's simply for these regulators to take a good, hard look. I'm convinced there is too much evidence for them to let this company slide - Alan Hoffman or no Alan Hoffman. Bill Keep and Vander Nat, I'd think, would side with me on this.
I know that regulators must move slowly and in a calculated fashion and I accept that. I actually prefer that they do, in order to get things right. The people at these agencies aren't idiots - they're PhDs in business and people with law degrees from prestigious institutions that are critical, logical thinkers. Take note, Mr. Hempton; they don't care what the company's free cash flow is, they're not duped by the temporary circus act of a $1 billion stock buyback - they care whether or not the source of the success you tout is inherently fraudulent.
Further, there's no point of goading now - the investigations are all underway. Mr. Chapman, as much as he wants, can't go back and stop the FTC et. al from investigating. The commission voted, the investigation is open. The ball is rolling now - and the facts are on the side of the shorts. We have concrete evidence and proof of how this scheme operates. Ackman has nailed the top distributors to the wall, we've got enough primary source evidence of false income claims, false medical claims, Universidad del Exito, predatory practices, potential mail/wire fraud, and flailing fundamentals to last us the next six lifetimes.
It's like Fantasia, the evidence just keeps on coming and coming!
On the heels of Mr. Ackman's last presentation and Herbalife's underwhelming earnings report, the short thesis is as rock solid as its ever been. This is the most blatant case of a predatory company (that now could be failing on its own) that I've seen - possibly since I've started investing.
Also, to address more garbage claims from Mr. Chapman, my articles are my opinion only. I have never been asked by Pershing Square to write about anything specifically or Herbalife in general, nor do I have any working relationship with them.
I'm short because of Pershing Square's original case and then doing tons of my own, furious due diligence. This isn't a case where I went out and got short, and then decided to check my facts. I'm short because I checked my facts first and saw more downside potential than upside potential. It's that simple. I'm not Pershing Square - or anyone's pawn. If Mr. Chapman doesn't like me pointing out things like the "24 Ways that Herbalife is Mocking the Regulators", or he feels that's "goading the regulators", perhaps he needs to re-associate himself with the realistic truth behind this company. Additionally, he doesn't have to read me, and I'd encourage him not to.
Chapman finishes his piece by speaking on behalf of regulators:
That regulators refuse to be cajoled, bullied, prodded, goaded and "shamed" into pursuing Bill Ackman's profiteering and self- aggrandizing agenda does not come anywhere close to making them "spineless." This is so obvious that any reasonable observer, Herbalife investor or otherwise, would have to agree.
Thank you, Mr. Chapman. Those statements have been duly noted, but I doubt the FBI, FTC, SEC, DOJ, and Attorneys' General need you to stick up for them. They're the ones with the badges and the guns, remember? They're likely not intimidated by Bill Ackman.
In other news, ValueWalk noted on Wednesday that TheStreet downgraded Herbalife due to the performance they posted in the last quarter:
Embattled nutritional supplement firm Herbalife Ltd. (NYSE:HLF) has been downgraded from Buy to Hold by the investment analysts at TheStreet (NYSE:TST). Kevin Baker and colleagues cite "deteriorating net income, weak operating cash flow and a generally disappointing performance in the stock itself" as reasons for the downgrade in their report published Wednesday, August 13th.
Which brings us to the topic of distributor confidence.
Here's where I'd like Mr. Chapman, Mr. Hempton, and other bulls to perk up and listen.
While everyone is bickering about regulators and Mr. Ackman, does anyone else get the impression from the company's last earnings report that distributor confidence may be waning?
Suppose Mr. Ackman wanted to get the eyes on his last presentation not just for regulators and for the media, but also for all of those people that are currently in Universidad del Exito in South American countries. If you were viewing Ackman's presentation and were in the middle of a time and lifestyle sucking Club 100 endeavor, wouldn't you then start to think twice about what it was you were partaking in? Matt Stewart points out, in a past piece, that many people from countries where Herbalife is extremely popular had tuned into this last presentation.
Mr. Ackman was right. It is an Enron style fraud when you look at how Club 100 works. I know why he was hyped up the day before - I know how he was looking at this evidence. It may not have been damning to the people like the nameless ditzy (major news organization) reporter in the room who embarrassed herself with a question during the Q&A, but to those paying extremely close attention to this scheme and how it works - that presentation was a gallon of jet fuel thrown onto an already burning fire of evidence.
If Vander Nat, who is presumably working with regulators on this (no one can get in touch with him), had any holes in his thesis to pin this company to the wall, Mr. Ackman's last presentation just filled them like a compressed can of Herbalife "Fix-A-Flat".
This is a confidence game. If distributor confidence begins to wane, the whole thing is going to be crumbling down from the inside out - even without the help of regulators.
Perhaps some of the more "on the ball" fund managers are starting to notice this. Bloomberg reported last week that Perry Capital also cut its stake in the name:
Perry Capital, the $10.9 billion hedge-fund firm run by Richard Perry, bought stakes in Ally Financial Inc. (NYSE:ALLY) and Allergan Inc. and cut its holding in nutrition company Herbalife Ltd. (HLF) during the second quarter.

Perry, based in New York, acquired 14.3 million shares of Detroit-based Ally that were valued at $341.2 million as of June 30, according to a filing with the U.S. Securities and Exchange Commission today. Ally was the hedge-fund firm's second-largest U.S.-listed stock holding, after American International Group Inc.

Perry sold 800,000 shares of Herbalife, leaving it with 4 million shares worth about $258 million as of the end of the quarter, according to the filing. It sold out of its 5.2 million shares of the real estate investment trust Equity Commonwealth.
It was also reported that George Soros shaved off some of his stake in the company, as well. Headlines are also making their rounds that Mr. Soros believes the market is heading into bearish territory - I'm going to take a good guess and say that his remaining couple million shares are now boxed into a long squeeze. But, that's just a guess.
To Conclude
As you'll notice, due to a growing work load on other projects with priority for me, you can expect to see a little less QTR than you're used to here on Seeking Alpha. Seeking Alpha has been more than amazing to their contributors and they continue to be one of the best places for crowd sourced content on finance.
I'll also be posting a bit on my newly formed blog, which you can read and bookmark here. Also, I advise you (if you're interested), to follow me on Twitter, where I'll still be active and will note where and when I'm posting new articles/blogs. Of course, you can always e-mail me, as well (quoththeravensa@gmail.com).
Some people will be saddened by this, others are already chugging champagne and ordering pyrotechnics for the party that will ensue this evening at their respective homes and hedge funds. Regardless of what you think about QTR, I thank you for being a part of it all thus far. We've got lots of beautiful work still to do in the future, I assure you.
Back to Herbalife - The mindset and mental gymnastics necessary for the small few that continue to stay brazenly long this name baffles me. You can tell by the way Mr. Hempton speaks in his CNBC interview that at one point he seemed to know the truth about those running the company and what they were up to.
He even admits that the MLM industry as a whole are "scumbags". My guess is that Mr. Hempton knows exactly how this game is being played and has been lying to himself about his change of heart.
Who knows why he's had his change of heart - perhaps he's been bought off, perhaps he feels he's too far in on the long thesis to turn around - perhaps he's trying to protect people like Kevin Thompson, MLM Attorney, whose entire livelihood likely depends on this industry surviving.
For the shorts, this may be about the money; but for some of us, it's also about doing what's best for our country and our fellow people. This is a predatory company that should not be allowed to operate the way is currently does.
For the bulls, this has always been about the money. If it's not trying to orchestrate a squeeze, it's looking at the cash flow or the buybacks. It's been about how to make a good buck, regardless of how this company is generating it's cash.
I continue to contend that this is a global confidence game that will be shut down by regulators - the sooner, the better.
Just remember - karma's a bitch.
See you all soon,
Q
Disclosure: The author is short HLF. The author wrote this article themselves, and it expresses their own opinions. The author is not receiving compensation for it (other than from Seeking Alpha). The author has no business relationship with any company whose stock is mentioned in this article.