As earnings season heats up, market participants invested in shares of J.M. Smucker (NYSE:SJM) might be trying to figure out what to do with the company's stock prior to management releasing first quarter results for the food provider's 2015 fiscal year. In spite of challenging times in the coffee industry, a market that makes up almost 39% of Smucker's sales, revenue at the company has inched up while profits have soared. Can management keep a positive trend going or, as earnings near, would investors be wise to consider looking elsewhere for gains?
Analysts have modest expectations
For the quarter, Smucker is expected to report revenue of $1.37 billion. If this forecast comes to fruition, it will represent a 1.5% improvement in sales compared to last year's $1.35 billion and would, most likely, be driven by reasonable growth in the company's U.S. Retail Consumer Foods and/or its International, Foodservice, and Natural Foods segment.
Earnings Preview

| | | |
| --- | --- | --- |
|   | Last Year's | Forecasted |
| Revenue (billions) | $1.35 | $1.37 |
| Earnings per Share | $1.24 | $1.37 |
Although sales are expected to rise at a very slow pace, Smucker's profits are another thing entirely. For the quarter, the company is expected to report earnings per share of $1.37, up over 10% from the $1.24 seen a year earlier. While revenue growth might play a role here, the biggest contributor is likely to be higher margins in the company's U.S. Retail Coffee segment which, between 2012 and 2014, saw its segment profit margin shoot up from 23.6% to 29.7%.
The past few years have been very interesting for Smucker
To understand Smucker, investors should take a brief glimpse back in time. Between 2012 and 2014, the company's revenue rose 1.5% from $5.53 billion to $5.61 billion. This growth was driven by the business's U.S. Retail Consumer Foods segment, which saw revenue climb nearly 4% from $2.09 billion to $2.17 billion and by its International, Foodservice, and Natural Foods segment, which reported a 13% jump in revenue form $1.13 billion to $1.28 billion.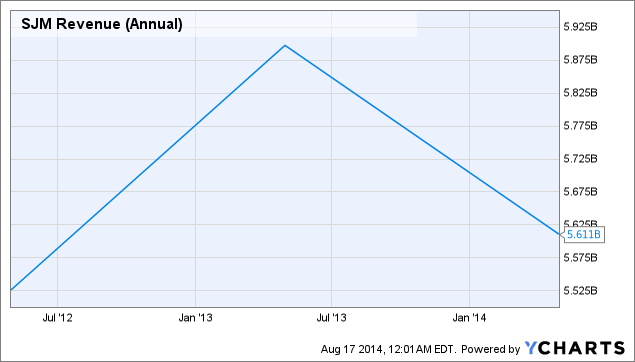 SJM Revenue (Annual) data by YCharts
The only segment to see downward pressure over this three-year period was the company's U.S. Retail Coffee operations. Between 2012 and 2014, U.S. Retail Coffee saw revenue fall 6% from $2.30 billion to $2.16 billion. All of this decline took place between 2013 and 2014 when sales plummeted 6%.
According to management, this decline in revenue can be attributed to lower sales of Keurig Green Mountain (NASDAQ:GMCR)'s K-Cups and lower price realization stemming from lower coffee prices. This was, however, partially offset by the business's 2% rise in coffee volume, combined with higher sales from product lines such as Dunkin' Brands Group (NASDAQ:DNKN)'s Dunkin' Donuts packaged coffee, which shot up 7% for the year.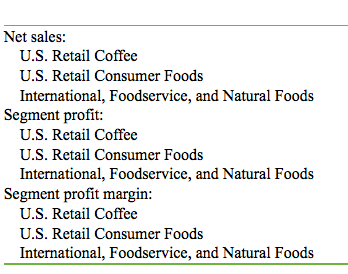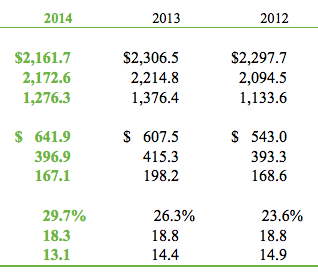 Even though sales in coffee have been on the decline, profits have been on the rise. Because of the falling price of coffee and a favorable product mix leaning toward higher-margin products, but partially offset by a drop in net realization, the segment profit margin in the business's U.S. Retail Coffee segment shot up from 26.3% in 2013 to 29.7% in 2014. What this means is that, even with coffee prices falling in recent years, Smucker has been fortunate enough to reap higher margins during th process.
Takeaway
Heading into earnings, it's understandable for investors to be a bit shaky about any business. However, given its performance in recent years in a market that has been, without a doubt, volatile, Smucker appears to be an attractive prospect. Perhaps the only downside to investing in the company is that it comes at a pretty hefty price tag. With shares trading at 19 times last year's earnings and 17 times forward earnings, it's definitely not sitting in the bargain bin.
Disclosure: The author has no positions in any stocks mentioned, and no plans to initiate any positions within the next 72 hours. The author wrote this article themselves, and it expresses their own opinions. The author is not receiving compensation for it (other than from Seeking Alpha). The author has no business relationship with any company whose stock is mentioned in this article.