I was searching the web yesterday for information on the meal Replacement Industry. I am trying to figure out the size of the market, growth rates, profitability, etc. I found an executive summary of a research report here. This is what it said:
The major players in the meal replacement products industry are Unilever, Abbott Laboratories, Impulse and Indulgence Products, Nutrition/Staples, Meal Solutions, Campbell Foodservice Co., Chiquita Brands Inc., Conagra Foods Inc., Dole Food Co. Inc., Frito-Lay Co., General Mills Inc., Heinz Foodservice, Hormel Foods Corp, Jm Smucker Co., Kraft Foods Inc., Nestle USA Inc., Sara Lee Foodservice, Schwan Food Co., Weston Foods, and others.
I also spent some time researching some transactions that have occurred in this space over the past year. Four transactions in particular caught my attention.
In 2013 Post Holdings (NYSE:POST) acquired Premier Protein and Dymatize. In 2014 Post Holdings agreed to acquire the PowerBar and Musahi brands from Nestle.
In 2014 Unilever sold its struggling Slim-Fast brand to Kainos Capital.
The Powerbar, Premier Protein and Dymatize deals look to be three brands with owners looking to "hit the bid." Post's CEO and Chairman Mr. Stiritz seemed only too happy to oblige. Press Releases for all three acquisitions can be found here and here and here.
Post investors were told that the Active Nutrition Space is expected to grow 7% between 2014 and 2017. Sounds exciting.
Post paid $380 million for Dymatize - a company with sales of less than $200 million. 10x EBITDA is pretty sweet if you ask me as a price to pay.
Post paid $180 million for Premier Nutrition - a company with sales of roughly $130 - $140 million. Again, POST paid roughly 10x EBITDA.
Q. How is business going for Post in the segment of their business they call the Active Nutrition space?
Applying a forecasted 7% growth in top-line revenues to these two businesses implies combined 2014 revenues of around $360 million.
Post just released its 3rd Quarter 10Q. Here is what it had to say about the results in its Active Nutrition Division.
The Active Nutrition segment is comprised of the results from our PNC and Dymatize businesses acquired effective September 1, 2013 and February 1, 2014, respectively. Net sales for the Active Nutrition segment were $86.7 million and $194.5 million for the three and nine months ended June 30, 2014, respectively. Net sales in both periods have been depressed on supply chain disruptions affecting the Dymatize business. Segment (loss) profit was $(2.5) million and $1.9 million in the three and nine months ended June 30, 2014, respectively. Segment profit was negatively impacted in the three and nine months ended June 30, 2014 by $1.9 million and $3.9 million of acquisition accounting related inventory valuation adjustments. Additionally, segment profit during the current year periods was negatively impacted by incremental costs to address the supply chain issues at Dymatize and elevated input costs for milk protein concentrate.
Things are not going well on the Protein front for Mr. Stiritz and Co. More specifically:
Dymatize YTD revenues of $76 million v. $200 million in sales last year is an outright collapse in business volume.
Borrowing in excess of $500 million in capital at north of 6% costs you around $30 million a year in pre-tax interest expenses. Segment profit of $1.9 million is not exactly the carry trade of the century.
Meanwhile, over at Unilever (NYSE:UL) Slim-Fast's ailing and non-core asset was also sold to Kainos Capital. The press release from Kainos can be found here. Unilever will retain a minority stake in the business.
Why did Unilever sell?
The official statement can be found here:
Kees Kruythoff, president of Unilever North America, said: "The Slim-Fast sale is the last step in the portfolio reshaping that we had planned for North America. This transaction, along with previously announced divestitures, will give us the focus to drive growth behind our core portfolio."
The more obvious reason can be found here.
Unilever (UNA), the world's second-biggest consumer-products maker, is considering a sale of Slim-Fast after years of declining sales at the diet-food business, according to a person with knowledge of the matter.
The Bloomberg article goes on to say:
A sale of Slim-Fast would follow larger rival Nestle SA's (NESN) disposal of diet businesses. The Swiss company agreed in November to sell most of its Jenny Craig unit for an undisclosed amount.
Q. Why is it that the world's largest and most successful food companies are getting out of the Meal Replacement business? Why is it that companies with access to the best and brightest managers in the world don't seem to be able to succeed? Why is it that the portfolio acquired by Mr. Stiritz and POST Holdings is struggling almost immediately after acquisition?
Meanwhile, Herbalife (NYSE:HLF) continues to print out:
80% Gross Margins
$500 million plus in free cashflow
Annual Revenues of $5 billion
Heck, even within Herbalife's own 10K the company has the following to say about the competition in the industry:
COMPETITION

The categories of weight management, nutrition and personal care products are very competitive in many channels including those of direct selling, the internet, in specialty retailers and the discounted channels of food, drug and mass merchandise. Herbalife has differentiated itself from the peer group through our Member focus on the consultative and education nature of the sales process and the frequent contact that many Members have with their customers. From a competitive stand point, there are many providers and sales outlets of weight management products including quick-service restaurants and specialty retailers, but we believe that none have effectively coupled the product, personal coaching and the product access provided by our daily consumption business methods such as nutrition clubs, weight loss challenges or fit camps.

We are subject to competition for the recruitment of Members from other network marketing organizations, including those that market weight management products, nutritional supplements and personal care products, as well as other types of products. Our ability to remain competitive depends on having relevant products that meet consumer needs, a rewarding compensation plan, and a financially viable company.
Then again, Herbalife may be immune to the competitive forces at play in this hyper-competitive business because its main product is actually this.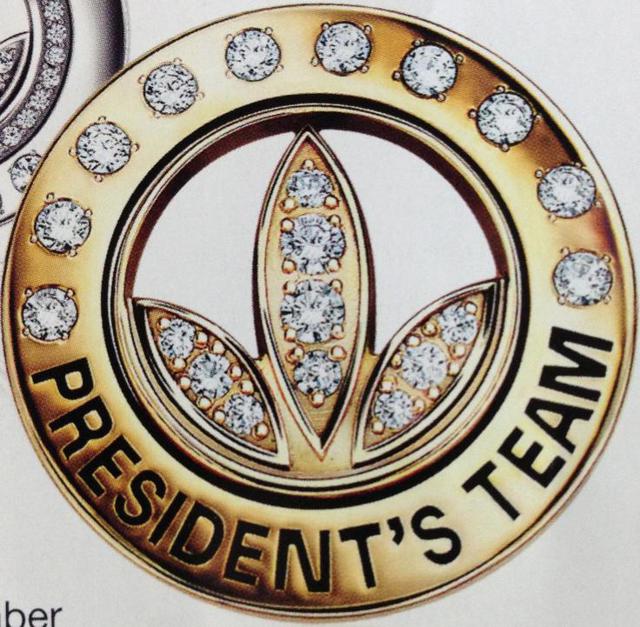 Q. Does Herbalife battle toe to toe with the likes of POST, Nestle, Unilever and Kainos for market share of dieters' wallets?
Or, is Herbalife fighting an entirely different battle altogether?
Certainly, for a company that ostensibly is a nutrition company, the company's most senior distributors seem to spend an awful lot of time recruiting people to pursue the "business opportunity."
Q. If the product itself was so successful, well-known and in demand, why would the company want even more salespeople?
Q. If the demand for product through Nutrition Clubs in Mexico was so insatiable, why would the company make its most junior recruits travel through a complicated labyrinth known as Club 100 before allowing them to actually get in the game to service real, live customers?
Q. If Herbalife has cracked the nut on how to serve dieters in such a way that they can print double digit operating and net margins, why isn't the competition copying them?
When McDonald's successfully penetrated the quick-serve restaurant market the world over, fast followers were quick to pick up on the idea and chase market share too. Can you say Burger King (BKW), Wendy's (NYSE:WEN), Sonic, 5 Guys, Smash Burger, Jack in the Box, Carl's Jr., etc, etc, etc...?
Why do the forces of capitalism that so obliviously affect the purveyors of hamburgers so clearly not apply to Herbalife (unless you are counting internal competition between and among distributors for Nutrition Club share?)
What is it about this company that gets everyone legitimate other than Mr. Stiritz it would seem to flagrantly and blatantly ignore its business model?
Is the CEO of GNC asleep at the switch? Is his legal counsel not capable of firing a letter off to the FTC to cry foul?
Of course not.
Great CEOs from great companies pay attention to what is happening in their industry segments. They pick-up on trends and constantly make adjustments in order to win market share.
What have each of these people figured out that Mr. Stiritz has not?
A. When something seems too good to be true it usually is.
Herbalife sells mountains of shake mix not to dieters in wealthy zip codes because for Herbalife shake mix is a currency that gets you Volume Points. Volume Points get you to Supervisor. Supervisors then try to get to GET Team, then World team, then President's Club. Always, recruiters are selling a dream to the financially unsophisticated that can only and ever not come true.
Why?
Because Herbalife is a pyramid scheme, endless chain, mathematical fallacy, confidence game, etc.
Regulators will inevitably look to the legitimate market for weight loss and meal replacements and protein powders to understand what is going on. Questions will be asked like:
What kind of revenues are firms generating?
What kind of gross margins are realized?
What kind of consolidation is taking place?
Are industry players succeeding or failing?
The FTC is a very interesting agency to be sure. Not only does it protect the interests of consumers but part of its mandate is also the area of Anti-Trust law.
Put another way, the FTC also has a mandate to make sure that the forces of capitalism unleash healthy competition that benefits consumers and adds to the array of options we have in the marketplace. Making sure that all industry participants and firms compete for market share on a level playing field is also an important objective for regulators.
If, for example, GNC is trying to sell shake mix using a legitimate marketing plan and Herbalife is trying to sell shake mix using a Prohibited Marketing Plan, the latter should be shut down not just to protect business opportunity seekers from fraud but also to protect the interest of firms like GNC too.
Candidly, this is why I am absolutely flabbergasted that Mr. Stiritz the CEO of POST who has risked over $500 million of POST shareholder capital on Active Nutrition in the past year is also allowed to be a 7% owner of Herbalife.
Q. Shouldn't Mr. Stiritz be trying to kick Herbalife's proverbial "ass" for market share in the macro-economy?
Q. Isn't his primary duty for success in the Protein Powder market owed to POST shareholders and not Herbalife shareholders?
Q. Shouldn't he actually be on the same side of the trade as Mr. Ackman trying to use all legal and legitimate means to get Herbalife to act within the confines of the law and not outside of them?
A. Of course he should. Which is why his conduct and that of the POST Board of Directors and everyone else who turns a blind eye to this obvious and outrageous conflict of interest should be taken to task.
Honestly, can you imagine the outcry if the CEO of McDonald's acquired 7% of Burger King's equity and called Bloomberg up to tell them that Burger King is a "national treasure" and that he has some ideas to help them sell even more Whoppers!
Where on earth is the media on this issue?
No wonder POST didn't take questions on its last conference call.
To summarize - here's the point.
If you look at Herbalife in isolation, it is easy to get sucked-in by its tantalizing operating results. If you broaden your view, however, to the market for weight loss and meal replacements at large - Herbalife is an anomaly. Having 30,000 Nutrition Clubs in Mexico is also an anomaly. Having business failure rates in excess of 80% for a successful consumer product is also an anomaly.
The reason why is obvious. Herbalife is a different business altogether. The company and its top recruiters sell dreams, bling, a false promise, etc. Escape from poverty is the opiate of the masses. All of it acquired for $5 per diem in low-income destinations around the world.
The sooner regulators arrest this madness the better. The better for:
low-income victims
competitors who compete fairly like GNC and Kainos and even POST
POST shareholders who have a CEO who has clearly lost his way
society at large
After all, if Herbalife were legit, 80% gross margins would be an unsustainable pipe dream.
"Something's Rotten in the State of Denmark" - Hamlet
"Something's Rotten in the State of Missouri" - Post Shareholders
Disclosure: The author is short HLF. The author wrote this article themselves, and it expresses their own opinions. The author is not receiving compensation for it (other than from Seeking Alpha). The author has no business relationship with any company whose stock is mentioned in this article.