Expectations were high going into the Fire Phone presentation on June 18, and then plummeted after the actual unveiling. An analyst at JPMorgan, Doug Anmuth, now expects that Amazon (NASDAQ:AMZN) will only sell 2-3 million Fire Phones this year, compared to the hundreds of millions of phones Apple (NASDAQ:AAPL) and Samsung (OTC:SSNLF) sell every year. Other analysts have offered similar estimates, largely hovering around the low millions.
Alex Cho, another contributor, calculated that Amazon would need to sell around 2.69 million units to break even, since Amazon will be required to order 7 million phones for Taiwan Semiconductor Manufacturing to manufacture for them. So Amazon would need to meet the high end of Mr. Anmuth's estimates to break even. However, the Fire Phone will probably sell far more poorly than even the low end of his estimate due to tepid demand sparked by the phone's exclusivity to AT&T (NYSE:T) and poor reviews.
To compound the latter problem, Consumer Reports has come out with another review of the Fire Phone, comparing it unfavorably to the LG G3. The Consumer Reports editor came onto CNBC to talk about his review as well. In his interview, he mentioned that the Fire Phone essentially traps users in the Amazon ecosystem, which he cites as a negative. This is a criticism of the iPhone that many Android fans have pointed out; it's interesting that the 5s Consumer Reports review makes no mention of this. This is likely due to the fact that being trapped in Apple's massive app ecosystem is less of a minus than being trapped in Amazon's comparatively small app ecosystem.
Unfortunately for Amazon, the LG G3 also sells for cheaper than the Amazon Fire Phone off contract ($649.99 vs. $579.99). Consumer Reports says that the Fire Phone's two biggest flaws are its short battery life and lack of access to Google (NASDAQ:GOOGL) (NASDAQ:GOOG) services.
I'm not the only one predicting poor sales for the Fire Phone, as Mr. Cho predicted 100k-500k sales in his article, while notable Amazon bear Paulo Santos predicts 100k-200k sales. I largely agree with Mr. Santos and show that the Fire Phone is likely to do very poorly through some calculations.
Calculating Fire Phone Sales:
Trying to calculate Fire Phone's sales is very tricky, and we will probably never know for certain the number of sales. Amazon has never disclosed how many Fire tablets it has sold, so it seems unlikely they will for the Fire Phone. I also used the most optimistic numbers possible while calculating sales.
I decided to use the number of reviews on Amazon.com to try to calculate potential sales, since the product is only available through Amazon and AT&T. The product has also just recently been launched, which is when most reviews are written, so that makes this a more reliable method for predicting these early sales, and then extrapolating them over a year. A method like this would not work for products like the iPhone, since most sales of that would be done on Apple's website or at their physical retail stores. The Fire Phone has been available for sale for about two months, and reviewable for one month. It currently has 557 reviews. Data on the percentage of buyers that review on Amazon is scant, but an Amazon employee estimated that roughly 2-5% of buyers review the product they buy. We'll take the low end, since that's what's best for Amazon. Multiply 557 by 50 and you get 27,850 Fire Phones sold in two months. Multiply 27,850 by 6 and you get 167,100 Fire Phones sold in a year. If we only use the time the product has been available to be reviewed, instead of how long it's been for sale, you get 334,200 Fire Phones sold within a year. These were also unverified reviews, most likely from people that bought it directly from AT&T. However, let's assume the AT&T people largely didn't even think about reviewing, and apply another *2 multiplier. Now, you get 668,400 phones sold at the absolute high end.
However, it's fairly unlikely that Amazon will keep selling phones at the same rate - it's likely to slow down. The Fire Phone is no longer even in the Top 100 of the Electronics category (as of the moment I'm writing this article). This is especially alarming because the Fire TV, a many month old product from Amazon, is currently sitting pretty at #1 in Electronics. Sales tend to be strong during product launches, and then die down. So Amazon's sales on a month-to-month basis will probably be less than it was in late June and July. This problem will be worsened by the fact that the Fire Phone has gotten poor reviews from the people who have bought it so far. Professional reviewers have largely stated that there's no real reason to get the phone, while it has a roughly 3 star rating on Amazon itself, which is fairly mediocre. So I'd predict 100k-200k sales as well, or even less. Even if it did hit the high end of 668,400 phones sold, the phone would not break even. At an average ASP of $650, that means Amazon will hit around $434,000,000 in revenue, while the cost of selling the seven million phones (assuming each phone will cost around $250) will be 1.75 billion.
Caveats; in upcoming paragraphs I shall address possible arguments to my thesis, but first of all I'd like to warn all of you that my method of using reviews to calculate the number of sales is a very rough way to estimate sales. I used it because there's really no better way right now to figure out what sales will look, and Amazon probably won't ever reveal how many Fire Phones have been sold. As mentioned before, I think the Fire Phone is uniquely positioned to have this technique applied to it, due to the short term it's been on the market (in which most reviews are posted, before they mostly taper off) and its position of being sold almost exclusively on Amazon. This won't work in 12 months, or for most other products.
Can Amazon's Brand Save the Fire Phone?
Amazon has built up a great deal of goodwill with people due to its low pricing and convenience. Might this convince people to buy the phone? The top review on Amazon's page suggests otherwise. It's titled "I wanted to love you," and the first two sentences are "I wanted to love my Fire phone. I really love Amazon and my kindle software, and they made it a bargain." She then goes on to list some positives before going onto how the negatives outweigh the positives, and the review ends with her stating she returned the phone and got a refund. Brand only gets people to consider your product, and quality does the rest. Sadly, the Fire Phone does not meet the second criteria. I attached an image of the full review below;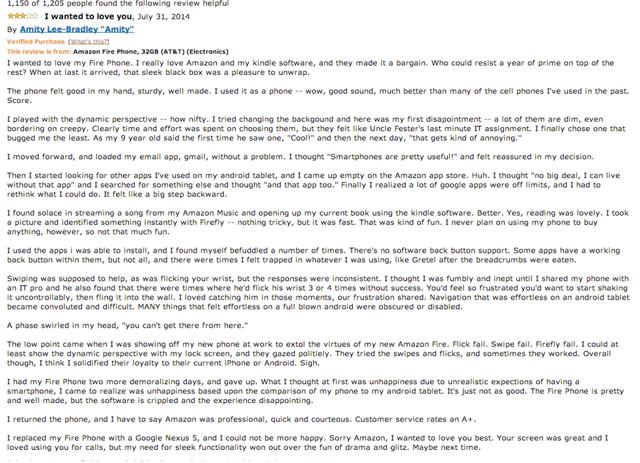 Also, as Wal-Mart (NYSE:WMT) can attest to, goodwill built up through low pricing and convenience can easily disappear. Amazon has started making the same PR mistakes as Wal-Mart. Wal-Mart has been hit over the past few years on treating their workers poorly. Amazon's got that covered (as seen here as well, along with other news media). Wal-Mart has also been criticized for how it treats suppliers. Amazon has had much larger public relations problems regarding suppliers than Wal-Mart ever had, as seen with its dispute with Hachette. It has gotten a lot of negative press for this, even from alternate media such as the Colbert Report. It has also recently gotten into a dispute with Disney (NYSE:DIS), a much-loved company in America. This isn't likely to help its reputation, and this weakening of its brand image may hurt its retail revenue too.
I'm sure there are lots of arguments to this. Perhaps Amazon actually treats their employees really well, and the media is just wrong. Maybe all companies play hardball with their suppliers, and it's just normal business. None of that matters in this context. Brand is based on perceptions, and Amazon is starting to be perceived negatively - as just another big corporate bully.
Can App Sales Make Up for it?
The short answer is no, despite Amazon's impressive ability to get people to make small micro purchases that add up to a lot.
A study in 2012 found that the average Amazon app user spends 89% of what the average iOS app user spends. This is certainly impressive, since the same study found that the average Android user spends 23% of what the average iOS user spends. There are 470 million people of the latter category, and they allowed Apple to make $10 billion in revenue total, which is $3 billion for Apple after they take their cut. This means each iOS user lets Apple make $6.38 profit from apps. 89% of that is $5.68. Multiplying 668,400 * 5.68 gets us $3,796,512 in profit, a paltry amount for a company like Amazon. Perhaps we should evaluate Amazon's app business in its entirety, with Kindle Fire and Fire Phone users being included. As mentioned before, Amazon has only given the vague estimate of millions. I'll assume 10 million have been sold. That's $58.68 million in profit, still nowhere near enough to cover for the Fire Phone, which is currently facing the prospect of causing an over $1 billion write-off for Amazon.
What Will Amazon Do?
Taking a quick look at Amazon's cash vs. debt will lead you to believe that Amazon can pretty easily take a $1 billion hit. However, digging deeper into its balance sheet paints a grimmer picture. As of the quarter ending June 30, 2014, Amazon has $18,755,000,000 in total current assets - of which only about 8 billion is easily accessible (cash + short-term investments). $6,644,000,000 of its current assets is in the form of inventory.
Amazon has $18,751,000,000 in total current liabilities. The vast majority of those come from Accounts Payable, which stems from the fact that Amazon pays people well after they actually receive the money. Brad Stone talks about this in his book The Everything Store; Jeff Bezos and the Age of Amazon. This helped the company survive in its earlier days.
Additionally, Amazon is likely to lose between $410 million and $810 million in the third quarter, according to their guidance, making their finances even worse. A $1 billion write down will be rather painful to suffer through given these facts. Fools don't head Amazon though; they likely can see these facts coming. This leads me to believe that they'll try to raise money, either through a dilutive secondary offering or through a debt offering. I can't predict exactly when this will be, but if the Fire Phone sales start decreasing, I'd wager that it would happen around October or November. I would guess that they will raise money through an equity offering or through convertible bonds as management will likely want to take advantage of the highly inflated stock price.
Recommendation
Don't short AMZN yet, as it's starting to regain momentum recently, going from $307 on August 1, to $333.21 as of the closing on August 14. That's an 8.5% move upwards within 2 weeks.
AMZN hit the $360 level before its horrible earnings, so I'd expect there to be some resistance there. If Amazon hovers around that level for two or three days, I'd recommend shorting it then. If it overcomes that resistance, I'd recommend shorting when AMZN goes over $400, which is another likely resistance point.
Shorting momentum stocks traditionally can be very painful, as your loss is unlimited, so you should structure your short in the form of long dated puts - Jan 2016 puts are your best bet. The bull market is likely to see its greatest challenge in 2015, when the Fed starts raising interest rates, and growth stocks like Amazon will be punished most heavily should the bull market fall.
Disclosure: The author is long AAPL, GOOGL. The author wrote this article themselves, and it expresses their own opinions. The author is not receiving compensation for it (other than from Seeking Alpha). The author has no business relationship with any company whose stock is mentioned in this article.