By Chris McKhann
Option traders are calling a top in PDL BioPharma (NASDAQ:PDLI), which has climbed 20 percent in the last six weeks.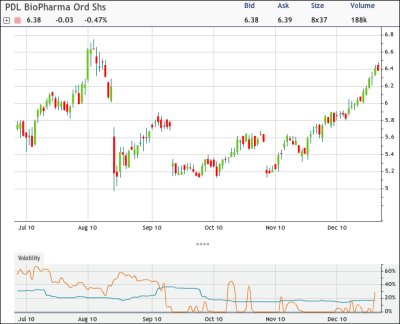 The pharmaceutical company trades at $6.41, unchanged on the day after giving up early gains. It has been climbing from near $5 going into November and has almost regained August highs reached before it gapped lower on two occasions.
The 5,000 contracts at the May 7 call strike eclipse the total daily average option volume of 310 and the previous open interest at that strike of 262. Those calls were sold for $0.25 as the trader took the bid on a wide spread.
The call selling is a bet that shares will not be above--or at least much above--$7 come that May expiration. The implied volatility of those calls is 33 percent, which is in line with the average and well above the 30-day historical volatility of 22 percent.

Disclosure: No position